What's Next for the GOP?
Are Mecklenburg County Republicans really an endangered species?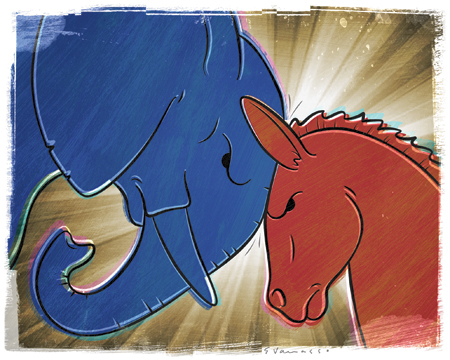 The numbers don't lie: Republicans in the Queen City are a dwindling population.
"Within Charlotte, it has trended so much to the Democrats that I think Charlotte Republicans will be an endangered species very soon," says Michael Bitzer, a Catawba College political science professor.
The local GOP was left reeling after this past November's election. Democrats swept all four City Council at-large seats, and the party now holds an unprecedented nine-two majority on the council.
Charlotte Republicans face a two-headed monster: low turnout and a huge voter registration disadvantage. Turnout in Mecklenburg County was just 16 percent in November, 5 percent less than the 2009 municipal election.
"Eighty-four percent of this county not bothering to take ten minutes [to vote] is very disappointing," says Mark Miller of the Mecklenburg Young Republicans. "That's something that has got to change."
Long term, winning GOP seats in Charlotte could be even tougher because of changing demographics. While precincts in the outlying areas of northern and southern Mecklenburg County are safely Republican, the center portion of the county—Charlotte—is a huge swath of Democratic voters, with five of the seven council districts heavily tilted with registered Democrats. In fact, registered Democrats outnumber registered Republicans by a nearly two-to-one margin—or more than 112,000 people. Even unaffiliated voters outnumber the GOP.
After the results in November, Republican officials promised to bulk up their volunteer efforts ahead of the 2012 presidential and Mecklenburg County Commission races. But even a higher turnout may not be enough. The 2012 Democratic National Convention will bring with it plenty of national campaign volunteerism as President Obama's hopes of carrying North Carolina again primarily hinge on stellar Democratic turnout in Charlotte.