When 'Charlotte Squawks' Everyone Should Listen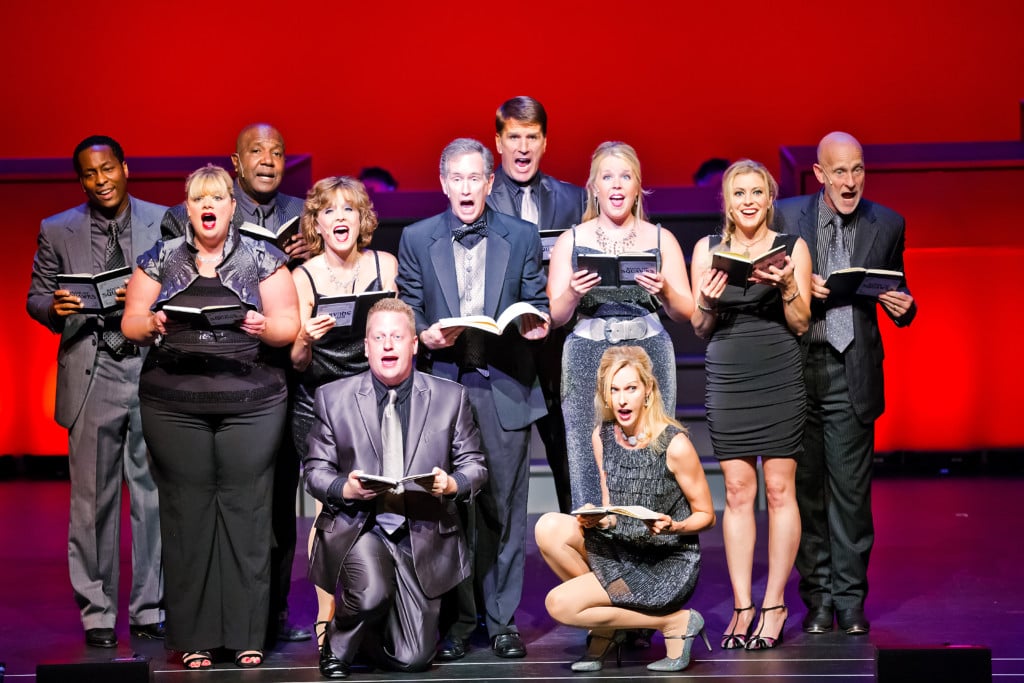 At nine years, Charlotte Squawks is one of the longest running shows annual shows in Charlotte. Part musical theater, part roast, the Blumenthal show continues to evolve with each year.
Starting out as more of a goofy and loving tribute to the city and all of its unique players, the show has become a well-hone satire that isn't afraid to show its teeth, taking to task politicians, local celebrities, and business leaders.
But it's all in good fun.
The Friars Club, the famous New York comedy club that popularized the roast, has a saying: "We only roast the ones we love." It's clear the producers of Charlotte Squawks have a similar credo.
Mike Collins, Charlotte Squawks host and co-creator , and host of the popular morning discussion show Charlotte Talks on WFAE, took some time to talk to us about the show, how it's put together, and how it's evolved since its inception.
Charlotte Squawks: Ninesense is such a large show. With 25+ songs listed on the playbill and several comedy bits, how long does it take to write all of the material needed for this show?
Brian Kahn is the principal writer, although I write the monologue and contribute some songs and lyrics — which he completely changes. We keep lists of topics all year and start in October or November with preliminary discussions about what we think may make the show. The real writing begins in mid to late February. We go into rehearsal in mid to late April so we don't want to start too early because we want to remain topical.
As it is, we usually have to change lyrics or add and subtract songs and topics from our list even after rehearsals start because of the fluid nature of events. This is the only regularly produced original show in Charlotte and the only original musical. The script we hand the cast at the first rehearsal changes substantially by the time we open and beyond. It actually changes in small and sometimes big ways from night to night so the actors, musicians and technical staff have to be flexible and ready for anything.
There's nothing quite like it so when a newcomer becomes part of the cast, they sometimes have this shell shocked look in their eyes for the first several weeks.
How has the show changed in 9 years?
When we first started Charlotte Squawks, we were very timid. We weren't exactly sure how far we could go or how much we could take our local public figures to task. Early criticism of the show was that we didn't push the envelope enough so we gradually started crossing lines. The response has been overwhelmingly favorable to that approach.
Charlotte has grown up.
We know how to laugh at ourselves and not take offense. We rarely, if ever, hear from the people we lampoon or from those who think we've gone too far. If we do, we like to remind them that we are "equal opportunity offenders." We hit everyone about everything on all sides of the political spectrum. We don't play favorites.
Also, the show has grown in terms of its production values. We started as a fund raiser for WTVI so we kept expenses to a minimum. It was a one weekend show and we spent as little as possible on it. The show that year and for the next several years was basically a night club show. Small stage. Small costume and props budget. Quaint. Several years later, Blumenthal Performing Arts began producing the show and moved us from Spirit Square's McGlohon Theatre to the Booth Playhouse in Founder's Hall. That move – from a venue more suited for intimate music events to a legitimate theatre with fly space and a big stage – has allowed us to up the production values. It's a bigger, splashier show with a lot more show-biz to it. We've also expanded the run to 4 weekends which has helped immensely.
The PAC has also worked tirelessly to improve the technical aspects of the show i.e. the lighting, the audio, etc. This year, we've moved the band off stage to help us better control the sound and I think it's helped a lot in terms of what the audience is hearing. We also started adding video segments a few years ago with former Mayor Pat McCrory opening the show on video the first and second years and then having him inserted into one of the numbers he was the subject of last year. There has always been a video component in terms of slides which we have enhanced this year by the addition of three more screens and more video during the show.
How do you guys decide what topics will you will tackle in the show?
We try to focus mostly on local issues though we don't turn a blind eye to national events and people, especially when we can find a local tie-in. The usual subjects are local and state politicians and personalities who have done something that we believe we can spoof or make fun of.
When you're working at WFAE, do you ever read a news story that you just know will be something you'll address with Charlotte Squawks? Can you give us an example?
In answer to your question about WFAE, I was going to say that is never a consideration but really, it is. Mostly in the tone of what we do. Although these two endeavors are not connected I do have a reputation to protect so the tone of what we parody can sometimes reflect that. Remember, Brian writes most of the material, so that automatically distances me. The radio show tackles local issues all the time so it is inevitable that some of the same topics will be covered in very different ways on the radio and on stage.
Have you ever heard back from a politician who didn't like their song?
As for hearing from politicians about what we've said or done to them, the answer is no. Several years ago, House Speaker Thom Tillis was in the audience and we had already planned some fairly heavy punches at him. I warned him during the monologue and then as we were about to launch into our "tirade," I warned him again. His presence there while we were going after him, made the audience react even more than they normally would and he took it very well. I had him on the radio about a year later and apologized to him for raking him over the coals in Squawks and he told me, "yeah, you were pretty rough but that's your job. And it was funny. No hard feelings." I'm paraphrasing there but that's pretty close to what he said.
There are usually some great surprises and special guests in the show. Any hints you're willing to share?
As for surprises, yes, we like them and we like to keep them, otherwise they aren't surprises! Okay, I'll give one away. We're spoofing some of Charlotte's most viewed local TV commercials and so far the audiences have found them to be more than amusing!
---
Charlotte Squawks: Ninesense will continue its run through June 29 at the Booth Playhouse. Tickets begin at $24.50 and can be purchased here.