Where Do Our Burgers Come From?
And why do they cost what they do?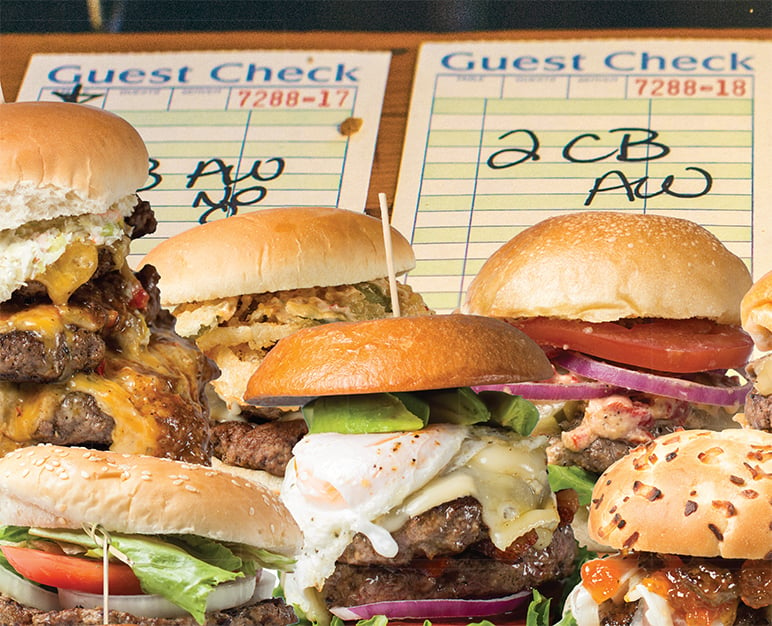 The beef in Block & Grinder's signature burger travels 92 miles to reach the restaurant in Cotswold. Its journey starts at a processor in Siler City. But before that—before the butcher slices it into brisket, ribs, and chuck—the cow is raised on a farm in New Salem, run by brothers Julius and Rossi Price.
Julius is the taller sibling, the salesman who can talk your ear off about clover and cattle pricing and fat content. "Our burger actually has less saturated fat than a commercially grown chicken," he says. Rossi is smaller, quieter, ex-military. Their grandfather was a rancher, and their father a butcher. In 2001, they decided to create their own version of the family business.
First, they bought 74 acres of what would become Salem Hills Farm. Then, they worked for an organic fertilization company and went through a lengthy process of getting their pastures organically certified. They bought local seed and refused to spray the grass with pesticides. They bought baby cows—inspected by the USDA before they step off the trailer—and put them out to pasture. The animals ate grass and clover and were never given antibiotics or artificial hormones; Julius abhors the drugs. "I don't need my little 12-year-old girl busting out of her shirt," he says.
Finally, the brothers started selling all-natural, grass-fed beef. They set up a booth at the Kings Drive Farmers Market four years ago and spent the rest of their days on the farm. It's not an easy business. Last summer, for the first time, they were able to cut themselves a paycheck. In the past year, seven Charlotte restaurants began selling their beef—including Block & Grinder. "I'm a huge proponent of local products because it's always fresher and you can verify the care that's being taken [with it]," Chef Ben Philpott says.
But Block & Grinder's plain, $10 burger (toppings come at an additional cost) is an anomaly in Charlotte. Most burgers here can't be traced to a local farmer or even a local butcher. Small farms like Salem Hills aren't equipped to keep up with the demand. Instead, the meat is shipped from the Great Plains, the Midwest, and other parts unknown. It may be cut and ground by someone in New Jersey, or it may be ground in the back of the restaurant.
Of course, burgers were never meant to be gourmet food. For decades, the all-American meal has been made from ground-up parts of a cow that many people don't care to trace. But the economics of the burger are changing.
***
Retail beef prices are reaching record highs. Years of drought in the central part of the country have depleted national cattle supplies and made the price of grain fluctuate, all of which influences beef prices. In March, the average retail price for ground beef was above $3 a pound, according to the Federal Bureau of Labor Statistics.
"Prices always fluctuate, but they've never been this high," says George Dizes, owner of Mr. K's Soft Ice Cream, the 46-year-old burger institution on South Boulevard. In March, he was paying $2.40 per pound for his beef but was expecting at least an 80-cent increase. "If they get up to $3.60, I just don't see them coming back down. It's hurting us."
Dizes, who sells his burgers for $3.65, won't reveal where he buys his meat. Neither will David Smith, the co-owner of The Burger Company on West Morehead Street, where a cheeseburger sells for $5.75.
Nom Nom Burgers' beef comes from a Cargill supplier, which traces its meat to grain-fed cattle in the Great Plains. At Cowbell Burger & Whiskey Bar uptown, the beef comes from Burger Maker, a meat grinder in New Jersey that gets its custom blend of chuck and short rib from cows in the Midwest. Cowbell co-owner Brandon Viebrock says he knew when the restaurant opened last year that he would be paying a premium for high-quality beef (most of his burgers sell for $9 to $13), and he compensates for that investment in other ways.
"We'll take it on the chin for a little while if we have to and hopefully sell more alcohol in the meantime."
300 East in Dilworth is one of the few restaurants in town that serves a local, grass-fed beef burger, which has been on the menu for about five years. Co-owner Ashley Boyd says she's willing to pay more for the taste and quality of local beef, but she understands why many restaurants don't feel the same way. "Sometimes customers, they just want a burger, and they're not really willing to pay $13 or $14 for it."
Local, grass-fed beef is not cheap. Small, family-run farms like Salem Hills Farm often cover all of their costs themselves—land, equipment, labor, fuel, processing. They don't sell their product in bulk and can't afford to offer discounts. This means their beef may retail for $7 or $8 per pound.
Boyd buys her beef from Windy Hill Farm in New London, 40 miles northeast of uptown. Farmers Charles and Dana Burrage have about 20 to 25 head of cattle, depending on the season. They also have two young children, and the parents don't feel safe with a bull on their farm. This means they often buy young calves from neighbors, whom they trust to raise the cattle without grain, antibiotics, or growth hormones. After the calves are weaned, it takes roughly 18 months for the Burrages to raise them on grass alone. Charles handles most of the farm work, while Dana markets their product to places like Atherton Mill and Market (their ground beef sells for $6.99 a pound). It's a full-time job that the Burrages are content to keep on a small scale. "We have the customers and the demand to expand," Dana says, "but we absolutely refuse to sacrifice quality."
The Price brothers also say they are happy to be a "micro farm." They have roughly 70 head of cattle, and the price they pay to buy young calves keeps rising as national cattle prices increase. If he passed on the real cost to consumers, Julius says, a pound of their ground beef would cost $12, instead of the current $7.99. Like the Burrages, the Prices would never have enough beef to supply one burger joint, much less the explosion of burger restaurants in Charlotte during the past few years.
Which is one reason the Prices are here, at the Kings Drive Farmers Market on a Tuesday afternoon in April. Julius says many of their regular customers are people who work out at CrossFit, run Ironman triathlons, or adhere to the Paleo Diet. They are doctors and nurses and, occasionally, grandmothers who remember what beef tasted like when they were young—the same kind of beef the Price brothers grew up eating on their grandfather's farm.
On Saturdays, Julius grills samples of his ground beef to hand out at the market. He wants customers to taste it, because if they do, he's sure they'll pay $20 for three pounds. To him, there's value in knowing where your burger comes from and meeting the farmer who raised the cow. "We sleep pretty good at night," he says. "We don't have to lie to you."