Where Is Charlotte Going With Community Policing?
CMPD Chief Kerr Putney wants officers to go deeper into communities. But haven't they already?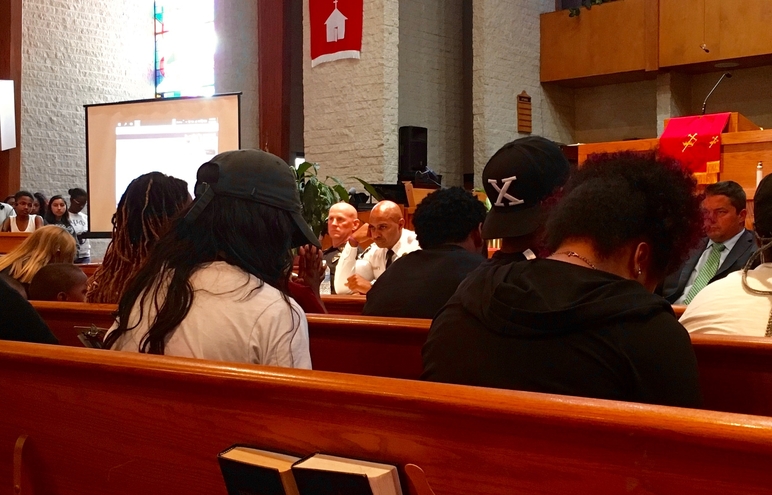 Toward the end of the four-hour community forum, the questions to Charlotte-Mecklenburg Police Chief Kerr Putney and his colleagues grew more pointed, more emotional, and harder to answer.
One woman, who held a photo of a cousin Tased to death by a CMPD officer five years ago, demanded that Putney assure her that her children could walk the streets with ironclad certainty that they wouldn't be killed at the hands of police. Putney ruefully told her he couldn't. Another woman, a college student, suggested that police officials' talk about reform and working with minority communities was just that, talk, and no more; Putney nodded grimly and kept listening.
The conversation, at Little Rock AME Zion Church in First Ward, ground on. The chief alternately rubbed his eyes, clasped his hands, and bowed his head, answering every question that came his way. I met with him the next morning, Thursday, in a conference room next to his office on the third floor of CMPD headquarters, and mentioned the forum's duration. "I remember every second of it," Putney told me. "Yes, sir."
He did make a promise to the people at Little Rock AME. Starting in August and continuing for the next 90 days, he said, all 1,849 sworn CMPD officers will take to the streets to talk with people—not just about crime but about everything that's happening in their communities, even why and how some of them look at cops with cynicism and distrust. A woman asked Putney how CMPD could weed out the bad cops in the department; she trusted that the people at the table in the church sanctuary—Putney, a black man; a major, a black woman; and a captain and lieutenant, both white men—had good intentions, but what about the beat cops who reach for their weapons without cause? "They're not here!," she exclaimed.
"I would tell you that they are not here yet," the chief responded. The department is through assigning community work to specialists, he added, and the next three months will hammer that point home: "Everybody gets a taste."
It's reasonable to ask Putney, or any other big-city American police chief, why everybody hasn't gotten a taste already. "Community policing" has been a widespread law enforcement catchphrase for at least a generation; the notion that police have to know the people in the communities they serve as more than perpetrators or victims of crime dates back to the 19th century. So why, in 2016, are officials from Putney to the President talking about community policing as if it's a practice that hasn't been tried already?
For one thing, Putney says, it's more than a practice. "Community policing, for us, is a phil-o-so-phy," he told me, drawing out the syllables, "not a strategy." For another, it's taken CMPD and other departments a long time to figure out how to translate the philosophy into tactics on the street. The philosophy itself is something departments have had trouble grasping. "The debates on community and problem-oriented policing initially focused on two key areas," then-CMPD Police Chief Darrel Stephens wrote in 2003, in a report for the national Center for Problem-Oriented Policing. "First was trying to define what these concepts were."
Charlotte adopted community policing as a guiding principle in 1991, when the Charlotte Police and Mecklenburg County Sheriff's departments were separate agencies. The Police Department adopted a mission statement that emphasized "fairness, compassion, and excellence" and police services that were "sensitive to the priorities and needs of the community." Its core values included "respect, courtesy, protection of rights" and an "interdependent relationship with [the] community."
Other police departments around the country were adopting or would soon adopt similar policy statements. The Clinton Administration made community policing a national priority, offering grants to agencies to start community programs. Charlotte-Mecklenburg law enforcement retained the philosophy when the police and sheriff's departments merged in 1993 to form CMPD; the next year, the city hired Dennis Nowicki, a former Chicago deputy chief with a reputation as a leader in community policing, as chief of the joint department.
Putney joined the old Charlotte Police Department as a patrol officer in 1992, when he was 23. He sees the department's community policing efforts as a gradual escalation over time, with each chief—Stephens, who took over for Nowicki in 1999; then Rodney Monroe, hired when Stephens departed in 2008—extending CMPD's reach into communities through designated community coordinators, citizen forums, and police outreach to high school students.
CMPD police chiefs and high-ranking officers have met frequently over the years with community groups. But Putney said the department has never fully committed to making sure beat cops—"the true crisis managers," he said—understand the importance of one-to-one, first-name-basis connections with residents in the poor and high crime areas on the west and east sides, where they're needed most. "This is the first time we've tried to make that happen," he told me. "In the middle of the night, when you call 911, you're not gonna get me."
The upcoming 90-day program (which doesn't have a name yet) is one of two new CMPD efforts to help bridge the divide between police and residents. The other is an eight-hour training session for all employees, also starting in early August, that covers cultural proficiency and implicit bias. They're issues covered by the President's Task Force on 21st Century Policing, essentially encouraging police officers to recognize their cultural and racial prejudices and work to overcome them. Those eight-hour sessions will extend over 18 months.
The 90-day program is a newer, less defined idea Putney said came to him after the shootings of black men in Baton Rouge and Minnesota this month; he wanted to do something along those lines anyway, but he said those shootings, combined with the Dallas sniper massacre of five police officers, made the program's need even more urgent. The department is still working out the details, and the implementation may differ from division to division.
"From our perspective, it'll involve people who haven't been able to engage with the public in a more conversational setting," he said. "A lot of times, our people are doing triage on calls for service—they're trying to deal with people in crisis and chaos, and they don't really get to connect with people on a level of humanity. That's what we're going to be focused on." The community forum at Little Rock AME is a good example of what CMPD is aiming for, he said, but with sergeants and beat cops at the table instead of the chief, majors and captains. "The emotion that came out last night and the night before," he said, "that's where we're going."
Of course, one of the difficulties of any community policing effort lies in trying to assess what good it does. It's been hard for police departments across the country to adopt and sustain connections with their communities, and impossible to measure successes in terms of crimes defused and avoided because of the connections made. Police, like sales teams, live by numbers. It's a results-based business. But crime rate statistics don't paint a complete picture, and good will from community policing efforts in one city can wash away with one viral video from another. As I write this, news is still coming in from the mass shooting of police officers in Baton Rouge; CBS News is reporting that one of the shooters was from Kansas City. If true, no community outreach could have stopped that.
Perhaps no community outreach can. Putney thinks it's worth trying. In the hard last couple of weeks, the chief has adopted a saying he keeps repeating because, he said, he likes how it sounds: "It's hard to hate up close."