Where the Wild Things Are
New Discovery Place exhibits excite kids and adults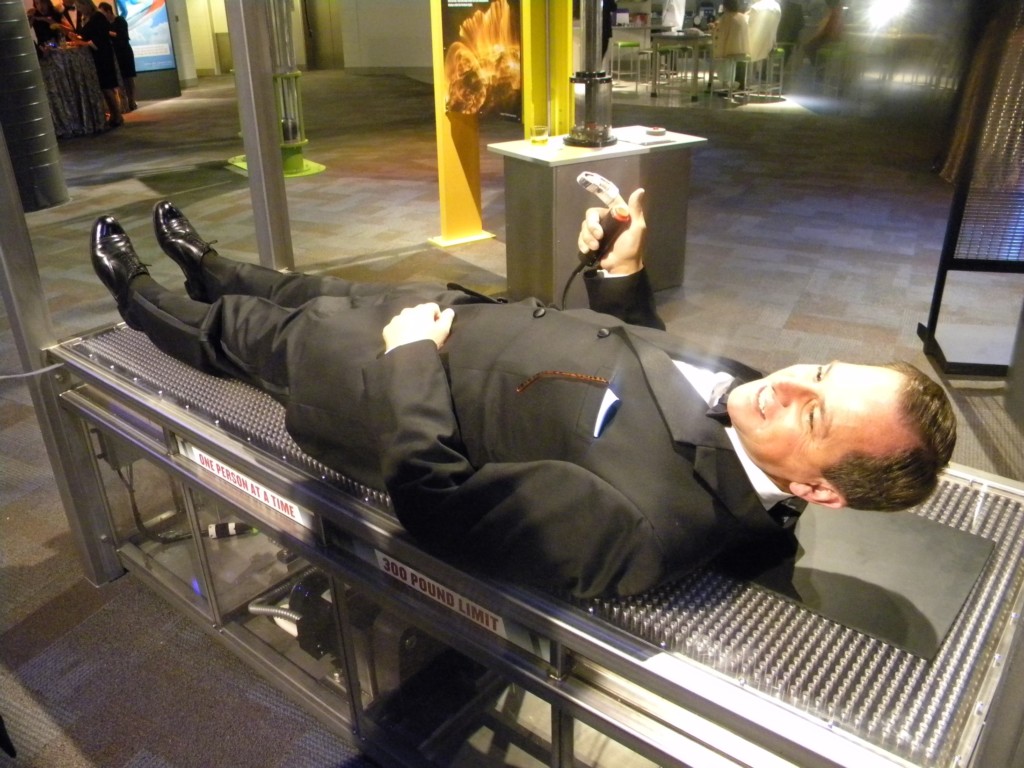 Viewing the new World Alive and Fantastic Frogs exhibits at Discovery Place is like looking at those old "I Spy" books you loved as a kid. The scenery inside each tank, ranging from small to massive, is covered in so much greenery, sand, dirt, and everything in between, it seems as if the animals themselves are hiding from you. But if you look hard enough, you just might see the shell of a horse shoe crab move or the eye of an octopus open. Although it takes a great amount of patience to wait for the slimy, scaly, and shell-laden creatures to do something, once they move, even the tiniest bit, you and the kid standing in front of you will be saying the same thing: "coooool."
The changes in Discovery Place, which cost $31.6 million and took 18 months to complete, are a much-needed refresher for the science education center, which hadn't had a major renovation since opening back in 1981. "Discovery Place is a leader in the science industry, so it was really time to wipe the slate clean and come in with all new fresh exhibitions," says Joanie Philipp, the Center's director of major projects. "We really wanted to position our exhibitions in a whole different way."
Before the renovations took place, many of the exhibits in Discovery Place had been there since the museum's beginning, but now patrons can look forward to nine new exhibitions and three new hands-on lab spaces. Plus, with new artwork, the spaces look extra nice now too. "Our exhibitions are layered with a lot of cultural influences and a lot of art so that people, depending on their experience, can connect on different platforms," says Philipp.
Discovery Place has brought in a range of new animals to the World Alive exhibitions' rainforest and aquatic habitats, now the largest exhibit in the museum. To make the ecosystems as realistic as possible, they've even included sound systems playing the noises of the animals. The Fantastic Frogs exhibition is presented as a graphic novel with huge illustrations and posted stories about frog survival at every corner.
With both exhibits you find yourself in the role of researcher. If you miss something—like the swelling of a Pacman frog, for example—you'll regret it. Even the most boring looking creatures can do interesting things when you're not looking: fish spit in the World Alive exhibit and frogs freeze themselves in ice in the Fantastic Frogs room. Now that's cool.
If amphibians and hot and muggy habitats aren't your thing, some of the museums other attractions should suffice. There's the Discovery 3D Theatre and the Them exhibit which showcases the tiny bacteria and parasites that inhabit the human body (a little gross, but totally fascinating). And don't forget the Cool Stuff exhibition (pictured). It allows kids—and big kids like yourself—to do everything from making shoes to resting on a bed of nails.

For summer hours, the museum is open Monday-Friday from 9 a.m. to 5 p.m., Saturday from 10 a.m. to 6 p.m. and Sunday from noon to 5 p.m. Admission is $12 for adults, $10 for seniors, $9 for adults and free for kids under two. For more information, visit the museum's Web site, discoveryplace.org.