Where to Buy Masks In and Near Charlotte
From team stores to boutiques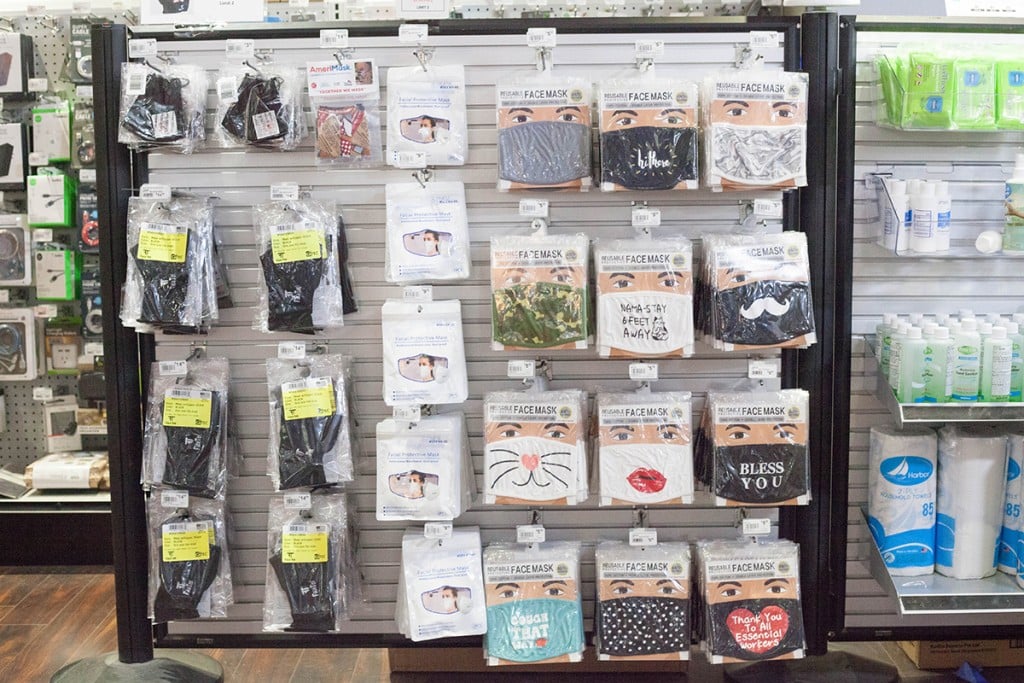 Face coverings are required in North Carolina's public spaces, and the numbers suggest that wearing a mask is going to be part of our reality for the months to come. Below, we take a look at makers and retailers in the Charlotte area offering a diversity of mask types. When you purchase at these spots, you can stay safe and support local businesses. (It should be noted that free masks are also available to the public.)

To Show Some Local Love
704 Shop
1616 Camden Rd., Ste. 140
Price: $18
Like its other products, 704 Shop's masks implement the iconic "CLT" moniker, the Charlotte crown logo, and its own 704 branding. (The mask comes with two PM 2.5 filters that you can switch out after 7 days each.)
Panthers Team Store
800 S. Mint St.
Price: $14.99 (singles)-$24.99 (three-packs)
All of the proceeds from licensed masks sold through the NFL's team stores goes to the CDC Foundation, a nonprofit "and the sole entity created by Congress to mobilize philanthropic and private-sector resources to support the Centers for Disease Control and Prevention's critical health protection work."

Hornets Fan Shop
333 E. Trade St.
Price: $14.99-$29.99 (singles and multi-packs)
All of the face coverings sold through the Hornets fan shop goes to the All-In Challenge Foundation, Feeding America, and Food Banks Canada. They come in singles, three-packs, and four-packs.

Glory Days Apparel
Price: $12
Glory Days implements the Charlotte crown and similar motifs into its face masks, which run less expensive than the other options in this category.

Spots With a Variety of Options
Blackhawk Hardware
4225 Park Rd.
Price: $5.99 (reusables)-$35.99 (10-pack of KN95s)
Blackhawk is selling options that range from reusable cloth options to disposable KN95 masks.

Pura Vida Worldly Art
3202 N Davidson St.
Price: $12-$30
Makers from across the globe sell products at the NoDa shop. Their mask offerings include simpler products and more complex ones, like the rose embroidery covering with a filter pocket below.

Paper Skyscraper
330 East Blvd.
Price: $4.95-$19.95
This South End fixture also deals from several artisans. The options reflect the eclectic products found elsewhere in the store.

Matching Both Business and Casual Attire
Ole Mason Jar
1930 Camden Rd., Ste. 125
Price: $18
This men's boutique sells masks crafted with the same material as its sport coats and shirts.

KK Bloom
2823 Selwyn Ave., E
Price: $14-$15
KK Bloom offers a variety of textures, from embroidered options to sequined for those who want to add a bit of glam.

Girl Tribe Co.
1800 Camden Rd., #102
Price: $10
The popular women's boutique has chambray, gingham, tie-dye, and other prints to match different moods. Parents: They also have teen- and toddler-specific products.
https://www.instagram.com/p/CBS9n6dB8QH/

Spots Right Outside of Charlotte
Uniquities
16836-C Birkdale Commons Pkwy., Huntersville
Price: $15-$35
Some of the masks at this Birkdale Village spot carry phrases, like "What's Your Superpower?" and "Social Distancer." (They also have a South End location.)

Parkdale PPE
531 Cotton Blossom Circle, Gastonia
Price: $5-$50 (for bigger multi-packs)
Parkdale PPE has an array of basics, prints, and buffs, with fun or plain prints. Its bulk options make it ideal if you're shopping for a group.
KatyLoo Boutique
975 Market St., Ste. 102, Fort Mill, S.C.
Price: $12
This Fort Mill shop sells several masks for both kids and adults, with prints like "dalmation spot" and camo.