Where to Eat in Charlotte's South End: 2022
Discover new restaurants and revisit old favorites along Charlotte's Blue Line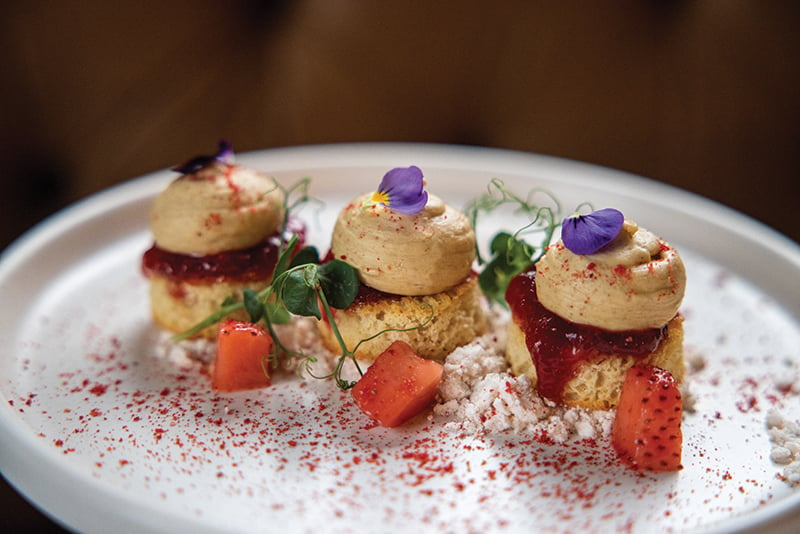 Updated 8/28
From high-rises and office spaces to boutiques and public art, South End is a hub for new development and buzzy restaurants. The neighborhood is still home to a few longtime favorites, but newcomers continue to expand its culinary landscape with tapas bars, tasting menus, trattorias, and more.
See our website for a full directory of restaurant listings.
Futo Buta
222 E. Bland St.
704-376-8400
Futo Buta—Japanese for "fat pig"—sits along the light rail at Bland Street, with space for 40 diners inside and another 40 on the patio. The ramen is the star of the menu and ranges from traditional shoyu, a soy sauce base, to pork bone and vegan broth. But don't skip the appetizers and small plates, which include Fried Brussels Sprouts, Rice Crispy Squares, and Smoked Pork Belly Buns.
The Waterman Fish Bar
2729 South Blvd., Ste. D
704-275-5558
This lively seafood restaurant has all the essentials: lobster rolls, fried fish sandwiches, and oysters four ways.
Barcelona Wine Bar
101 W. Worthington Ave., Ste. 110
704-741-0300
Nosh on Spanish and Mediterranean-inspired tapas, or customize a charcuterie board with meats and cheeses from different regions in Europe.
Bardo
1508 S. Mint St., Ste. B
980-585-2433
Enjoy seasonal small plates and creative cocktails while you watch the chefs at work.
Let's Meat KBBQ
1400 S. Church St., Ste. B
980-299-4389
Marinated meats at this all-you-can-eat hangout come with Korean sides like steamed egg soufflé.
O-Ku
2000 South Blvd., Ste. 510
704-594-1922
Sushi is all about the sourcing, and you can taste that it's done well at this Charleston import.
Rai Lay
1520 South Blvd., Ste. 130
980-207-0991
Settle in for warm Thai noodles, sushi, and Asian comfort-food classics.
Eight + Sand Kitchen
135 New Bern St., Ste. A
704-370-9696
The made-from-scratch bakery has sandwiches, salads, and artisan breads, and the café serves drinks all day.
VANA
1440 S. Tryon St., Ste. 100
980-819-5913
Chef Michael Noll serves shareable plates in this open kitchen spot with a wood-fired theme.
Indaco
2046 South Blvd.
704-741-9004
The Charleston-based restaurant serves wood-fired pizzas and handcrafted pasta inside Atherton Mill.
The Eagle Food & Beer Hall
2120 South Blvd., Ste. 1
704-780-1570
Feast on fried chicken with a side of house-made hot honey, plus comfort-food sides like mac and cheese, collards, and hush puppies.
Yunta
2201 South Blvd., Ste. 130
980-495-2253
The team behind Viva Chicken merges Peruvian and Japanese cuisines in a sleek, upscale atmosphere.
La Capital MX
1910 South Blvd.
704-870-7555
Feast on tacos, enchiladas, and seafood plates at this family-friendly spot in the Steel Yard.
PARA
235 W. Tremont Ave., Ste. 100
704-812-0607
Expect small plates and a big presentation at this South End hotspot.
North Italia
1414 S. Tryon St., Ste. 140
980-279-8900
Head to the ground floor of The RailYard for a dressed-up entrée like Squid Ink Mafaldine, or get the basic Spaghetti and Meatballs, which is good every time.
Yamazaru
2173 Hawkins St., Ste. A
980-201-9134
This sushi spot offers a stylish backdrop and an extensive list of sake and specialty rolls.