Where to Make Valentine's Day Dinner Reservations in Charlotte
Reserve a date night at one of these Charlotte spots offering special menus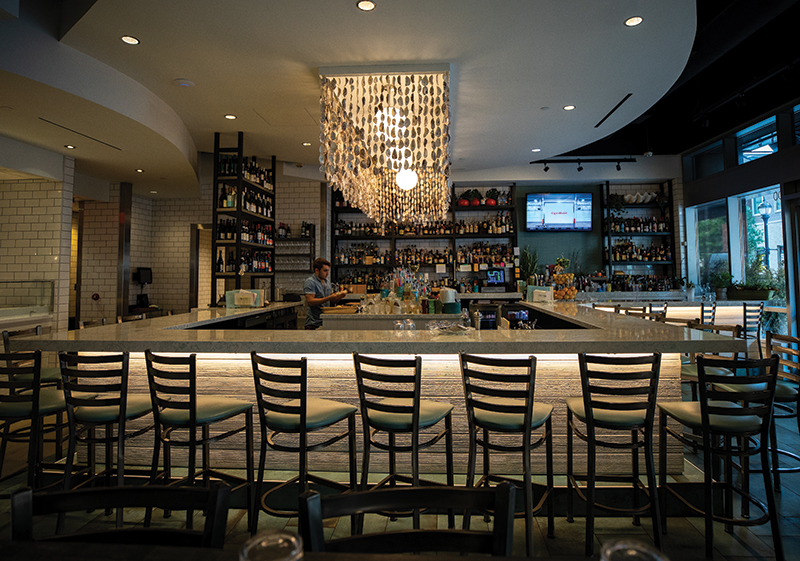 ANOTHER YEAR and Valentine's Day has snuck up on us once again. Hallmark holiday or not, February 14 is a great opportunity to taste the best of Charlotte's culinary scene, or opt for a less-traditional date at a murder mystery dinner show or the Whitewater Center. Just remember to make reservations before spots run out.
Angeline's
303 S Church Street
For Reservations: Call 704-445-2540 or book online here.
In the heart of Uptown, this Italian-influenced restaurant is serving a four-course tasting menu for $100 per couple. The night begins with a Tasting of Crudos: Arctic Char, Branzino, and Capesante. Up next is a Red Beet-Ricotta, followed by your choice of Wood Fired Veal Chop or Pan Seared Wild Striped Bass. Indulge in a chocolate cake for dessert.
The Dinner Detective Murder Mystery Dinner Show
6300 Morrison Boulevared
For Reservations: Book online here.
Make Valentine's Day a little more entertaining. This interactive comedy murder mystery dinner show is playing at the DoubleTree Suites Thursday through Saturday. Together, you and your date tackle a challenging crime while you feast on a three-course dinner. Start with the Southwestern Chicken Eggrolls and house salad. For the entree, diners chose between Seared Chicken Breast, Potato Crusted Cod, and Pasta Primavera. Last, enjoy a Chocolate Tuxedo Cake served with iced tea and coffee.
Fin & Fino
135 Levine Avenue of the Arts #100
For Reservations: Call 704-800-5680 or book online here.
This seafood spot is dishing up a four-course dinner for $75 per person. Start the night off with your choice of Spice Pork Belly, Squid Ink Gnocchi, Steak Tartar, and Raw Oysters. Next up is your pick of Onion Soup, Mixed Greens and Beet Salad, or Arugula Salad. For the main course, choose from the Filet Mignon, Snapper, Scallops, Stuffed Lobster Tails, Porchetta, or Wild Boar and Octopus. Dessert will be between the Goat Cheese Tart, Chocolate Custard, and Orange Blintz.
Zipline and Dine: Valentine's Edition at the U.S. National Whitewater Center
5000 Whitewater Center Parkway
For Reservations: Book online here.
For $75 per person, take your significant other on a thrilling and tasty date on the U.S. National Whitewater Center's longest zip line, spanning 1,625 feet. After some more fun on the high ropes and a short hike back to River's Edge, you'll enjoy a three-course dinner featuring entrees like Frenched Chicken Breast and Beef Medallion. There will also be vegetarian, vegan and gluten-free menus.
Upstream Restaurant
6902 Phillips Place
For Reservations: Call 704-556-7730 or book online here.
Upstream in SouthPark is serving a three-course menu for $55 per person. Items can also be ordered individually. Start with a Warm Tuscan Kale and Crab Dip. Your entree will be a choice between the Maine Lobster Ragout or the Wagyu Skirt Steak. Enjoy a Ginger Fried Ice Cream for the last course. For drinks, you will receive the The Lover's Flight, a four-ounce pour of Love Story Sparkling Soave, Love Block Sauvignon Blanc, and Love Story Pinot Noir.
Mimosa Grill
327 S Tryon Street
For Reservations: Call 704-343-0700 or book online here.
For $55, this Uptown restaurant is serving a three-course tasting menu, which includes amuse-bouche, a salad, an entree, a dessert, and a champagne toast. Entrees include the Boneless Short Rib, Roasted Scottish Salmon, Harmony Ridge Farms Duck Breast, Pan Roasted Diver Sea Scallops, Filet of Beef Tenderloin, and the Snake River Farms Wagyu Flank Steak. The grill will continue this menu through Saturday.
WP Kitchen + Bar
6706 Phillips Place Ct C
For Reservations: Call 704-295-0101
Chef Stephen Schmitt of WP Kitchen + Bar will be serving specials Thursday night, including $27 Duck Breast with beets, turnips and candied kumquats; $32 Lamb Rack with cauliflower, kalettes, smoked date, pine nuts, and a rosemary-lamb jus; and $9 Raspberry and Chocolate Swiss Roll with caramelized white chocolate and vanilla gelato.
Hickory Tavern
Multiple locations
For Reservations: Call one of the multiple locations.
At Hickory Tavern, you and your date can order one appetizer, two entrees, and a desert for $45. Start with your choice of the Veggie White Flatbread, Chicken Barbecue Flatbread, Pow Pow Shrimp, Crab Dip, or Seared Ahi Tuna. For the main dish, you can order the Maryland Jumbo Crab Cakes, Delmonico, Marinated Skirt Steak, Shrimp and Grits, and Smothered Chicken. The night ends with a Tavern Tower Chocolate Cake. This Sweetheart Special runs Thursday through Saturday.
The Asbury
235 N Tryon Street
For Reservations: Call (704) 342-1193 or book online here.
For $135 a couple, celebrate Valentine's Day at The Ashbury. The chef is dishing up Truffle-Roasted Half Chicken, Pan-Roasted Halibut, and Bone-in Rib Eye for the main course options. Dessert for the table is Strawberry Shortcake or Mango and Chocolate Mousse Bar.
STOKE
100 W Trade Street
For Reservations: Call 704-353-6005 or book online here.
This Southern-style restaurant inside Marriott City Center is serving a three-course dinner for $40 a person. The night begins with a starter, with dishes such as Deviled Eggs, Hushpuppies, and Country Ham to choose from. For your entree, take your pick of six dishes, including Roast Half Spring Chicken, Glazed Pork Belly, and Flank Steak. Finish your meal with one of their desserts: Sorbet, S'mores Ice Cream Sammy, Double Chocolate Brownie, and Doughnut Holes.
ROOTS Cafe
2135 Southend Drive
For Reservations: Call 980-260-3111. Get Galentine's Day tickets online here.
Valentine's Day is for the girls this year at ROOTS Cafe. For $30, enjoy a charcuterie and cheese spread, desserts, Bellini's, mimosas, and champagne with your girlfriends. But don't worry, couples; The South End cafe will serve a three-course Valentine's brunch Saturday and Sunday from 8 a.m. to 3 p.m.
Reid's Fine Foods Myers Park
2823 Selwyn Avenue
For Reservations: Call 704-377-1312.
For the romantic holiday, Reid's in Myers Park specials will include a Lobster-Stuffed Flounder with Lemon-Candied Carrots and Ossobuco with Ricotta Mashed Potatoes.
Reid's Fine Foods SouthPark
4331 Barclay Downs Drive
For Reservations: Call 704-377-7686.
Reid's in SouthPark will be offering the following specials: $17 Pistachio-Crusted Seared Scallops and $13 Winter Squash Ravioli for starters; $28 Crispy Skin Haddock and a $32 Filet with a Mushroom Potato Cake and Squash Vegetable Medley for the main courses; and an $8 Blood Orange Champagne Crème Brulee and $10 Chocolate Entremets to end the night.
Mama Ricotta's
601 S Kings Dr AA
For Reservations: Call 704-343-0148.
This traditional Italian restaurant will be offering the following specials: $9 Fontina Fonduta and $11 Braised Baby Beet Salad for appetizers; $19 Wood-Oven Roasted Chicken, $25 Butter Poached Lobster and Shrimp Risotto, and $21 Slow Roasted Pork Shank for entrees; and a $9 Chocolate Tart dessert.