Where to Recharge in Charlotte: 2020
From our guide to wellness in Charlotte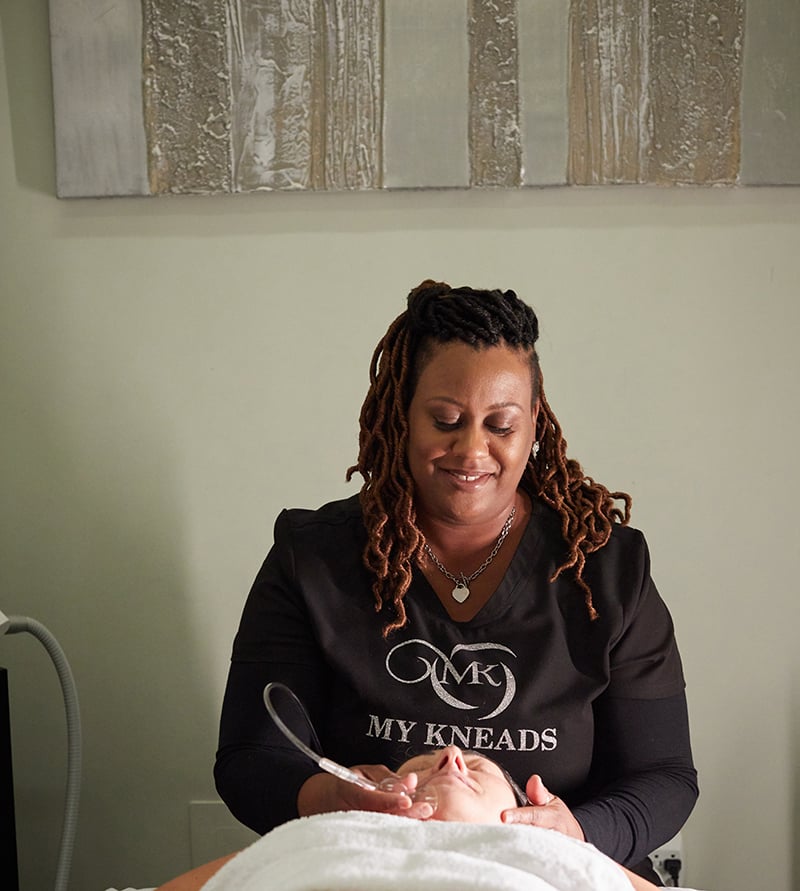 Release Toxins From Your Body With Summer Maiden
WHAT YOUR MIND THINKS, your hands will perform. It's how Summer Maiden responds when clients ask why she closes her eyes as she gives a massage. "Blind people are the best massage therapists," she says with a shrug. "When you close your eyes, you truly feel."
To her, tight muscles feel like guitar strings. Your spinal fluid has a sacral rhythm that she says she can locate by touch. If she feels an area that's "stagnant," she'll open up your vessels for better blood flow. "Body mechanics are everything with massage," she says. "When I feel something releasing, relaxing, and I have that trust factor, I feel like I've really done something."
To her, massage isn't self-indulgent. It's self-care. "People talk during a massage, which is also a release when you're stressed," she says. "People have told me about traumas, car accidents, deaths of family members, and I know why they're opening up. It's a release all over."
As a lymphatic drainage specialist, she encourages the movement of lymph fluids to release toxins in the body. Keeping the lymphatic system healthy is a 6,000-year-old secret that she says everyone should adopt. Whether it's the physical stress of eating bad foods or the emotional stress of a bad relationship, everyone has toxic loads they carry; a sluggish, stagnant lymphatic system can cause a number of symptoms like fatigue, headaches, and bloating.
Lymphatic Drainage Therapy (LDT) is just one of Maiden's specialties. She also does Swedish, neuromuscular, CranioSacral, and neonatal massage at My Kneads Integrative Medical Massage in South End. Her licenses and certifications are too numerous to list because her career has taken her to hospitals, physical therapy facilities, oncology clinics, and private practice. She's done medical massage on chemotherapy patients, children with sickle-cell disease, and patients with circulatory issues prior to heart surgery.
"Physicians and surgeons are sometimes unaware of what can happen with massage therapy," she says. "I had a patient who was swelling up after a lung transplant, and a doctor called (the massage) a 'spa treatment.' Later, that doctor pulled me aside and asked what I was doing with lymphatic drainage. He didn't know massage therapists know what we know. He stopped calling it a 'spa treatment' after that."
Today, Maiden works with Panthers players, bankers, housewives, and children. Some come to her with physical pain, while others come to relax. If they want to talk, she'll listen. And if they don't, chances are she'll feel it through the massage. Her eyes may be closed, but her hands are doing the hard work, helping each client find their release. —T.B.
---
Float Therapy
Claim: Increased blood circulation, pain relief, diminished jet lag, decreased stress, improved creativity and sleep.
Experience: When you arrive at True REST Float Spa, a staff member will offer you tea or water, then usher you into a room to watch an informative video on float therapy. Next, you'll go to a private room, strip down, shower, and insert earplugs before getting into a float pod filled with water and 1,000 pounds of Epsom salts. For the first 10 minutes, soft music plays, and a dim light fills the oval tub. After 10 minutes, the pod is dark. Floating is effortless, and you may or may not fall asleep. Five minutes before your time is up, the light and music return.
Verdict: Mike Shoniker, owner of the True REST franchise on Pecan Avenue in Plaza Midwood, says a first float could make you feel tired. But you may feel the opposite—well-rested, relaxed, even euphoric. It's also freeing to not have your iPhone buzzing with a new email every other minute.
Details: The first float is $65, and every subsequent float costs $89. True REST also offers memberships starting from $65 for one float a month. Visit truerest.com for more information.
Bonus: After a float, True REST offers complimentary use of its oxygen bar. —E.W.
---
Salt Therapy
(Also Known as Halotherapy)
Claim: Improved breathing, healthier skin, sounder sleep, reduced stress and anxiety.
Experience: Slip into a plush white robe and slippers, pad over to the salt room, and have a seat on a cushioned papasan chair beside the Himalayan salt block wall. Breathe in the salty air and let the soothing, pink-and-orange LED chromotherapy lights key up some melatonin. After 30 minutes, the antibacterial and anti-inflammatory effects of the salty air will clear any nasal congestion you may have brought with you.
Verdict: Maybe it's the chromotherapy lighting or the peaceful spa music and water sounds in the background, but this feels like the equivalent of three days of fresh salt air and crashing waves in 45 minutes. Any calm you feel from the chromotherapy will likely evaporate as soon as you resume gazing at the blue light from your cellphone, though.
Details: A wellness membership at The Invigory, 7314 Waverly Walk, Ste. E-1B, costs $68 per month and includes any two treatments. Visit theinvigory.com for more information.
Bonus: Your dog can do salt treatments, too. The Invigory, which used to have a designated salt room for pups, now offers a mobile salt air machine—made by Infinity Salt Air, a Charlotte company—so your dog can enjoy "Salty Dawg" therapy at home for the equivalent of one extra treatment per month (cost varies depending on your membership plan). For non-members, it's $45 per treatment. —T.B.
---
Massage at the Airport
Claim: Reduced stress, relaxed muscles, and improved overall well-being.
Experience: Long waits are common at both XpresSpa locations in Charlotte Douglas International Airport, so get to the airport earlier than usual if you want a pedicure or 30-minute neck and back massage. Don't worry about the constant stream of people walking by—once your head is in the massage chair, the commotion fades away. You keep your clothes on for all XPresSpa treatments, but you can disrobe for the full body massage if you like.
Verdict: Between connections, delays, and crying babies, air travel can be stressful, but this massage will make you feel more relaxed. At $72, the half-hour massage is expensive, but it's worth it for long travel days and special occasions.
Details: $42-$72 for back and neck massages, depending on duration, at the A/B and D/E connectors.
Bonus: The larger of the XPresSpa locations is between D and E terminals. It includes tubs for pedicures and more massage therapists. —E.W.
---
DAILY ROUTINE: Lauren Campbell of Allen Tate Realtors
Lauren Campbell is a successful real estate broker with Allen Tate Company and a busy mother of three boys, ages 15, 18, and 21. In late 2017, she was diagnosed with breast cancer, and she spent the next year being treated with chemotherapy, radiation, and surgery. By 2019, she was cancer-free, and made a commitment to put her health first. Today, the 51-year-old makes time for twice-weekly Pilates classes and visits KŨR Health Spa once a week for lymphatic drainage massage and 30-minute sessions in the infrared sauna.
Here is how Campbell fits her wellness routine into a typical workday:
6 a.m. Wake up and get my boys up.
6:30 a.m. Make breakfast for my boys and pack school lunches.
7 a.m. Eat breakfast (Ina Garten's Italian frittata warmed in the microwave, or overnight oats with fruit) and read the paper.
7:30 a.m. Drive to Ebb and Flow Studio for Pilates.
8 a.m. Pilates reformer class.
9 a.m. Come home, shower, and get dressed.
10 a.m. KŨR Health Spa for a 60-minute lymphatic massage with Renate.
11 a.m. 30 minutes in the infrared sauna.
11:30 a.m. Stop by Café Monte for a chicken club sandwich.
12 p.m. Head to work at Allen Tate's SouthPark office.
6 p.m. Head home to make dinner, usually something healthy like Thai turkey lettuce wraps or chicken saltimbocca.
8 p.m. Watch Brooklyn 99 with my boys on Amazon, or an NFL football or college basketball game.
9:30-10 p.m. Go upstairs and read in bed until I get sleepy. I still use an old-fashioned alarm clock and leave my phone in another room to charge. I also like to roll some Clary Calm essential oil on my wrists to help me relax and fall asleep.