Where to Sweat in Charlotte: 2020
From our guide to wellness in Charlotte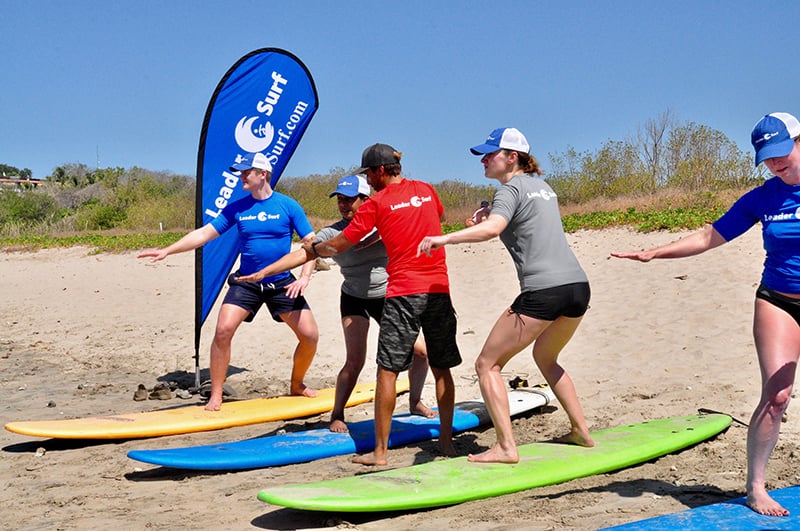 Ride the Waves with Brian Formato
WHEN IS THE LAST TIME you learned a new physical skill? "That's often the hardest question for people to answer," says Brian Formato, founder of LeaderSurf, a leadership development retreat he hosts in Costa Rica. "The older we get, the more sedentary we are."
Formato, a Charlotte-based executive coach and founder of Groove Management, designed LeaderSurf for business leaders to build leadership endurance, which he says is similar to the physical endurance required in surfing. The six-day program takes a group of six to 10 people from companies that include Intel, Circle K, The Motley Fool, and Fifth Third Bank to the beaches of Nosara, Costa Rica, for daily coaching sessions, team-building activities, and surf lessons. "In business, we're taught that failure isn't an option, and we need to embrace failure as part of learning," he says. "Even the best surfers in the world wipe out. As a leader in business, you're gonna wipe out."
For the initial surf lesson, nobody gets in the water for a full hour. First, they study the landscape, using all their senses. "Then you have to stretch, because even just the act of carrying the board is hard," Formato says. "In surfing, 90 percent of it is paddling. That's really frickin' hard work. If you spend five minutes of one hour standing, that's a success."
Participants range in age from 29 to 57, and across varying levels of physical fitness. But by the end of the week, everyone has ridden a wave. "Sometimes just on their knees, but it all counts," Formato says. "It's the idea that the best things in life come after a struggle. And in the water, no one's gonna see you sweat."
They end each day with sunset reflections, a mindfulness activity in which participants watch the sun set and share what they've learned about themselves that day. By 8 p.m., after the nightly group dinner, everyone is spent. "Without trying, you get your 10,000 steps a day," Formato says.
He's had more than 50 people do the program over the last four years, and Formato says one of the biggest challenges is getting participants to give up their devices for the week. "We have such a difficult time disconnecting, but with surfing, you can't have your phone in the ocean. You get your ass kicked by the waves, but you go home a totally different person."
Still, he says, learning to surf is a top bucket list item, along with learning a foreign language or musical instrument. "But riding the wave isn't really what surfing is," he adds with a smile. "You have to enjoy the paddling." —T.B.
---
Yoga
You can realize tons of benefits—from improved flexibility to toned muscles—by regularly practicing yoga. But can it make you happy? After an hour with Sydney Duarte, we're convinced it can. Duarte's smile, which was probably the first thing you saw when you picked up this magazine, is infectious. Her positive energy radiates beyond the classes she teaches at NoDa Yoga every Wednesday at 6:45 p.m to murals throughout the city. One, on a wall outside of Two Scoops in Plaza Midwood, says, "You can't make everyone happy, you're not ice cream. Do the things that light you up. Everything else will fall into place." She paints these murals with her mom, Ann. To find Duarte's murals and yoga classes, head to her website: thetravelinggypsy.org. —E.W.
---
Infrared Sauna
Claim: Reduced inflammation and muscle soreness, relaxation, improved circulation, calorie burn, better sleep.
Experience: Strip down to your birthday suit and lie down on a cushioned pad inside an infrared unit, similar to a tanning bed. The infrared heat hits your body from all sides, but your head remains uncovered so you can breathe in the scent from the aromatherapy diffusers. Your core temperature rises gradually, so you won't perspire for about 15 minutes. After 45 minutes, a river of sweat will run down your body.
Verdict: On a cold winter day, the warm bed feels like a tropical vacation, but at roughly $35, it's an expensive way to relax. It's a nice alternative to hot yoga, but any weight you drop is likely just water weight; once you rehydrate, it'll come right back.
Details: At KŨR Health Spa, located at 3928 Park Road, guests purchase credits in advance to apply to services. A single 45-minute session costs approximately $35. Visit kurhealthspa.com for more information.
Bonus: Splurge on a "Happy Feet" warm magnesium foot soak and massage with co-owner Renate Navaroli prior to your infrared therapy session. —T.B.
---
Aerial Fitness
Claim: Increased upper body and core strength, improved flexibility and posture.
Experience: AerialCLT sits in a massive brick warehouse in uptown, with many small group classes happening at once—lyra, trapeze, and the most common aerial fitness medium, silks. Sydney Leighton's lyra class begins with stretching and a few exercises to wake up the core and wrist. During the rest of the class, Leighton teaches new moves and postures, and then you're free to practice on the hoop. Learn how to plank inside the hoop in a mermaid, or master a pose called "the perch," which looks like a bird sitting on a branch.
Verdict: This class is tough on the hands, but their claim that you don't need to be able to do a pull-up before your first class is true. The combination of strength and beauty in these poses is empowering.
Details: $30 (drop-in classes), $100 (four-week introduction course), $150/month (unlimited). For AerialCLT's class schedule, information about class passes, and more, visit aerialclt.com. —E.W.
---
DAILY ROUTINE: Chrys Crockett
of "Get Fit with Chrys"
Personal trainer and bodybuilder Chrysten "Chrys" Crockett lives in Atlanta but calls Charlotte her "home away from home." The Ohio native based her training business in Charlotte before shifting most of her work online. You may recognize her from her 10-minute workouts that air live on Instagram at 6 a.m. every day or from her posts about healthy eating and fitness. Here's a typical day in the life of Chrys:
5 a.m. "I don't like to wake up and jump right on social media," Crockett says, so she takes some quiet time for herself.
6-6:10 a.m. A 10-minute workout, which is free and accessible to anyone with an Instagram account.
6:15 a.m. First breakfast. After her first workout, she usually has a protein shake and coffee.
6:45-8 a.m. Work out at the gym.
8:15 a.m. Second breakfast. After a long workout, she likes to eat plant-based bacon, fruit, avocado toast, and drink more coffee.
8:45-10 a.m. Emails.
10 a.m.-5 p.m. Business development. This is the bulk of her work as an entrepreneur, when she makes coaching calls to her clients, builds the marketing agency she recently co-founded, chats with prospective clients, and curates future social media content. She takes a lunch break around noon.
5-6 p.m. Play with her two French bulldog puppies.
6-7 p.m. Dinner. Lately she's a fan of red lentil pasta with spinach and meatless meatballs because it's so high in protein.
7-8 p.m. Brainstorm session. Crockett talks with her boyfriend, also an entrepreneur, about ideas to grow their businesses.
8-10 p.m. Netflix. After a long day, she likes to "turn all the way off." Crockett and her boyfriend are currently binge-watching Godfather of Harlem.