White after Labor Day?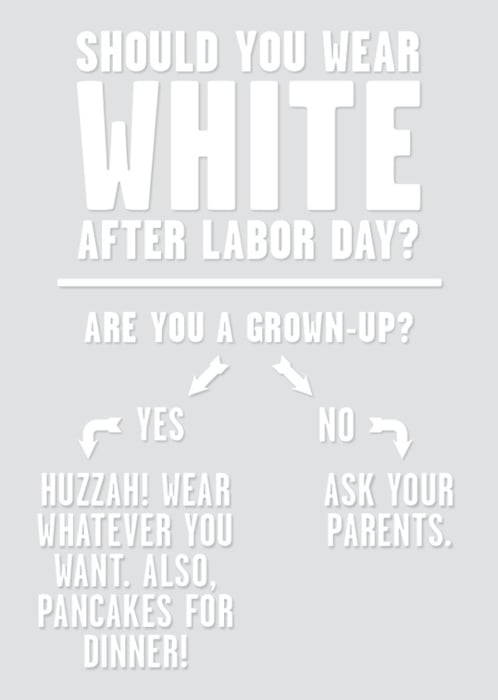 It pains me to say that this warrants a re-post from last year.
I remember begging my mom for white Keds for school every year. She'd say, "No, because you can't wear them after Labor Day, or it's tacky; it's not practical." I suspect most of our mothers engrained this point in us. (Side note: today, my mom is approaching 60 and is infinitely more fashionable than I.)
For some reason, we still see fiercely stylish people pause, post-Labor Day, and ask a friend if it's okay to wear white shorts on a 100-degree day in September. I thought the question had been resolved, but it hasn't, so I'm putting it to rest (again).
Notice the friendly poster to the left. Guess what? We're not kids begging for Keds at Stride Rite anymore; we're adults! That means we decide what we wear.
If you can no longer stomach the site of your summer wardrobe after that first week of September, then, by all means, feel free to forget your white until spring, and bring on the fall jewel tones. But, if you're like me, and aren't ready to part with your pretty white pieces, particularly when the weather hasn't changed, Labor Day or no Labor Day, then keep sporting them until you're sick of them. I can assure you I'll be wearing my favorite white skinny jeans on football Saturdays–through November–if the weather's nice enough.
The moral? Wear your white—unless you're the guy from 7th Street last Saturday, clad in white, see-through pants that left the spotlight on his NC State boxers. You-guy, retire those for good.