Who Is Palmetto Moon?
Get to know the newest retailer coming to Charlotte—and its Southern style.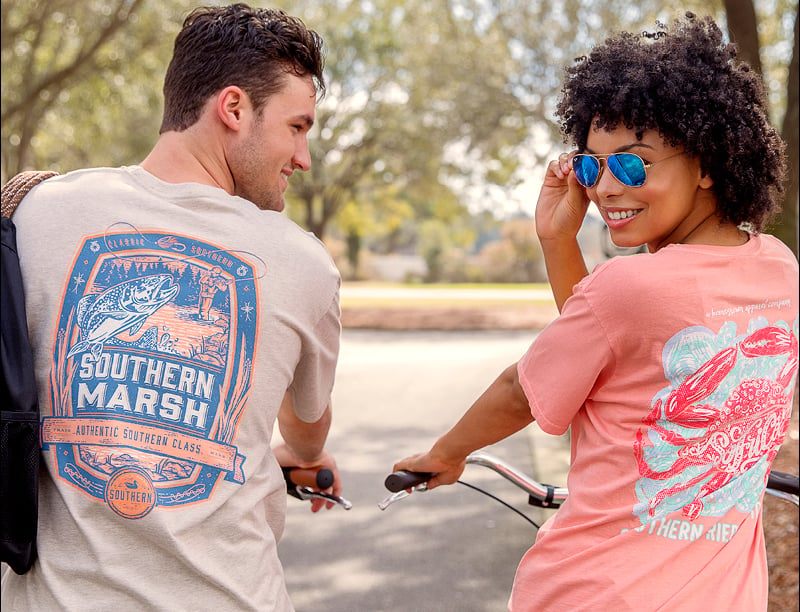 Pop quiz: What do Southern Tide, YETI, and Simply Southern Collection have in common?
Answer: All three brands are featured under one roof at Southern style retailer, Palmetto Moon!
If you've never heard of Palmetto Moon, now's your chance to get briefed on Charlotte's newest Southern style supplier. Palmetto Moon, with South Carolina's iconic palmetto tree and crescent moon as its logo, is technically a chain store, but they customize each location to match the city it serves. Now open as of April 6, here's what you need to know about this special Charlotte store.
They will have all your favorite Southern brands
If Palmetto Moon does one thing and one thing only, it is celebrating the slow-and-sweet Southern lifestyle. Basically, if you're known to wear colorful shorts, sip from a YETI cup, or sport an oversized T-shirt, this store will be as close to Heaven as it gets for you. Below are some (though not all—see the full list here) of the brands you'll have the pleasure of shopping when the store opens in Charlotte.
They will have UNC Charlotte gear
Show off your alma mater pride in style with Palmetto Moon's curated collection of collegiate gear—from Tervis tumblers to creative stitched pillows to hats, sweatshirts, and more. As mentioned above, the store customizes its offering based on the city it's in, so all the UNC Charlotte tailgating gear you could ever want will be just a short shopping trip away. (These types of items also make great gifts for the super-fan—hint, hint.)
Their Instagram feed feels like a permanent vacation
Just sayin'. If you love scrolling for inspo on IG, consider checking out Palmetto Moon's account—it's bright, beachy, and as Southern as your sweet tea. Speaking of beaches, they have an entire beach essentials collection to make your seaside vacay unforgettable (we're obsessed with the jellyfish float, palm leaves cooler, and printed round towel with tassels).
They sell adorable Southern baby clothes
Be the aunt or uncle (or parent!) of the year with some of the sweetest kids clothes on the market. This gingham bow dress is to die for, and mini Tigers-to-be will look darling in this spirited, orange-striped dress-and-bloomers combo. Proceed with caution, though, looking through Palmetto Moon's kids' styles could give you baby fever. You've been warned.
The store now open in the SouthPark Mall with a giveaway-fueled celebration on April 21 & 22
It's the moment you've been waiting for… Palmetto Moon's Charlotte Grand Opening party! According to our sources, Palmetto Moon will put down roots in Charlotte on Saturday, April 21, with a slammin' Grand Opening party that runs through Sunday. On Saturday, the celebration event at the new store in SouthPark Mall (4400 Sharon Road) will take place from 10 a.m. to 2 p.m., and, on Sunday, stop by between 11 a.m. and 2 p.m.—both days, you'll have the chance to win gush-worthy prizes from the store. Every 15 minutes on both days, there will be a "spin to win" giveaway, with prizes being merchandise from the store's most popular brands, including Costa, Simply Southern, YETI, and more. Additionally, the first 200 guests will receive a free 20-ounce custom YETI tumbler with their purchase. Cha-ching! For more information on the Grand Opening event, check out the Facebook Event Page.