Who's Cooking Dinner?
There are four culinary schools in Charlotte. So why is there a shortage of cooks in the city's restaurants?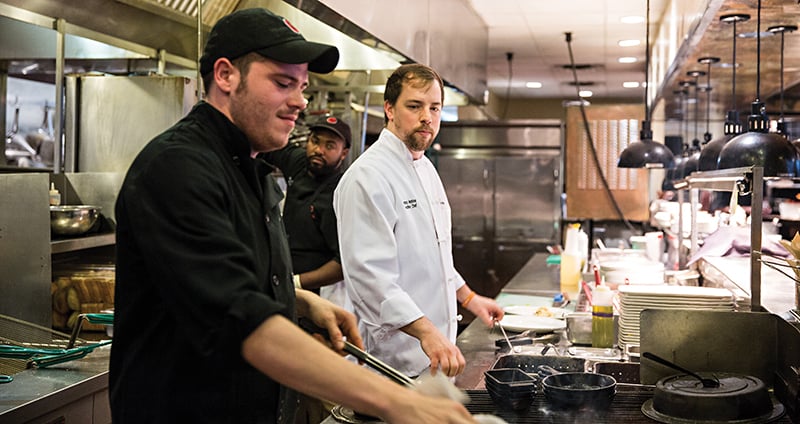 A SWINGING DOOR flies open toward the 300 East dining room momentarily, long enough for me to glimpse a tall guy in a skull cap reach for something on a high shelf. He is young, and he is sweating.
I learn later that he is a prep cook named Michael Murphy, one of thousands in our city's restaurants who are not chefs in the strictest sense, in that they are not in charge of the kitchen. But they're still cooks. They tend to kitchen pantries, unpack and sort deliveries, work the sauté station, and man the grill. They break down meats, clean up at the end of shift, and chop vegetables, over and over.
They rarely (if ever) make the covers of magazines, or even the pages inside. Outside of accidental glimpses such as this one or at a few restaurants with open kitchens, we never see them. Our ability to enjoy a good meal outside of the home, however, relies upon them showing up to work.
Have a pint or two after hours with a chef, and he or she might get to telling you about time "on the line." The line is the place in the kitchen where the cooking gets done, and is often the place for winnowing out the less serious cooks. The pace is fast, the heat is intense, and the demands are unrelenting. The chef's story will surely have the weary but proud timbre of a soldier's tale.
Lately, chefs in Charlotte have had trouble staffing their lines. You might assume that a city with four culinary schools could supply enough resources for the city's restaurant scene. But here and in many other cities across the country, the pace of restaurant openings is outpacing the number of cooks available—reliable ones such as Murphy, who has been at 300 East for two years, a relatively long time for that position.
***
EXECUTIVE CHEF CHRIS COLEMAN of Stoke has between two and five line cooks working each shift, and he staffs two shifts a day, seven days a week. According to the Charlotte Chamber of Commerce, there are more than 1,500 restaurants and bars in Mecklenburg County. In the combined Charlotte, Concord, and Gastonia region, according to the Bureau of Labor Statistics, that number grows to 4,382, and while not all require professional cooks, these figures show how many positions need to be filled to keep our restaurants running.
"We've gone through pretty extensive turnover in the last two years," says Executive Chef Thomas Marlow of Mimosa Grill. He remembers just a few years ago, when the average tenure of a line cook was about three or four years. Many of these cooks had at least 10 years of experience in the position. These days, he says, line cooks move on after only six months, pursuing a better opportunity or better pay.
Locally, the shortage has driven up wages. Marlow estimates that the hourly rate for a cook has gone up at least two dollars in the past couple of years, to as much as $13 to $14 per hour. According to the Bureau of Labor Statistics, the average wage for a Charlotte restaurant cook is almost a dollar higher than the state average. That same report puts the nationwide average for a restaurant cook's hourly wages at about $11, or $23,000 a year. A single person pursuing a culinary career may not mind this kind of pay for a while. A person responsible for a family, however, would be hovering around the poverty line.
Marlow says that chefs in Charlotte share cooks when someone is shorthanded, a strategy that helps the cooks make money when things are slow at their own restaurants.
A restaurant's ability to pay its cooks well depends largely on its finances, and, despite a common perception, most restaurants usually produce small profit margins after expenses.
Kitchens often make investments in these cooks in the form of training. "You usually have to hire about 10 people before one person will stick," Marlow says. The money restaurants spend to get them up to speed walks out the door when they leave, sometimes in a matter of weeks. "My chef de cuisine and I joke that we spend more time discussing and talking about labor than we do food," he says.
***
"HE'S JUST a monster," Marlow says of José Escobar. "I can ask the guy to do something he's never done before, and he will do it just as I would have done."
Escobar, a skilled cook with many years on Mimosa's sauté line, has no formal training. Neither does Tosha Hill, a pantry cook whom Marlow says "is equally a rock star." Pantry cooks typically work with cold foods such as salads and desserts, and are often responsible for stocking and prepping the food for that station. Both Hill and Escobar realize how their roles influence a kitchen's ability to feed up to 500 restaurant guests a day.
Throughout his career, Marlow has encountered cooks who don't even know how to hold a sauté pan properly. Some have come from culinary schools that charge between $50,000 and $100,000 for a two- or four-year degree. Some express a desire to attain the head chef position so regularly celebrated on television, but won't invest the time and energy required to get there.
"People don't realize, some of these celebrity chefs went through conditions that are 10 times harder to get where they are," Marlow says. He believes a grasp of the fundamentals can come only through repetition and experience, but senses that fewer and fewer cooks want to push their way through that process, churning on the line.
Murphy, the chef behind the swinging door, relishes the work. "It's an eye-opening experience, because you think you know everything when you finish culinary school," he says as we talk, sometime around 10 p.m., when he's usually just starting to relax. "And then you encounter new things and realize there's so much to learn. At 300 East, there's something different (on the menu) every weekend, which means I'm learning something different—which is awesome."
To minimize the number of bad hires, many chefs bring candidates in for a trial run. The candidates work, unpaid, to gain an understanding of new methods and cuisines, and also so that the chef can observe them in real-life situations before hiring them. Chefs call this process "staging."
Executive Chef Franke Jones of 204 North, himself a line cook for almost seven years, sums up what he is looking for one in word: resolve. Resolve doesn't necessarily mean a drive to move up to the position of head chef, however. Some people enjoy the supporting role.
"I've worked with a lot of great cooks that had a taste of kitchen management and decided that they just want to cook," Jones says. "Cooking for a great chef is very rewarding and a totally different experience than managing a team of people."
***
IT CAN BE EASY for hungry diners to overlook the amount of work it takes for dishes to get to the table. In a way, that's what restaurateurs want: Providing guests a relaxing and enjoyable experience is integral to the hospitality business.
This lack of transparency, however, makes it hard for us to see what our collective demands are doing to the industry as a whole. According to the National Restaurant Association, the number of restaurant and food service jobs in North Carolina is expected to grow another 15 percent during the next 10 years. These aren't fast-food jobs, either; the national forecast for fast-food cook positions predicts a 15 percent drop over that same period. And, unlike other industries, these jobs aren't easily done by machines.
"We're one of the last industries to rely on humans," Marlow says. "We need good people who are able to do good work."
They also need more patrons who are willing to pay for that good work to get done. Somewhere in this complicated equation are the diners sitting on the other side of that swinging door. We want a long list of dining options, high quality food and service, and unforgettable experiences—and we insist that all of this be given to us as cheaply as possible.
The United States Commerce Department reported in 2015 that Americans now spend more money at restaurants than they do at grocery stores. The average American family eats out 4.5 times a week. Perhaps we don't cook at home enough anymore to remember what it takes to get a plate of good food in front of us. Perhaps the long aisles of the supermarket, stocked with an abundance of prepared foods, have helped us forget what's involved in scratch cooking.
Or perhaps that swinging door, which puts these thousands of workers out of view and softens the clanging of pots and pans, does too good a job in making all of this effort invisible to us.
Escobar, who raises three children with his wife, used to wake up at 5 a.m. to sell food to construction workers from a food truck before starting his shift at Mimosa around 3 p.m. He'd stay until closing time, usually around 11 p.m., later on busy days.
In late fall, Escobar's story changed. He left his position at Mimosa to focus on his successful food truck business. Marlow's story, however, remains the same: He must now find another monster for his line.
Cat Carter is a freelance writer based in Charlotte. She is a regular contributor to Charlotte magazine. She can be reached at catyicarter@gmail.com.