Why a Black Pastor Feels Called to a White Church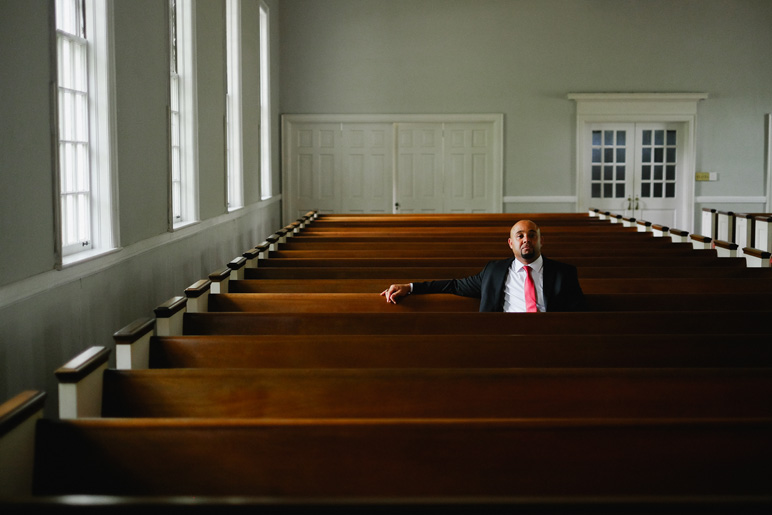 DURING THE MOST segregated hour of the week in this churchgoing city, young children walk down the main aisle at Avondale Presbyterian Church waving palm leaves. Nearly all of the children are white, save one Asian girl, and the skin tones of the adults sitting in the pews are just as uniform. This little church sits on a hill overlooking Park Road south of Dilworth, and its population is nearly as white as the paint on the building.
Today the mood in the sanctuary is festive, or at least as festive as a traditional Presbyterian church will allow itself to be. Some congregants wear purple to mark the occasion, and the service begins with the ringing of handbells. It's Palm Sunday, the day Jesus rode into Jerusalem before he was crucified.
"Glory to God, whose goodness shines on me," the choir members sing.
They stand stiff and straight through the exultant hymn, as though delivering a requiem.
But up front, behind the pulpit, one person lets his emotions show. Joy lights up his face as he sways in time to the music. He dances, he explains later, because he remembers how hard it was to get here.
The Reverend Christopher Lee is the first black clergy member Avondale has ever hired. Before that, he spent seven and a half years at another predominantly white church, Paw Creek Presbyterian, where he was the first black minister. Before that, he served at a predominantly white Methodist church in Mooresville. Before that, he flunked out of college and had to rebuild his life.
Lee believes that being the only black person in the room is part of his calling. He sees himself as a bridge among people, particularly those parishioners who have told him they had "some pretty negative opinions about African Americans" before they met him and his wife, Brandy.
It has not been easy. But if everyone retreats to separate churches on Sunday mornings, he wonders, how can anyone, black or white, be expected to grow?
Lee believes that being the only black person in the room is part of his calling.
***
AVONDALE'S LEADERS were not looking for a black minister when they hired Lee three years ago. They were looking for an associate pastor to run their youth, mission, and outreach programs, and they were drawn to Lee's energy and enthusiasm, says senior pastor Dr. John Earl. "I see him first of all as a brother in faith," Earl says.
The fact that he also brings an element of diversity to the congregation is a bonus. "It's a microcosm of our world. That's the benefit," Earl says.
Nationally, just three percent of the Presbyterian Church's members are black, according to a 2012 survey. In the Presbytery of Charlotte, which includes 108 churches serving Anson, Cabarrus, Mecklenburg, Montgomery, Richmond, Stanly, and Union counties, a 2014 survey found that 87 percent of the members are white and just over 12 percent are black.
"I think Avondale has always tried to become more diverse," says Zach Chambers, who serves as a ruling elder on the elected committee, or session, that governs the church. "I think most churches would say that's an uphill battle."
Still, he says Lee wasn't hired for the sake of diversity. When he interviewed Lee for the job, Chambers says, the pastor's race "was a non-factor."
Dollie Sitton is 68 and has been a member of Avondale since she was a baby. She says the congregation members are always trying to see where God will lead them, and Lee is part of that quest. He's helping the church grow and evolve. "No one has said anything to me—anything— about Chris being black," she says.
She remembers the first time she met him. She happened to drive up when Earl was talking to Lee in the church parking lot, and although she didn't know he was a job candidate, she sensed something about him was different. "Of course, you know, he's black, but there was something past that," she says. "I liked his demeanor."
Some people might find it strange for a white, Southern church to hire a black minister, she adds, but she had a good feeling about Lee. "There was something about him and the way John treated him that I had no qualms about it," she says. "I thought it would be successful."
When he came to Avondale in 2012, Lee had lived in Charlotte for more than a dozen years. He'd worked at predominantly white churches in Huntersville, Mooresville, and Paw Creek, and had plenty of experience navigating racial land mines.
In Paw Creek, the neighborhood surrounding the church was predominantly black. Lee and his wife would pick up kids in the neighborhood and bring them to church. Some of the white parishioners worried about sending their children to youth group with those kids, Lee says.
In another instance, at a church Lee declined to identify to protect the confidentiality of the parishioners, a white student in the youth group was attracted to black boys in her middle school. Her father called Lee to voice a concern: He didn't want his daughter dating black boys. What should he do?
"I keep being put in all these situations that are completely awkward to me," Lee says.
He reminded himself that people are not born with racial prejudices; those feelings have to be taught. As the father of a young daughter himself, Lee's not sure how he would react if she wanted to marry a white man. So he told this father to give the question some serious thought. "That's something you're gonna have to wrestle with," he said.
Over the years, he began to realize these awkward situations were part of his purpose. They helped him and his parishioners grow. "My call is to make people aware and bring people together," he says. "It is my burden to bear for the sake of the greater good. If I can change someone's perspective, that's my call."
***
GROWING UP in the 1980s and '90s, Lee played competitive tennis in the country clubs of Palm Beach Gardens, Florida. Many of his friends were white, Jewish, Italian, or Cuban.
His first tennis coach was Roosevelt Thomas, one of the few African American men who ran his own tennis club. Thomas taught his black students how to navigate the mostly white world of their sport. "When you walk into a room, everyone knows you're black," Lee remembers him saying. "You don't have to do anything else with your hair or clothes to prove it."
In 1997, Lee won a tennis scholarship to Howard University in Washington, D.C., but smoked and drank and partied so hard that he flunked out of school. "I went up there and completely lost my mind," he says. He ended up back home in Palm Beach Gardens, bagging groceries at the Publix near his old high school.
One day, one of his former teachers saw him at the store and asked what he was doing. As Lee started to explain that college hadn't worked out, the teacher stopped him. "Bullshit," he said. There are two types of people in the world, the teacher continued, those who use the talents God gave them and those who don't. "Which one are you going to be?"
That stuck with Lee. At the time, he had left his parents' house to move in with a girlfriend. He had planned to forget about college and be a manager at Publix. But then his mother showed up at the girlfriend's apartment. "I'm taking my son home," she said.
Lee realized that despite all the ways he had disappointed them, his parents were still willing to fight for him. If they refused to give up on him, why should he give up on himself ?
He quit the Publix job and went back to school, enrolling at Johnson C. Smith University in Charlotte when he was 21.
During his sophomore year, a student he didn't know well kept inviting him to church. Lee was annoyed. "I'll go if you never ask me again about it," he said.
They went to a Baptist church in Salisbury, where an ex-convict was giving testimony in front of the congregation. Lee felt the man was speaking directly to him. That was March 23, 2000.
After that, Lee became involved with campus ministry and Fellowship of Christian Athletes. He majored in communications and knew by his senior year that he wanted to become a pastor. He just wasn't sure how. When he visited the Interdenominational Theological Center, a seminary in Atlanta that calls itself "the world's premier resource for black church scholarship," his father reminded him that it cost money. He may have been called by God, but he did not have a car or a job. How did he intend to get to school?
So Lee took a job teaching tennis at Charlotte Racquet Club North. Clients he met there helped connect him to jobs at local churches, including a post at Paw Creek Presbyterian, where he stayed for seven and a half years.
He enrolled in Union Presbyterian Seminary, which is based in Richmond but has a satellite campus in Charlotte, because it offered Saturday classes that fit his schedule while he was working at Paw Creek. He didn't know anything about the denomination; he certainly didn't know that six of the seven churches that approached him about jobs would be predominantly white. There was no way he could predict that his career would become a strange dance among his own needs, the needs of local African American communities, and the needs of the congregations he serves.
"When you walk into a room, everyone knows you're black," Lee remembers him saying. "You don't have to do anything else with your hair or clothes to prove it."
***
A MONTH AFTER Palm Sunday, on the first Friday night in May, Lee is upstairs at the Family Life Center at Avondale cajoling a group of teenagers into writing prayers. They sit on worn, secondhand couches in what looks like an atticsized rec room. If they get bored, they can play pool, air hockey, or foosball, or stare at the inspirational quotes decorating the walls. Each adjoining room has bunk beds where the kids will sleep tonight, for the church's annual youth lock-in.
All the children in this group are white. They're here because they are leading a youth service at the end of the month, and Lee, who oversees the church's youth ministry, wants them to create all the worship material themselves. "I'm not a big believer in telling people how to pray," he tells me.
So the kids have to get creative. They have to analyze lines of Scripture. But they are also teenagers, which means they are eating Cheetos, drinking Cheerwine, and teasing their 36-year-old pastor.
"Have you ever read The Homer's Odyssey?" one girl asks Lee.
"Was his name 'The Homer'?" he deadpans.
The girl looks up at me and feigns exasperation.
"He's so sassy," she says of Lee.
The pastor is wearing basketball shorts, a T-shirt, and Air Jordans, drinking Gatorade. It's approaching 9 p.m. and he has more energy than the kids. He's looking forward to a lip sync karaoke contest later in the evening, when he plans to sing "Eye of the Tiger" and "Let It Go."
Laura Meier, an Avondale parent who has two teenage sons in the youth group, says the pastor is "a big kid himself." But the children also respect him. "He is one of them, but when he needs to not be one of them, they stop and listen," she says.
Lee is not afraid to call parents and offer to counsel their children one-onone—which he did with both of Meier's sons. "We'd been struggling with a few things and he saw it," she says. He had the boys write down their thoughts about their character—what character is and what it meant to them. They respected him enough to complete the assignment.
Now, Meier can say to her boys, "Is that something that Chris would be happy that you did?"
Lee also uses his own story—flunking out of college, losing his tennis scholarship, starting over—as a cautionary tale. "He can see kids going in the wrong direction and he can stop it," Meier says. "He's very open about his past. His whole thing is: Learn from me."
The fact that Lee is providing this guidance to white children, rather than black children, is not lost on him. He often wonders if he should be serving in an African American church, helping kids who need to see examples of black men doing positive things. "Nobody can relate to a black man like another black man," he says.
But he believes he can serve black children in a different way. He can break down stereotypes. He can help create a world in which they are not judged by their skin color.
When he speaks as a guest pastor at local African American churches, he tells the young people not to feel sorry for themselves. "I was given chances and opportunities by white people," he tells them. White folks trust him to baptize and marry their children and pray with them in hospitals. "You don't have to be afraid of everyone you meet who happens to be white," he says. "Some of what you fear just simply ain't true."
He hopes that people see him as a black minister, because that's who he is. He doesn't want to be thought of as an exception.
Still, he wonders sometimes if the white churches would have hired him if he had darker skin, cornrows, or baggy pants.
At one church, he was told that he speaks very loudly. He told his supervisor that he heard that criticism as being called "the boisterous black dude in the room."
Some people at Avondale would argue they don't see skin color, Lee says. Many parishioners have told him, "You're my minister. I don't care what color you are."
Lee disagrees. He hopes that people see him as a black minister, because that's who he is. He doesn't want to be thought of as an exception. "Some of those qualities that you really love about me are true about my culture, and it's not just me," he says. "I think that's where the bridge is."
***
THIS PAST YEAR has been a tough one for bridge-building. Even before a white supremacist gunned down nine people praying in a historic black Charleston church, Lee's patience was tested. Michael Brown was shot in Ferguson, Missouri, and Eric Garner was choked to death in Staten Island. Freddie Gray died in police custody in Baltimore, and a 12-year-old black child was shot and killed by police in Cleveland. Through it all, Lee felt a rubber band inside him threaten to snap.
"You're going along and you're just like, Whoa, multicultural diversity, yay, yay, yay," his says. "And something like that always happens to remind you that there's someone out there that is calling me a nigger in their head. And I would never see 'em coming."
Sitting in the garden outside Avondale, Lee lowers his voice to a whisper: "I don't want to be Angry Black Man. But there are times when I have come [to work] straight angry."
This fury is not something he can share with his white co-workers. Sure, Earl has referenced the police shootings in sermons, but that doesn't mean the white people in the congregation understand how Lee feels.
He paraphrases a line from Lee Daniels' The Butler, in which the main character, a White House butler, is being coached by a mentor. "As an African American man in this country you have two faces," Lee remembers the mentor saying. "You have your true face and the face you show them."
Earlier this year, a seniors' group at the church asked Lee and his father to come talk to them about what happened in Ferguson, Baltimore, and around the country. They asked how the men felt about the police, and if they had ever been victims of racial profiling. The parishioners were genuinely curious and interested, Lee says.
One comment stuck with him. An elderly woman with a cane made her way over to him at the meeting. She looked him in the eyes and said simply, "I'm glad you're here."
Lee knew what she meant.
He tells another story of another elderly white woman, an Avondale parishioner who was ill. He went to the hospital to pray with her, and she introduced him to every doctor that walked into the room. "This is my pastor, Reverend Chris Lee," she said.
Then she grabbed Lee's hand and pulled it to her cheek.
***
AT THE Avondale youth lockin, the kids have started playing a new game. downstairs in the gym at the Family Life Center, two children sit in chairs facing one another. One of them has headphones blaring music in his ear. The other kid whispers a phrase, and the one with the headphones tries to read his lips.
When two middle school boys try it, "cantaloupe ice cream" becomes "elephant soap." Then the phrase "I have smelly feet" becomes "I have spinning fits."
Sitting nearby, Lee is red with laughter. "You said spinning fits!" he shouts. "That's the greatest thing ever!"
Now a young, blond girl sits down to play the game. She starts to read a card with the phrase she's been given, and she struggles. She pronounces the name of the rapper Dr. Dre as "Doctor Dreee" with a long "e."
Lee falls to the floor laughing.
It might have been another awkward moment in his life as cultural bridge. It might have been a way to point out the distance between the worlds he navigates, between black and white, Air Jordan and Steve Madden.
But Lee doesn't dwell on any of this. He just soaks up the humor.
Besides, it's almost time for the kids to start throwing pies in each other's faces.
---
This article appears in the September 2015 issue of Charlotte Magazine
Did you like what you read here? Subscribe to Charlotte Magazine »
---