Why a Philadelphia Eagles Quarterback Couldn't Give Up Being a Myers Park HS Coach
Every week, Josh McCown keeps coming back for Friday night lights in Charlotte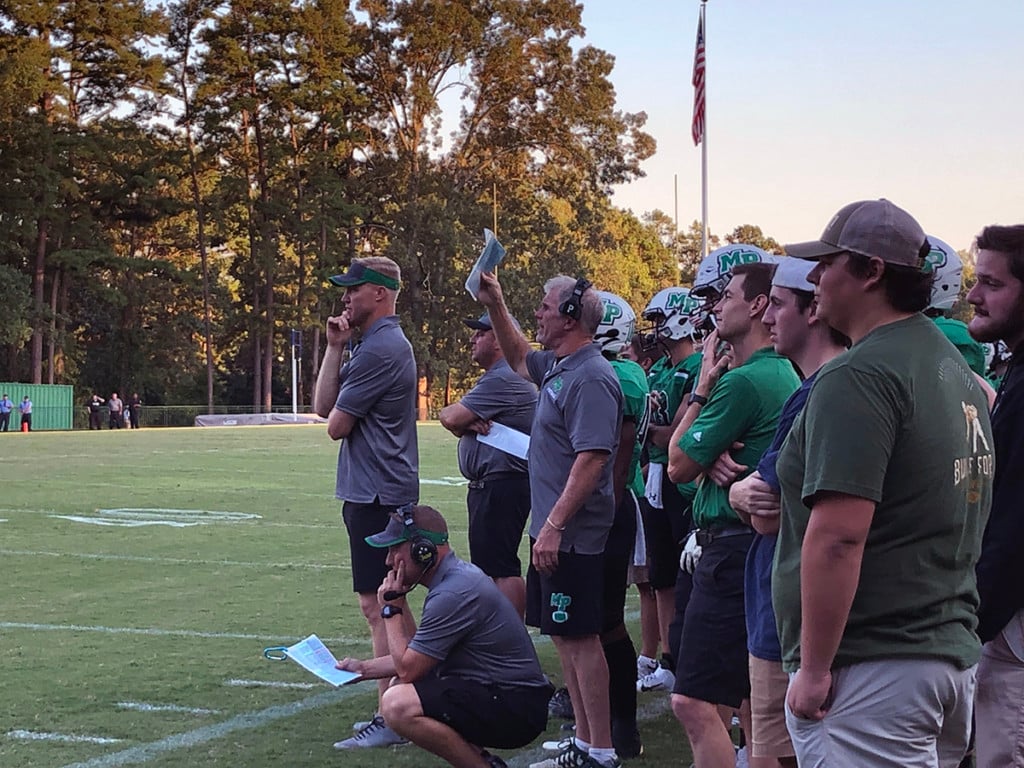 ON A TYPICAL FRIDAY, Josh McCown leaves work around 3 p.m., and arrives home in Charlotte about an hour and a half later. After a quick hello to his wife and kids, he heads to his second job. That is to say, every Friday, the Philadelphia Eagles backup quarterback takes a plane from Pennsylvania to North Carolina before jetting over to Myers Park High School to his position as quarterbacks coach for the Mustangs.
It's a bit of a long story how McCown became an NFL quarterback and a high school football coach, but at its root is his love for the game and his family. His two sons, Owen and Aiden, are on the team, and when McCown thought he had retired from the NFL after last season, the 40-year-old signed on to help with the Mustangs. He relished the opportunity to work with head coach Scott Chadwick—whom he knew from a previous coaching stint when McCown was out of the league for a year—and to be around his two boys.
And, truth be told, to simply be around football. "I'm just thankful to be out here," McCown said after a game earlier this month. "I'm not different than any of these guys."
He means the other Myers Park coaches who have helped the Mustangs become one of the top teams in the country, with Alabama recruit Drake Maye leading the way at quarterback. McCown has been at Friday games through September, arriving early to help the team lug out equipment. He's there clapping and cheering for each touchdown—there have been plenty in the dominant Myers Park season so far—and offering words of advice to Maye and others.
Just like all the other coaches on the team, McCown went to a sleep-away camp earlier this summer for some team bonding, bunking on a too-small, uncomfortable dorm mattress. And just like all the other coaches, he was out there painting lines on the field before practices. He loved it all. But McCown, a 17-year NFL veteran, has had to adjust his coaching plans slightly since signing a one-year, $2 million deal with the Eagles in August when the Philadelphia backup got injured. McCown had officially retired in June, writing an essay for The Players Tribune about how he's played for 10 NFL teams in his career.
Suddenly, he had to take it all back.
"I keep thinking I'm done playing, but I'm not done playing. That kind of messes everything up," McCown said, laughing. "The opportunity to go play for a team like the Eagles was hard to pass up. And my boys were excited."
Part of the appeal of playing for the Eagles was its proximity to Charlotte. It's a quick 1.5- to 2-hour plane ride away. McCown says his Friday travel plans are no different from what he often did a year ago when he played for the New York Jets.
"If I'd go eat dinner in the city, I'd take a car ride from Jersey to the city and it'd be about an hour or so, an hour and a half," he said. "I'd take my stuff and study when I was in the car, then I'd go have my dinner and hang out with friends or whatever, then head back that evening. Another hour and a half in the car to get back out. So, it's kind of the same thing, just a different mode of transportation and a little different spot."
McCown is learning valuable lessons on what it's like to coach, something he envisions in his future at either the high school, college or pro level. What he's embraced most in this year of being an NFL player/high school coach is how much he truly loves the game—with all its similarities at every level.
"What's unique about being in these different worlds is that it's the same things that you're dealing with,as far as bringing a team together ,it's no different in high school than it is in the pros," McCown said. "You're trying to get everybody to play for something bigger than themselves, serve something bigger than themselves and give of themselves to the football team in hopes of accomplishing something great. I just enjoy being a part of environments like that."