Why Access to High-Quality Preschool Could Be Our Best Chance
Mecklenburg County's bold plan could be the way to boost two generations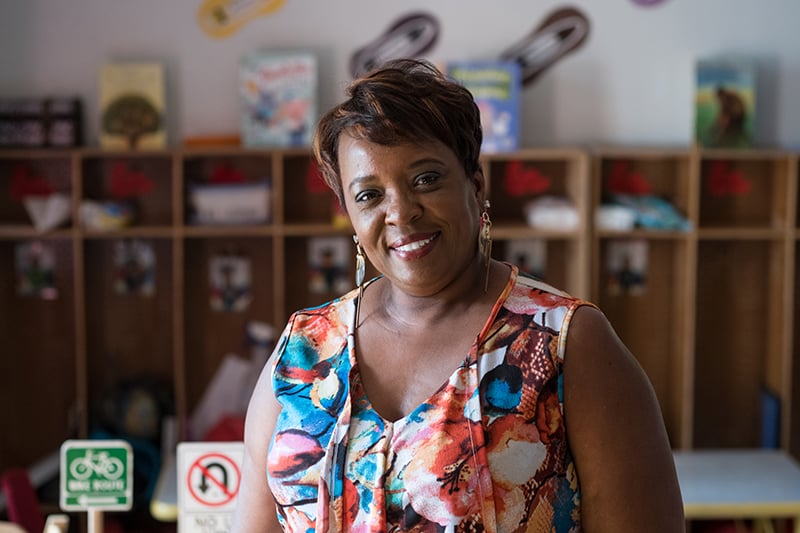 THE SIGN ON THE WOODEN DOOR holding back eight toddlers with floppy limbs and wide grins says this is the "Blue Room." Appropriately, the walls are painted blue and some of the furniture is blue. A little girl with braids stirs toy cooking utensils and offers up a taste to a teacher, who exaggerates her excitement about the imaginary meal.
A few feet away, two boys play with large, plastic bricks. Another child waves a hardcover picture book in the air. "I'm surprised they're being so quiet," says Pat Porter, who's co-owned the Early Learning Center Preschool on South Tryon Street with her husband for more than a quarter century. She quietly backs out of the classroom. "I don't want to jinx it."
It's early on a hot July Thursday. For the rest of the school day, the children will follow a curriculum that helps to refine motor skills, teach literacy, and enhance social and emotional development.
Overwhelming research supports the idea that early childhood education benefits all kids, especially those at-risk kids who face steeper climbs to success than their more affluent peers. Children who participate in high-quality preschool programs are better prepared for kindergarten than those who do not. Later in life, they're less likely to fall behind in school, are more likely to earn a diploma, have fewer interactions with police, and earn as much as $2,000 more per month than people who didn't attend preschool.
Porter, a middle-aged African American woman who grew up in Shelby and started her career for a ministry, pauses in the hallway. She motions to the roomful of children, all of whom come from low-income homes. "There's so much joy in there," she says.
Those kids wouldn't be here—pretending to cook and playing with blocks and reading—without federal, state, and local subsidies that underwrite the cost of their care.
Sending a young child to an average-priced program in Mecklenburg County, from the time she's an infant to when she enrolls in kindergarten, will cost nearly $55,000. In-state tuition for four years at UNC Chapel Hill runs less than $36,000.
That staggering cost is impossible for poor families, and often unattainable for working class families, without help. So Mecklenburg County's ambitious plan to provide universal access to early childhood education—an initiative gathering momentum this year—has the potential to boost two generations of Charlotteans.
"This child could be a doctor, this child could be a lawyer, and this child could wind up in jail behind the bars," Porter says. "When they're with us, regardless of their background, their socioeconomic status, how they live, we have to make sure we give them the best resources and meet their needs and give them the best chance."
***
THERE ARE MORE THAN 70,000 kids under the age of five living in Mecklenburg County today.
About 3,800 four-year-olds attend pre-kindergarten at Charlotte-Mecklenburg Schools campuses, and families that can afford care often send younger kids to church preschools or private day care centers. But that's not an option for many low-wage earners. A single parent working a minimum-wage job here would have to allocate three-quarters of her annual wages to send just one infant to preschool.
"You would be faced with some tough decisions about could you work or not," says Janet Singerman, the president of Child Care Resources, which administers the child care subsidy program here, nearly $47 million worth of federal, state, and local funds in the most recent fiscal year. "You'd have difficult issues about what do I pay for? My housing, my food, my child care?"
Many parents can't work—or can work only part-time—because child care is too expensive. "Child care has always been about economic opportunity and educational opportunity," Singerman says. "You can't talk about economic opportunity for working families unless work is affordable."
In that sense, access to early childhood education is a two-generation strategy to improve economic mobility: A parent is able to work and improve the family's situation now, and a child reaps the long-term benefits of preschool that make him more likely to be successful later in life.
At the end of the most recent fiscal year, 4,061 kids in Mecklenburg County who weren't old enough to attend kindergarten received child care financial aid. Another 3,900-some children were on the waiting list. And that number doesn't reflect tens of thousands of young children whose parents need help paying for child care but haven't applied for a subsidy.
"There was one week in the 20 years I've been here that we didn't have a waiting list," Singerman says. She thumps the table for emphasis. "One. Week."
***
LAST YEAR, Mecklenburg County commissioner Trevor Fuller proposed eliminating that waiting list altogether to provide universal access to early childhood education for every kid under the age of five. It's a bold policy goal that's garnered support from business leaders and the Charlotte-Mecklenburg Opportunity Task Force.
"You would move heaven and earth to get your child an early childhood education, because you know how important it is," Fuller says. "So why shouldn't we as a community do that for every child? Because we're paying for that as a community one way or another."
Fuller argues that if the county is going to pick up the cost—either now, through early learning, or later, through courts and social services—it makes more sense to invest in high quality preschool because of its ability to lift the prospects of both the child and her parents. In other words, early learning isn't just an educational solution; it's an economic one, too. "All of these things are connected," Fuller says. "It's almost impossible to think they're not."
Earlier this year, County Manager Dena Diorio recommended $6 million in county funding to take about 825 kids off the child care subsidy waiting list; commissioners approved it with their budget over the summer. "This is not day care for poor people," Diorio says. "It's about access. It's about making it available for everybody who wants to take advantage of it, regardless of their ability to pay."
The cost of universal preschool access is high—Diorio estimates it could be as much as $75 million, with some of that cost recurring annually—and implementing it strategically will take years. A group of Charlotte CEOs has paid for a study to consider how Mecklenburg County should implement universal early childhood education, with recommendations due in the next year.
"This is not something the county can do on its own," Diorio says. "We think there's other folks that need to participate."
***
BACK IN HER OFFICE with gauzy, floral curtains on one window and a framed picture of Barack Obama on the wall, Pat Porter pauses to contemplate the hundreds of children who've come through her color-themed classrooms in the last two and a half decades.
Some of her first students have returned as adults to enroll their own children in preschool here. She's seen others go off to college, to Liberty University, to UNC Greensboro, to law school. A few years back, one former student was shot to death. "We've had some that we weren't able to save," Porter says. "You cannot judge. While they're with us, we do what can we do."
She pauses. A Luther Vandross song plays quietly from a portable radio set on top of a filing cabinet.
"A long time ago, I used to be judgmental, too," she says. "I had to really humble myself that you cannot look at the outer surface and know someone. Regardless, all these families have the same needs and wants for their children as we do."
ADAM RHEW is associate editor of this magazine. Reach him via email at adam.rhew@charlottemagazine.com or on Twitter: @AdamRhew.