Why Are So Many People Drowning in Charlotte?
This summer, children and adults will go into this region's lakes and pools and never come out. If drowning is predictable, discriminate, and entirely preventable, why are so many people in Charlotte dying in the water?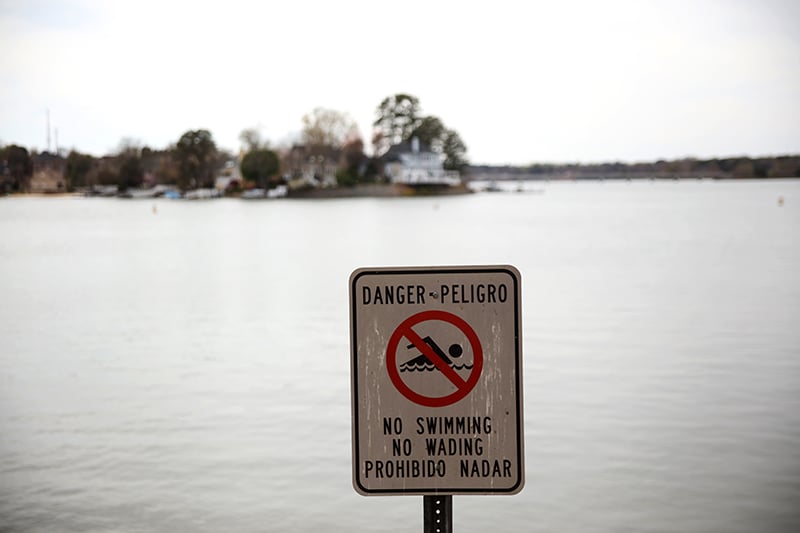 BEFORE HE TAKES a running start and launches himself over the guardrail of the Brookshire Boulevard bridge, Johnathan Cureton chugs half a Red Bull and takes off his shirt. The bridge is about 30 feet above Mountain Island Lake. Johnathan kicks off his flip-flops, ignoring the grit and rocks and road debris on the concrete surface of the bridge. He came here with nothing else. He left his phone in the truck. His wallet, a black leather trifold, is on his dresser at home with a blood donor card tucked behind an Army recruiter's business card.
J.C., as his family and friends call him, has lightning bolts tattooed on his biceps, calves, and chest.
They're symbols of his speed, which earned him a spot as a walk-on cornerback for UNC Charlotte's football team. His sister Alivia—just 16 months younger, practically a twin, they tell people—holds her iPhone, shakily recording video for a Red Bull daredevil contest on YouTube.
He wasn't always this adventurous. As a boy, he'd flip out if his mom put his pancakes on the same plate as scrambled eggs; he didn't want the syrup to touch anything else. But J.C. grew less picky as he became more certain on the football field. He played for the Police Athletic League's Pop Warner team in elementary school. By his mid-teens—Johnathan played for both Hopewell and Hough high schools—he knew he wanted to play college ball.
Earlier in the day, July 31, 2014, he practiced at UNC Charlotte, and then joined a pickup basketball game with friends before they hit a McDonald's for lunch. When he got home, he asked Alivia to drive him over to the bridge. When she said no, he told her he'd walk. She gave in, and they borrowed their stepdad's green pickup and here they are. Alivia parked the truck in a small gravel pull-off that fishermen occasionally use, on the north end of the bridge, just across the Gaston County line. The pair walked maybe 30 yards onto the span, staying on the shoulder next to the bridge's concrete wall.
Evening rush hour traffic whizzes by them now, headed out of the city and toward the suburbs. Summer thunderstorm clouds popcorn and darken overhead. J.C. peers over the bridge and bounces up and down on the balls of his feet, hyping himself up.
Alivia says she's worried about the stunt, but Johnathan shrugs off her concern.
"I'm not gonna die," he says. "Now, remember, you gotta videotape me."
There are actually two bridges here, one for northbound traffic and another for southbound, each two lanes across, separated by about 50 feet. Johnathan and Alivia stand against the metal guardrail of the northbound bridge. The long tube of aluminum is barely waist high against his 6-foot-1 frame. At a break in traffic, J.C. walks backward, into the roadway and across both lanes.
"Where are you going?" Alivia asks.
"I'm getting a running start."
"You're gonna hit your head on that." The camera pans in the direction of the guardrail as Alivia motions with her left elbow. "You're gonna slip and hit your head."
"Are you taping?" Johnathan, barefoot and shirtless, is undeterred.
A car crosses onto the bridge, headed their way, going about 60 miles per hour. "Wait till this car goes," Alivia says. "Just wait till the freakin' car goes."
It passes.
"You're gonna hit—please do not slip. J.C., I don't want you to do this. J.C.! J.C.!"
"Video," he shouts back. "Video!" Johnathan runs toward Alivia and the guardrail, his Hollister board shorts flapping in the breeze.
"J.C., no!"
"Here we go! Woooooooooo!"
He hurdles the guardrail and tucks his legs, almost in a cannonball position.
Splash.
Johnathan surfaces right away. The siblings whoop and cheer. Alivia keeps recording.
"Awesome! Oh, my God, whoa, yeah!" Johnathan is euphoric. "Red Bull gives you wings, baby," he shouts, repeating the company's catchphrase at the time.
From the bridge above, Alivia tries to hold the camera steady. "Good job! I'm so proud of you."
"I'm proud of me, too," he tells her.
He starts to take freestyle strokes toward the north shore, still riding the adrenaline rush from the jump. Alivia asks if he wants his energy drink.
"Nah, I'm good."
"My brother just did that. I freakin' love my twin," she says. Then, turning her attention to her big brother, "Hurry up, a-hole!" She pans the camera toward the ground and begins to walk toward an area past the truck where she expects Johnathan to meet her. Alivia wants to give Johnathan a hug. She hits stop on the recording. Before she reaches the end of the overpass, where the truck waits just over the county line, she looks over the edge again, to see if Johnathan has made it to the shore yet.
But she doesn't see him. J.C. slipped beneath the surface. No bubbles, nothing. Just nothing.
Johnathan Cureton is one of at least 173 people who drowned in Charlotte-area lakes, rivers, ponds, and pools since 2005, according to state fatality data, accident reports, and press clippings. The incidents happened on private property and in major recreational waterways—Lake Norman, Lake Wylie, Mountain Island Lake, and the Catawba River. These numbers do not include people who died in the water from boating-related accidents or those who drowned in bathtubs.
Six times between 2005 and 2015, Mecklenburg County either led the state or tied with another county in annual drowning deaths. The statistics are especially surprising when you consider the roughly 11 million people who play on North Carolina beaches every year. Only twice during the same 11-year period did a coastal county lead the state or tie with another county in fatal drowning deaths.
The deaths, overwhelmingly of men and boys, are preventable. But a lack of public swimming pools, an abundance of natural water, and the prevalence of alcohol at summertime gatherings dramatically increase the risk. People slip off docks. They wade into deeper water than they should, often without a life jacket. They jump off bridges for the thrill of it. Splash. A wave to friends. And then they slip beneath the surface. Down, down, down.
Their bodies come to rest in the deep, murky cold among logs and old tires.
***
DROWNING, IN MEDICAL TERMS, is respiratory impairment from submersion or immersion in liquid. A swimmer in distress is unable to float and inhales water, often as a reflex while trying to breathe. He struggles for air and chokes on more water. He panics. In some cases, he'll vomit, and then choke on that, too. The average person can struggle to stay above the surface for 20 seconds to a minute. After that, he is fully submerged. His lungs fill with water, more than half a gallon in three minutes.
Fresh air no longer makes it to the swimmer's lungs, preventing oxygen from entering the bloodstream. Oxygen levels in the blood plummet, threatening the swimmer's vital organs, especially his brain. Without oxygen, the body begins to shut down. The swimmer will lose consciousness within two to three minutes of submersion, and the brain damage from hypoxia, or a lack of oxygen, can be irreversible within 10 minutes.
It is unpleasant to imagine—and terrifyingly quiet to witness.
Drowning does not look like drowning, or at least the version many of us envision. There is no thrashing on the surface, no loud cry for help, no gurgling. It's sharply different from Hollywood's depiction. Experts call it the Baywatch effect, and you know it, even if you've never seen the 1990s beach patrol series: A person splashes around, flails limbs, and yells,
"Help! I'm drowning!"
"That happens in fiction and in movies, but it does not happen in real life," says Dr. Francesco Pia, a lifeguard-turned-psychologist in New York who is one of the nation's foremost experts on water rescues. "They want a visually interesting scene, and a drowning person does not look visually interesting to anyone but a lifeguard."
On the contrary, a person who is actively drowning is physically unable to call for help. He may look like he is swimming, but he cannot kick his legs, wave his arms, or grab onto a floatation device thrown to him. Doing so would alter the body's buoyancy and drive his face and mouth underwater.
This physiological reaction is called the Instinctive Drowning Response. Pia was the first to document it, by filming water rescues and near-drownings while working on a New York beach in the late 1960s and early 1970s. He noticed a common reflex in the moments before a person begins to drown: The swimmer extends his arms to his sides and tries to push up on the water, like a table, to get his head above the surface. It's an innate reflex, much like the instinct to jerk your hand back from a hot stove. Recognizing when a person does this is now part of the American Red Cross lifeguard certification curriculum.
"Whether they're male or female, old or young, whatever ethnic group they belong to, whatever body type they have, once they get into water over their head, this response kicks in," Pia says. The reaction—and especially its effect on a victim's ability to call for help—can lull bystanders into a false sense of complacency. As many as half of child drowning deaths happen within 25 yards of a bystander.
"Drowning is suffocation," Pia says. "And the primary function of the respiratory system is breathing. So during a situation where someone is not getting enough air to breathe, they don't have the air left over to call out for help."
***
KATHLEEN LEE HAS to shout above the sound of the twin engines.
The 31-year-old Charlotte firefighter, with a wispy, blond ponytail and navy blue cargo pants, stands in the cockpit of Fire Boat 38 as it roars across the flat water of Lake Wylie. On this late summer Sunday, Labor Day weekend last year, the firefighters are out for a morning cruise. There's a radio onboard, and as the computerized dispatcher—the firefighters nicknamed the robot Samantha—announces emergencies, the crew occasionally pauses the conversation.
For nearly a decade, Lee has been assigned to Station 38, off Shopton Road West on the North Carolina side of Lake Wylie. Her sharp cheekbones and glacier blue eyes give her a physical intensity that matches the seriousness with which she approaches her work.
The station has one of the lowest call volumes in Mecklenburg County, but its firefighters staff the only full-time fireboat on the lake. CMPD and the York County, South Carolina, Sheriff's Office have boats here, too, but these firefighters are the primary rescue and recovery force. There are similar arrangements on Lake Norman among Gaston, Iredell, and Mecklenburg County agencies.
At the helm is Bill Petrea, an almost 30-year veteran of the department who plans to retire in four months. He has an enormous, Magnum, P.I.-style mustache and is wearing mirrored sunglasses that reflect the open water ahead of us. "There's a big difference in going Point A to Point B wide open to catch some fish and what we do. It can get nerve-wracking," he says as he throttles the engines and the boat surges ahead.
The cabin smells faintly like sunscreen. Because it's a holiday weekend, the crew is ready for what could be a long day on the lake. Calls for water-related emergencies spike during the summer, Lee says, especially on holidays.
When they're searching for a missing swimmer, the crew will drag a 45-pound "towfish"—a black-and-white aluminum tube that looks like a skinny torpedo—behind the boat to get a picture of the lake's bottom. The device uses sonar waves that bounce off the muddy lake bed to create an image displayed on a computer monitor mounted inside the cockpit.
As we enter a cove, the boat slows to a crawl. Waves from the wake catch up to the stern. Lee asks Thomas Wright, a middle-aged firefighter who's sitting in a folding camp chair on the boat deck near the dive equipment, to help demonstrate the search protocol for me. Wright runs his hands down the sides of the towfish, as if he's rubbing lotion on it, to test the sensors. "Right side?"
"OK," Lee responds, never breaking her gaze from the monitor. She plays video games with her husband, also a Charlotte firefighter, when they're at home. Her eyes dart and dance now, concentrating but not quite straining, just as they do during a Call of Duty match.
"Left side?"
"When you're ready, you can pop it in the water, please, sir."
Wright, the "line tender," attaches the towfish to a black cable, a heavy-duty version of the one that connects your TV to its cable box, and feeds the line through a pulley system dangling over the right side of the boat.
"Give me about 10 feet, Thomas." He lets the cable slide through his hands and the towfish slips beneath the surface.
In the cockpit, Petrea watches a depth finder. "We're at 20," he says, meaning the boat is in 20 feet of water.
"Gimme five more, Thomas."
"OK, here's five." Wright feeds five more feet of cable through the pulleys. Marks on the line help him keep track of its length.
"Hold what you got."
"Holding."
They do this—up, down, gimme more, hold what you've got—as long as it takes to find a victim. On the most exhaustive searches, the crew members switch positions as blisters form on the line-tender's hands. Petrea has to keep the boat pointed in a straight line, puttering at somewhere between one-and-a-half and three miles per hour, to get the best picture from the sonar. If the craft drifts, even just a few feet, Lee could miss the silhouette of a human body against the muddy bottom.
The process is agonizingly slow, as the boat makes long, parallel and perpendicular swipes through the search area, back and forth, back and forth. That's usually when the victim's family or friends begin to get upset, angry even.
"They are just hammering you," Lee says. "'What are you doing, what are you doing?' Unless you know the whole operation and what's happening, standing from the bank it looks—"
"Chaos," Petrea interjects. "It looks like chaos."
"Right," Lee continues. "But we're actually systematically searching. They just see us going back and forth. But at the same time, we're scanning, looking for objects, talking to other crews."
As the boat moves, Lee must make instant judgments about the gold-and-black images on the screen in front of her, whether they're significant or just the sonar picture of junk. "You go to some areas, and it's just like spaghetti everywhere," she says of the computer images. Christmas trees, tires, an old car—all of it shows up. "There's so much stuff in nature that mimics legs.
"You don't know for sure until you put hands on them. I've found a lot of logs. I've put divers in on lots of logs."
***
IF THE HISTORICAL AVERAGES hold, as many as 15 people in this region will drown before year's end. Most will die during the summer, as pools open and lakes fill up after Memorial Day weekend. The overwhelming majority will be males.
Nearly 80 percent of all drowning victims are men and boys, according to the Centers for Disease Control and Prevention. Males between ages 15 and 24 are up to eight times more likely to drown than their female peers.
"It's the invincible youth," says Dr. Julie Gilchrist, a medical epidemiologist at the CDC's injury prevention center. She's studied drowning deaths for nearly 20 years. "We see it in motor vehicle crashes, we see it in other areas. It is particularly evident here, with the hold-my-beer-and-watch-this crowd." Alcohol is involved in up to 70 percent of water recreation deaths among adolescents and adults, including boating accidents, according to the CDC. Its effects on the body are heightened in the hot summer sun, making beer-drinking guys on the lake vulnerable to drowning.
Research into the behaviors of men and women around water indicates males, in general, are more likely to engage in activities that put them at greater risk: They spend more time in or around water, are more likely to try risky things such as jumping off bridges or swimming long distances, and drink more alcohol than their female peers. "As soon as boys start to walk," Gilchrist says, "they're at greater risk."
Drowning is the second-leading cause of what the CDC calls "unintentional injury-related death" in all children under age 15, behind car accidents. This group represents a fifth of all fatal drowning victims each year. That trend holds true locally.
Take 2014, for example. At least 16 people drowned in Mecklenburg and surrounding counties that year, most during the summer months. At least six of those victims were children and adolescents—a 20-month-old girl who drowned in a foot of water in an inflatable pool; two-, eight-, and 13-year-old boys who drowned in separate incidents at apartment or condominium complex pools; a four-year-old boy who disappeared in Mountain Island Lake at a family gathering; and an 11-year-old boy who died in a drainage pond after jumping in to help his younger sister, who had fallen in the water.
Pia, the lifeguard and drowning researcher, says these deaths are largely preventable with proper supervision and training. He says parents must become "active supervisors" of children in any body of water, no matter how shallow. "You can't read a book. You can't engage in social conversation. You can't be on your phone. You have to be within arm's reach of your child. Because once they start to drown, you have a very, very small window to make a rescue."
That window is just a touch longer if a child knows how to swim. Participation in formal swim lessons dramatically reduces the risk of drowning for small children. The American Academy of Pediatrics recommends children over the age of five know how to swim, and suggests parents consider lessons for children ages 1 to 4.
A lack of swimming ability disproportionately affects minority children. Seventy percent of black children and 60 percent of Latino children don't know how to swim, according to a study conducted by the USA Swimming Foundation and the University of Memphis. There's a historical explanation for this: For decades, minorities were forbidden from using public swimming pools. The same USA Swimming study found that if a parent doesn't know how to swim, there's only a 13 percent chance that a child in the same household will learn.
Public availability of swimming pools—especially facilities that offer free or inexpensive lessons—can help reduce the drowning risk for children, and minority children in particular. But the Charlotte region falls short on this measure, too. The latest American Fitness Index, compiled by the American College of Sports Medicine, ranks Charlotte in last place among 50 United States metro areas for per capita swimming pools—just 0.5 pools per 100,000 people. Richmond, by contrast, has 4.6 per 100,000; Cleveland's per capita rate of 10.8 leads the nation.
More pools and better swimmers aren't the solution to end drowning in the region, though. "Parents should be reminded," the American Academy of Pediatrics says, "that swimming lessons will not provide 'drownproofing' for children of any age."
Gilchrist, the CDC epidemiologist, says simply opening a pool isn't enough. "Having a pool there doesn't ensure they're going to ensure their children have swim lessons," she says. "It takes more than access to a pool. It takes a desire attached with it, to participate in aquatic activities." She says teaching children how to swim is the most effective tool communities have to reduce drowning deaths, but nothing will fully mitigate the danger associated with swimming.
"Water," Gilchrist says, "is an environment that does not allow mistakes."
***
WHEN LEE IDENTIFIES the outline of a body—"a target," in firefighter speak—on her fireboat sonar monitor, she calls out to the others and hits a button on the computer to mark the coordinates.
The crew drops a metal cage, a two-foot-by-two-foot cube of chicken wire, into the water as close as they can to the point Lee has marked. The basket has a rope attached to it, with the other end tied to a buoy that floats on the surface.
Two divers from another boat, idling just outside the search grid, jump in and follow the rope to the bottom of the lake, using the basket as a reference point. "The visibility in Lake Wylie," Lee says, "is not the best. The visibility in Lake Norman and the surrounding lakes is not the best. So you're doing a lot of feeling."
There are exceptions, but by this point, the mission is often recovery, not rescue. Lake Wylie covers five square miles; Lake Norman is 10 times that size. Unless a swimmer goes missing in front of the fireboat, pulling him out alive is uncommon.
"The likelihood of diving in and immediately extracting that patient and them surviving is not high," Lee says. Typically, firefighters will find a victim within a radius of one-and-a-half times the depth of the water where he or she went under. So if a swimmer disappeared in 50 feet of water, divers will usually find his body within a 75-foot circle of the spot where he went under. His arms will often be bent at the elbows, curled up, fists about six inches from his chest.
The search time can swell if firefighters think they're looking in the wrong place. They have to depend on witnesses to pinpoint a swimmer's "last seen" position. In the same way police officers get wildly different suspect descriptions at a crime scene, the crew of Fire Boat 38 often hears conflicting versions of a last seen position that widen a search grid.
He was maybe 30 feet from the shore.
No, he was closer to the bridge.
I thought he was near that buoy over there.
That means the recovery effort takes longer, that it could be days before a firefighter spots a target on the monitor. "It's really frustrating," Lee says. "I take it personal. Everybody feels that stress of time."
***
EVEN IF PEOPLE know how to swim, they are not immune to drowning. Johnathan Cureton shrugged off his sister's warnings. "I'm not gonna die," he said on camera in the last moments of his life.
"That's the part I hate, when they talk about dying," says Johnathan's mom, Tamara Campbell. We're sitting at the dining room table in her north Charlotte townhome a few days before Christmas last year. (She moved to a new house in Gaston County shortly thereafter.) The kitchen is bright yellow, with mail piled on the counter and dishes stacked in the sink. A pile of gifts wrapped in Frozen-themed paper sits under a small artificial tree in the next room. The family plans to celebrate at Alivia's apartment this year, and Campbell let her daughter borrow most of her ornaments. Campbell, who works for Wells Fargo, flips through a blue photo album filled with pictures of Johnathan. Here he is, swimming in a neighbor's backyard pool. And with his siblings at Lake Lure, up in the mountains. That's him on the sand at Myrtle Beach with friends. Campbell taught him to swim as a toddler and trusted him in the water.
Campbell knew J.C. had jumped off bridges before, mostly with high school friends at Lake Norman, but she also knew he was an adult, and there wasn't much she could do about it. She shows me an essay he wrote his senior year. "My mother hated that I was out and about," he wrote, "camping, rafting, jumping off things just for the thrill."
She laughs and tugs on her sweatshirt, an oversized one from Johnathan's closet. "He always just tested the limits," she says, in that what-can-you-do kind of way moms use when talking about their sons. "He wasn't scared to do anything."
While we talk, Campbell's youngest daughter, five-year-old Layla, sits to my right, coloring with red and purple crayons while Happy Feet, the animated film about penguins, plays on the TV in the next room. She knows her big brother died, that she misses him, but that's it. Campbell sends Layla to watch the movie while we watch the video of Johnathan jumping off the bridge.
Lightning forced the dive team to postpone the search for his body the night he disappeared. It was raining the following morning, when they were able to scan the lake again. Campbell went to Walmart and bought a stack of ponchos for the anxious relatives who stood on the shore.
She still hadn't come to terms with the fact that her only son was down there, even though she had stayed up all night praying and waiting for him to appear. "I thought he was probably going to walk home and sneak in the house because he knows he's in trouble," she tells me. "All these people came out looking for him, and I'm gonna have to bail him out of this mess."
As they stood on the bank, away from the TV news crews who gathered and waited, Campbell asked one of the rescuers how long it would take to find Johnathan, if he was in the water. The rescuer said it was rare to find victims quickly. Sometimes it can take a week. "I said, 'Well, you're gonna find him today,'" Campbell recalls. "'Because I can't sleep unless I know where he is.'"
They did find him that day, in the late afternoon, while Campbell was at home checking on family and friends who were waiting for word about Johnathan. Her boy—a tireless jokester with 23 tattoos and a 3.6 grade point average at UNC Charlotte the previous year, the kid who ordered frog legs at a Chinese restaurant because he thought they were wacky—was cold and bloated when firefighters took a black body bag down to the lake bed and zipped him inside.
"Kids just don't realize the reality of it, you know," she says today. "At 21, you don't think it's reckless. You think it's a thrill. In all actuality, certain things come with consequences. Johnathan changed a lot of lives the day he died."
As we watch the video of Johnathan's last moments again, Layla scurries over and slides her drawing onto the table between her mother and me. It's a picture of two stick figures: one small with braids, one big with lightning bolt tattoos. Layla has scrawled something in crayon across the top of the page.
"J.C. is the best."
ADAM RHEW is the associate editor of this magazine. Reach him via email at adam.rhew@charlottemagazine.com or on Twitter: @AdamRhew.