Why Charlotte's Apartment Boom, Housing Crisis Are Hazardous for Pit Bulls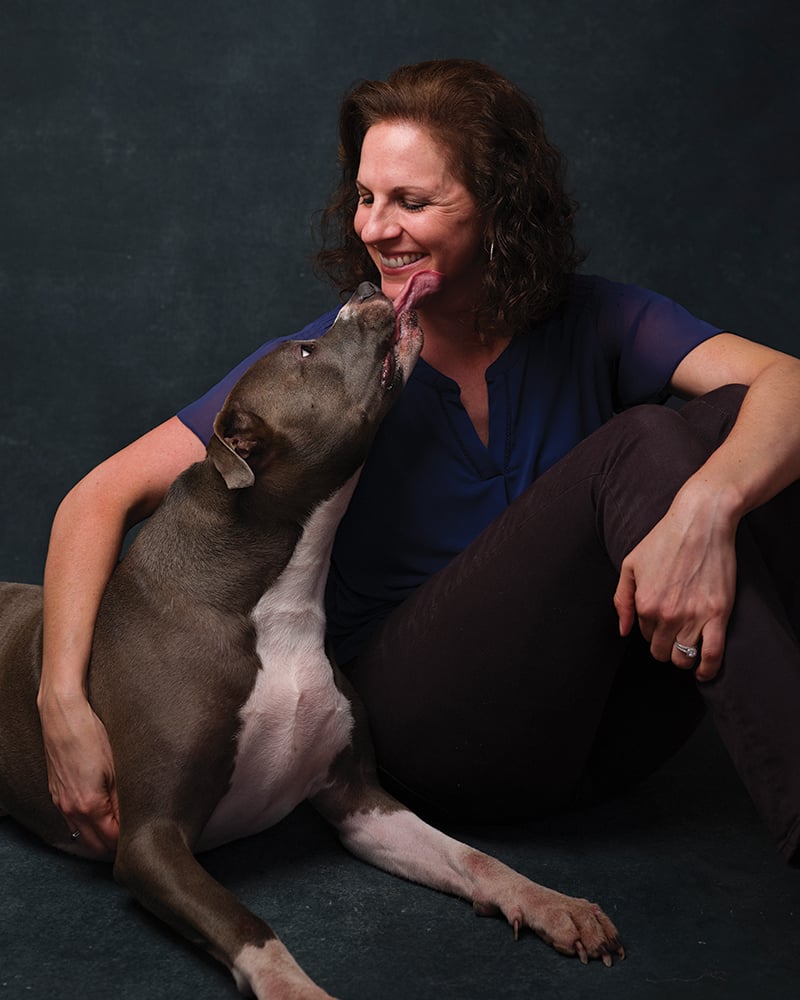 FRANKIE DOES NOT ASK before he kisses. The three-year-old, charcoal-gray American Staffordshire Terrier-Boxer mix was born with blue eyes, white sock paws, and fur so smooth it feels like velvet. Frankie is not bashful about whom he kisses, or how many times, when he firmly plants his paws on your knees.
So one day earlier this year, when Frankie, a trained therapy dog, found two young girls visiting their father at a hospice facility in Huntersville, his owner—Donna Stucker, vice president of development for the Humane Society of Charlotte—wasn't surprised to find him smooching the girls while their faces exploded into smiles. That's just Frankie being Frankie. It's what he does.
"We just had some pleasantries in the hallway and I said, 'Nice to meet you. This is Frankie,' you know, just to kind of divert away from what they're dealing with," Stucker says. "After they had walked on to wherever they were going, a nurse stopped me, and she says that's the first time she's seen those girls smile since they've been around this building with their dad."
Not everyone's this happy to see Frankie. Stucker and her husband, Shaun, decided to trade in their home on three-fifths of an acre in south Charlotte in July 2018 for a smaller, more manageable, still-under-construction townhouse in Huntersville. Their house sold so quickly, they needed a stopgap apartment until the townhouse was complete.
Amid an apartment boom, Stucker easily found about a half-dozen apartments to consider. None would take Frankie.
Frankie, with his cinder block head and 80-pound tank of a body, was undeniably a pit bull, which many apartments categorically prohibit. It didn't matter that Frankie would rather sleep than snarl. Or that he'd soared through puppy kindergarten and passed an 18-week training program to become a certified canine good citizen. On paper, he was dangerous and a liability to apartment communities.
The couple eventually found an apartment in Huntersville that allowed Frankie. But, Stucker says, with a steep month-to-month rent, a pet deposit, and monthly pet fees, it was a financial burden not every apartment hunter is able to afford.
***
OF 282 APARTMENT COMPLEXES surveyed in Mecklenburg County that allow dogs, about 200 have restrictions on specific breeds, according to data from the American Pit Bull Foundation (APBF). These restrictions are often vague and cite "no aggressive breeds," and many specifically restrict pit bulls.
As people pour into Charlotte and cranes crowd the skyline to build more places for these newcomers, you might think this translates to more places for dogs like Frankie to live.
That's not the case, and this pisses Sara Ondrako off.
Ondrako is the founder and CEO of the Charlotte-based APBF. She has four children (ages 13, 10, six, and one) and two pit bulls: 54-pound Yoda Boada Bear Brahma Bull (or just Boada Bear "when he's being good") and 55-pound Blue Ivy (who has an Instagram following of 3,694).
The petite 40-year-old has sparkling blue eyes, freckled skin, curly shoulder-length hair, and wears diamond earrings. She also has a pistol tattooed on her forearm and a passion for "pitties," a breed notorious for its subjugation in dog-fighting rings. She spares no fools when it comes to dogs.
"Even if you say, 'I'm gonna remove all of the pit bulls,' you did nothing to remove all dangerous dogs," Ondrako says. "You can have a Lhasa Apso that can take down an infant. They're feisty little beasts, you know?"
What gets Ondrako really angry, though, is the inequality of apartment pet policies, pet fees, and breed restrictions, especially during the city's affordable housing crisis.
"It's a very unfair problem," she says.
It's a dichotomy Josh Fisher, director of Charlotte-Mecklenburg Animal Care and Control (ACC), sees too often. It's partly why, he says, nearly 35 percent of all dogs that came into the county's care during the first nine months of 2019 were pit bulls.
"We see them every week, dogs that are surrendered because their owners are moving," he explains. "That could be that they are moving out of state and don't have the resources to take the pet with them, or it could be that they are moving … in Charlotte and their new landlord doesn't allow dogs or doesn't allow that breed of dog."
Fisher calls it simple supply-and-demand economics. "You're not seeing Rottweiler puppies for $25 on Craigslist. You're not seeing Doberman puppies for $25 on Craigslist," he says of other frequently restricted breeds. "There's not a huge level of access to these animals."
In essence, pit bulls are victims of their own popularity. Pit bulls accounted for 28 percent of ACC's dog adoptions—and 51 percent of euthanizations—in the first nine months of 2019.
***
STUCKER, who doesn't have children, says Frankie is like her baby. As she talks about Frankie and his work at hospice, a smile stretches across her face, and her eyes beam. She shares pictures of Frankie like a parent shows off school portraits. She shows the one of Frankie on a football field, snuggling up to Luke Kuechly during a Carolina Panthers calendar photoshoot. In another, he wears a Christmas wreath around his muscular neck, looking up at the camera and smiling.
Her mood changes when she thinks about what would have happened to Frankie had she been less privileged.
"It really just opened my eyes to say, 'How does somebody do it?'" Stucker says. "Well, they give it up, they give the dog up and I just …" Stucker pauses and looks over at Frankie, now asleep on the floor beside her.
"It's just devastating to me."
---
Bringing Home (Fur) Baby
Want to adopt a pet? Two options are the Humane Society of Charlotte and Charlotte-Mecklenburg Animal Care & Control (a division of the Police Department). Here's what to expect and where to go for more information.
» The Humane Society operates three kennels, the main one on Toomey Avenue. Adoption fees vary but tend to hover around $150 and include initial vet screenings, spay/neuter surgery, initial vaccinations, a microchip, and 30 days of pet insurance.
» CMPD Animal Control's kennel is at 8315 Byrum Drive, near the airport. Adoption fees vary but are usually a little more than $100 for a dog, a little less for a cat, and includes the neuter fee, microchip, and license. charlottenc.gov (click on "Adopt a pet" under "City Service Quick Links")
If you can't adopt, both agencies accept donations to support the shelters. —Ellie Drescher