Why Garry McFadden's Win Matters
The new sheriff leaves no doubt about dissolving 287(g)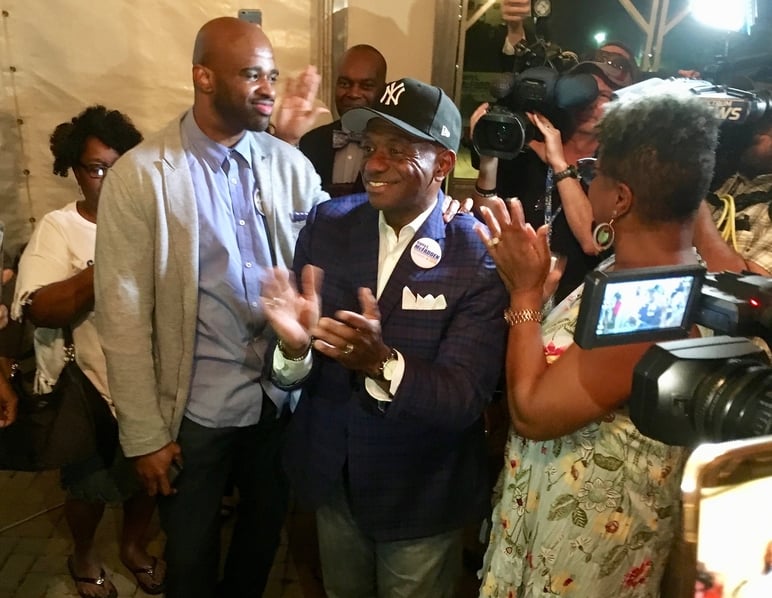 It was 9:46 p.m. Tuesday when the crowd at Garry McFadden's primary night party felt confident enough to assume victory. Up on the fifth-floor Skyline Terrace at Mosaic Village, with its panoramic view of Charlotte's skyline, the people assembled under a party tent began cheering when the fresh results came in, projected on a screen in one corner: 84 percent of precincts reporting, McFadden with 52 percent of the vote in a three-way race. A blowout. The obligatory chant went up: "Gar-ry! Gar-ry! Gar-ry!" It lasted for about 30 seconds, then gave way to silence as people scanned the room and noticed his absence. "Where is Garry?" a man muttered.
Garry was coming. He entered wearing a New York Yankees cap and a broad smile. His wife, Cathy, walked beside him. McFadden has never shied away from cameras, going back to his 35 years as a police detective in Charlotte and his subsequent semi-stardom in reality television. But he'd never won an election, which helps explain the first words out of his mouth when he took the microphone to deliver his victory speech: "It is 'Garry' with two Rs."
It took a few minutes to get down to the key question, posed to him by a TV reporter: What about 287(g)? The Mecklenburg County sheriff's race was mainly seen as a referendum on whether the county should continue the 12-year-old program, which allows deputies to refer undocumented immigrants to federal authorities for possible deportation. The incumbent sheriff, Irwin Carmichael, defended 287(g), saying it allowed the Sheriff's Office to identify and background everyone who came under county custody—that is, anyone charged with a crime.
McFadden and the other sheriff's candidate, former police officer Antoine Ensley, argued that the fear the policy engenders in the Latino community—especially after President Trump's anti-immigrant campaign and a February 2017 federal immigration sweep that sent Charlotte's immigrant community into near-panic—makes it harder for police investigators to solve crimes and deprives immigrants of due process. That's why the sheriff's race took on national significance, as a test of a city's reaction to Trump-era immigration policy.
As he had during the campaign, McFadden answered the question about 287(g) without equivocation. "Say it! Say it!" a woman yelled.
"287(g) is going to be history in Charlotte-Mecklenburg," McFadden said. The crowd roared.
For the activists who had campaigned on McFadden's behalf, the results of the Democratic primary (no Republicans ran) were especially gratifying. "When early voting came out, we knew we were at least going to have a runoff," Oliver Merino, an organizer for the Latino advocacy group Comunidad Colectiva, told me this morning. "I was surprised at the amount of people who voted for McFadden and satisfied"—he chuckled—"that (Carmichael) was dead last. That was a good thing." The unofficial results: McFadden 52.2 percent, Ensley 27.5, Carmichael 20.4.
Merino, who worked as a community liaison at the Levine Museum of the New South before directing his attention to activism, won't be in Charlotte much longer to enjoy the fruits of his and others' labor. He's leaving for Washington, D.C., at the end of the month to be with his girlfriend. He could have moved earlier, he said, but he wanted to stick around to see the campaign through. Merino's was one of the strongest voices in Charlotte's Latino community after the February 2017 raids, when he and his fellow advocates demanded that local government protect immigrant communities from what they saw as federal tyranny. Some of their demands were unrealistic—local governments can do little to nothing to restrict federal law enforcement—but one was genuinely achievable: The election of a sheriff willing to dissolve 287(g). Both McFadden and Ensley also campaigned against the Sheriff's Office practices of solitary confinement and online-only visitation, but, Merino said, Comunidad Colectiva threw its support behind McFadden because members concluded that McFadden was the stronger candidate.
"It's a great result. I think the community as a whole understood what was at stake and understood that Irwin Carmichael was not an option anymore," he said. "We turned the page, and now we can figure out how we can make Mecklenburg County a better place."
McFadden's election matters in what might be a more lasting way, as a few folks have pointed out this morning. Charlotte now has a black mayor, city manager, sheriff, district attorney, county Board of Commissioners chairman, police chief, fire chief, school board chairman, and transit system director. On Tuesday, Mecklenburg County voters elected African-Americans to the offices of sheriff and district attorney—Spencer Merriweather easily defeated Toussaint Romain, another black man—for the first time. "I don't know what this means for 'us,'" tweeted photographer and activist Alvin Jacobs, "but we're about to see …"
Yet it seems to mean more than just symbolism. Acknowledgment of the ways power operates differently when white people aren't the ones holding it can be risky these days. But shifting it might at least open up the possibility of facing it squarely instead of wasting time and energy denying it.
"I want to change the city to bring unity, inclusiveness—and we're going to have to talk about race," McFadden told a group of mostly black friends and supporters Tuesday night under a tent in a traditionally black Charlotte neighborhood. "Someone said, 'Is that the job of a sheriff?' Well, that's the job of this sheriff." It's 2018 in Charlotte, and suddenly justice here has a different face.