Why It's Better to Walk: You Just Might Run Into Bill Clinton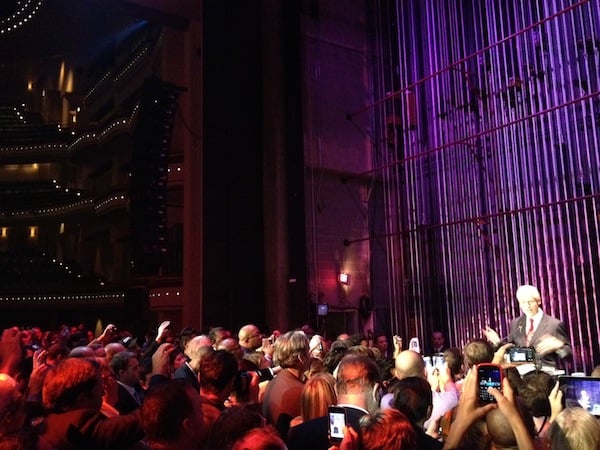 At the end of every night since Saturday, I have walked back to our office on Morehead to get my car and drive home. On Saturday, this only meant a stroll of a few blocks. The other nights, it's been post-midnight marches of a mile or more.
Last night, it got late. My dogs were barking. I was at 11th and Tryon, almost a mile and a half from my car with its soft seats and lumbar support. But I walked.
I got to the Belk Theater, inside Blumenthal. There was a party going on. I saw someone I knew. One thing led to another. I ended up standing on the stage of the Belk. My friend said, "You see that podium right there? That's where Bill Clinton will be in about ten minutes."
And so while volunteers and donors for Obama for America munched on barbecue and the ubiquitous shrimp and grits in a martini glass (indisputedly the hors d'oeuvre of the convention), I waited for Bill Clinton to show.
Which he did.
"First of all," he said, "the only person I can see in this glare is Tom McMillen, because he's seven feet tall." McMillen is a former NC State basketball star turned politician. He looked good in his goatee.
"I don't have much else to add to what I said tonight," he said next. Then he talked for twenty minutes while everyone smiled and took cell phone and iPad pictures.
And that's why you walk.