Why it's OK to Love the PGA Championship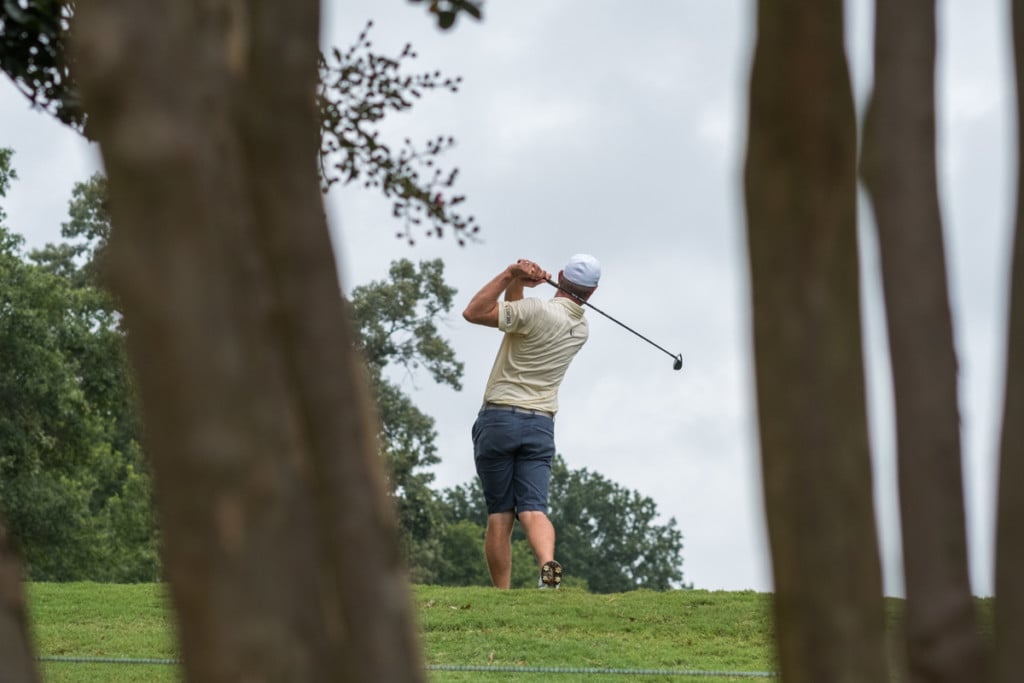 GOT MY 10,000 STEPS in Monday. A golf course requests that of a pair of feet. Up slopes and down stairs, and side to side on the walkways when those Tasmanian-devil television people with The Golf Channel logo on their carts zoom up from behind.
"Coming through, people," they shout.
I've been thinking about steps a lot lately. My father can't take them anymore. For the past six years, he's been recovering from a mess of strokes and mini-strokes that nearly took him from us in 2011. "Recovering" isn't the most accurate word to use, but we use it anyway, for his sake. Recovery would mean that we could see a path back to the man he was before, back when he jumped out of planes for sport, or when he put me and my brother on his lap and let us drive the old Chevrolet pickup for fun, or when he threw pitches to us for batting practice all night long. Recovery would mean he could work again as an electrician, or a fishing-boat captain, or a carpenter, or whatever job he took to help keep the lights on all those years. Recovery would mean he could build an addition on the back of a house again. Or that he'd go out and buy another old, beaten-down boat at a police auction, then strip it and rebuild it, board by board, to create the most handsome vessel that's ever cut across the Chesapeake.
Those are memories now. In six years, Dad's just about lost the ability to walk at all. For a time, he'd hold his right arm to his chest to keep his balance from station to station in the house. Then he leaned on a cane. Then a walker. Then a wheelchair.
In early July, he went in for surgery to clear fluid away from his heart. He spent another week in the hospital and then three more in a rehabilitation facility. He turned 73 in there. He begged my mother to take him home every day. She had to tell him he couldn't, not yet. Before the surgery he could do a lap around the kitchen with his walker. But on his last day in rehab last week, with a therapist walking alongside him and the walker in front of him, Dad made it all of 12 feet.
We worry about too many things, you know? Ridiculous tweets from this president, the ridiculous look of the new apartments popping up in Charlotte, whether the county should spend taxpayer money on greenways or a ridiculous Major League Soccer proposal. The big news at Quail Hollow Club on Monday was that the players came here and practiced in … cover your children's eyes, people … shorts!
It's easy to get caught up in concerns, and easier to let fear of this or that pull us around on a leash, but in a strange way I find it freeing to remember that no matter what we're worried about today, most of us wind up in a hospital room just hoping our roommate likes the same thermostat setting.
A beautiful event began in our city yesterday. The PGA Championship has the widest reach of any sports competition to ever take place here, with about 250,000 fans expected. That's a lot of pairs of feet.
Thousands walked through the gates on opening day, most with brown passes that read "Monday." The competitive portion of the tournament doesn't start until Thursday. These people came for practice.
What seems early to some isn't to others, though. Quail Hollow and the PGA began preparing years ago. Club owner Johnny Harris has dreamed of hosting the tournament most of his life. Course Superintendent Keith Wood led a makeover of the course last summer, renovating and reconstructing the first five holes and transforming all 18 greens to Champion Ultradwarf Bermudagrass. Why's the grass important? Well, worriers will wonder whether the course can handle the humidity and the endless thunderstorms in the seven-day forecast. It can. This grass loves this weather.
They've planned for everything they could plan for. One of Wood's assistants, a bearded guy from Thomasville in his late-20s named Brandon Hicks, spent the past year mapping out where every pole would stand, where every grandstand would start and stop, where every tent would tie down—making sure to avoid new power lines and irrigation lines that run all around the course. A horticulturist named Greg Vierkant moved here from a job at Disneyland last summer and planted 300 trees and 1,500 shrubs to give Quail Hollow some color come television time.
At this point, the people who made the PGA Championship happen can do little more than watch it happen. That's the comfort preparation provides: When you know you've controlled all you can control, you stop worrying about what you can't.
On Monday morning, thunderstorms circled but Quail Hollow rose anyway. Bus drivers cranked the ignition. Moms tied those "Monday" tickets to their kids' belt loops. Old men put on golf shoes just to walk. The flags flapped. The beer went down. The people bought things.
Lord, did people buy things. The merchandise tent, planted near the main entrance like those pieces of chocolate cake are planted just inside the door at the grocery store, was as busy as the course Monday. There's clothing for men, clothing for women, clothing for infants, clothing for toddlers. Golf shirts, t-shirts, three-quarters shirts, pullover shirts.
Ralph Lauren. '47 brand. Under Armour. Adidas. Nike.
Shorts, too, and pants, and hats, and sunglasses, and watches. Good golly, the watches are everywhere.
Omega.
And for the brave souls who survive a march through that battlefield of marketing and capitalism without spending a nickel, well wait just a minute, hoss, there's a basket of oversized golf balls for $12 apiece by the door. They look like mini basketballs. They look like fun. And they're Carolina blue. Just try to leave without one.
Maybe the most popular item was a simple flag with the tournament logo, similar to those that wave from the tips of flagsticks on each green. Kids and adults carried them from hole to hole, dangling them out as far as their arms could reach, hoping golfers would grab and 'graph. They chased Rory McIlroy in his pink shirt around the course while he practiced, pleading with him to stop walking, just for a moment, just for their moment. Yes, in some places in the world today, signatures are still more valuable than selfies.
Does a golf tournament solve the city's problems? Hell no. Could a golf tournament even be a small window into the city's problems? Sure. Tickets for admission to the sold-out championship rounds this weekend were $95—hardly affordable for many people who live here. But look at it another way, those 250,000 people are coming here from all over the country and they're bringing in $100 million. Uber drivers will be called upon. Restaurant workers will be tipped. Concierges will be pointing this way and that way.
As for me, my brother's coming to town from Baltimore for the weekend. I bought tickets for Thursday's round as a Christmas gift for him last year. Golf's one activity that keeps us connected now that we're 400 miles apart. The last time we played a round together was Christmas Eve, at a course near our parents' house just south of Wilmington. We got two carts and brought Dad along to watch from one of them. He laughed when we hit bad shots and missed easy putts. On the straighter, flatter holes, we slid him over behind the wheel and let him drive.
There are plenty of reasons to feel uneasy about a big, rich event like the PGA Tournament at a time when the city has a list of other concerns. But there are plenty of reasons to welcome it and be thrilled it's here. Underneath the logos and brands and cash, it's just a game. And games insist that we play, that we move around a bit, that we remember to take whatever steps we can today, to walk if we're so fortunate.
Michael Graff is the editor of Charlotte magazine.