Why Jay Bilas and Mike Gminski Are the Best and Least-Annoying Analysts Working College Basketball
Here in North Carolina, television analysts who interpret college basketball help shape our thinking about one of our great passions: college basketball. Charlotteans—and former Duke stars—Jay Bilas and Mike Gminski—are among the best in the business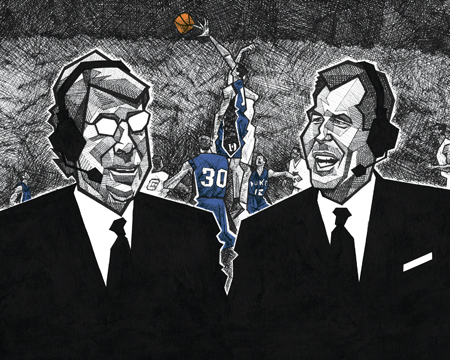 Big game tonight. Nationally ranked teams. Several players who'll go in the NBA draft. So you ask your new neighbor to come over and check out some college basketball with you.
Turns out, he's not good company for hoops. He emphasizes the obvious as if it's fresh insight. He's so loud you'll need to call a hearing clinic tomorrow. He has these pet phrases he keeps saying and saying. He cites as fact things you know are wrong. He prattles on with irrelevant anecdotes. Long before you've seen the same Nissan commercial for the fourth time in a couple hours, you've decided you'll never invite him back.
If, like me, you care about college basketball, you've probably had evenings akin to that, not with a guest in your home but with a television announcer who's doing a bad job of what's called expert analysis or commentary. You've endured the hyperbole, the inaccuracy, the clichés. And you can't hit the mute button. I've tried that; you end up missing the sounds—buzzers buzzing, shoes squeaking on wood, the crowd chanting obscenities—that are integral to our enjoyment of basketball. No, you're stuck listening.
Here in North Carolina, an analyst who interprets basketball on television has a role not unlike that of The New York Times's drama critic in Manhattan: he helps shape how people think about one of their great passions. On any given evening, if he's smart and personable, he enhances our experience of a game. If he's irksome, he detracts from it as surely as a fuzzy cable hookup or soggy Cheetos.
This, mercifully, brings us to Jay Bilas and Mike Gminski. Anytime I turn on a game, I hope to hear one of their voices. They're not just insightful and articulate about the 1-4 high-stack offense or defensive positioning on a ball screen; they're engaging personalities who project seriousness without getting overwrought, good humor without trivialization, warmth without fawning. To my ear, Bilas ranks by himself as the gold standard in college basketball commentary, and Gminski shares the top of the next tier with a handful of others.
Of course, in Charlotte, they're linked in our basketball zeitgeist. Starting in 1976, and over the next ten years, the odds were that if you tuned in when Duke was playing, the Blue Devils' center was Gminski or Bilas. By the middle 1990s, they had each put down roots in Charlotte, where Gminski is the tallest person you'll see taking a walk along Providence Road and Bilas moonlights as an uptown lawyer. This month, as with every March, we'll spend a few intense nights and afternoons with them while the NCAA Tournament has its way with us.
Gminski and Bilas took altogether different paths into our living rooms. In 1994, Gminski was wrapping up his NBA career, which included four years at the end with the Charlotte Hornets, and pondering what to do next. Politics was a possibility; he had even visited Duke law school alumnus Richard Nixon for advice. (To this day, he does a decent impression of Nixon's voice.) But Steve Martin, then overseeing the Hornets' broadcasting, took him to lunch to ask if he wanted to join the franchise's radio team and, serendipitously, he had a new job, a surprisingly demanding one. "My first game was an exhibition against the Pistons," he says, "and I was as exhausted at the end of the first hour as I have ever been by any physical activity."
On the other hand, Bilas always thought he might land in broadcasting. Growing up in Rolling Hills, California, he developed a deeply resonant voice by age eight. "I'd answer the phone," he says, "and people would think I was my father." His mother encouraged him to take courses in drama, and he competed in extemporaneous-speaking competitions. He even wangled a job as a gopher for ABC at the 1984 Olympics in Los Angeles. In 1992, after joining Charlotte's Moore & Van Allen law firm, he got an opportunity to do commentary on Duke's radio network for $200 a game. "I'd leave my office at 4:30 p.m.," he says, "and race my Thunderbird to Durham for a seven o'clock start, then drive right back for work the next morning."
Before too long, ESPN called. Now it has him locked up in an exclusive contract. During the season, when he's not at a game—he does about fifty a year—he's often laboring at ESPN's massive complex in Bristol, Connecticut. This month, he'll camp there to do in-studio analysis of the NCAA Tournament. ESPN used to loan him out for those games. But he's a star, and it has decided against sharing him with CBS and Turner, which have the NCAA rights. Our loss.
Gminski, a fixture on Fox Sports' Sunday-night Atlantic Coast Conference telecasts, had his workload reduced when ESPN won a bidding war last year for those games. He'll appear on about forty telecasts this season for Fox, CBS, and Raycom, including the ACC tournament and the early rounds of the NCAA Tournament. The latter is a plum assignment, a confirmation of his status in the profession.
To my ear, Jay Bilas ranks by himself as the gold standard in college basketball commentary.
Bilas's national profile is higher than Gminski's. Is that karma, somehow balancing out their lives? In basketball shoes, Gminski was clearly superior. From Monroe, Connecticut, he enrolled at Duke weeks after he turned seventeen and evolved into a six-foot-eleven All-American who then put together a fourteen-season career in the NBA. Bilas, who is six-foot-eight, was also a four-year starter for the Blue Devils, though not a standout. Send him back in a time machine to call one of his games, and the term he would undoubtedly use to describe himself is "complementary player." He never reached the NBA, except by purchasing a ticket.
These days, they both have the best seat in the house, the courtside position allotted to television networks. To parse what distinguishes their work, you have to analyze why so many of their peers get it wrong, what it is about them that bugs us. Even murkier: Why do we like hanging out with certain people and not with others? That's our relationship with basketball commentators: we're hanging out.
Let's acknowledge that the craft is more difficult than it looks. Could you deliver acute analysis of your profession in coherent eight-second bursts while hearing staccato directions through your headphones on what to address next, ensuring you don't talk over your partner's remarks as he doles out a play-by-play narrative, absorbing up-to-the-moment statistics on a computer and replays on a second screen, worrying about uttering a boneheaded stupidity that'll haunt you, and, generally, being pleasant?
Here's another way to assess the challenges of game commentary. In 1998, after retiring as college basketball's all-time winningest coach, North Carolina's Dean Smith—who ever knew more about the sport?—took a turn as a halftime analyst on NCAA tournament telecasts. He was painfully awkward and uncomfortable. I cringed when I watched. He never returned.
Smith was a newbie to television, though experience alone doesn't guarantee good results. Dick Vitale has been at it since 1979, and he's all hype and no substance, long on emotion and short on insight, the same stories over and over, rarely offering anything new. If the word "special," as in "he's a special player" and "this is a special place," were stricken from his vocabulary, he would have about half as much to say.
Jimmy Dykes, long a staple on Southeastern Conference games, routinely allows his breakdown of one play to ramble far into the next possession, skewing the viewer's focus. Billy Packer, formerly the best in the business, never figured out how to leaven his hard-edged truths with likableness, grew grumpier as he aged, and left the field in 2008. Earlier this season, I heard an analyst remark that Davidson had only recently discovered basketball success; in fact, it has won thirty Southern Conference championships of various sorts—league, divisional, and tournament—since 1964. Distortions such as that are all over every sports channel, as are the timing and tonal issues exemplified by Dykes and Packer.
Then there's Clark Kellogg, CBS's analyst for its biggest games. He strives to build a distinctive persona, coining phrases that he summons again and again. He calls grasping the ball firmly "squeezing the orange." He terms a series of quick passes "frijoles in a hot skillet." He responds to an assist with a phrase that he offers up as if it's part of basketball's vernacular, even though it's not: "That's what we call 'sharing the sugar.'"
All this comes off as an irksome case of linguistic overreaching.
Bilas and Gminski dodge such pitfalls. Although I can't tell if they prepare more diligently than most analysts, their work bears the signs of sustained concentration. Their observations are often deeper than mere opining about the fast break that just zipped past them, and, at this, Bilas has an edge. "I am immersed in basketball all year," he says, referring, among many things, to his scouting visits to elite summer camps where the nation's top high school players congregate. Early this season, Bilas was the first I heard to pinpoint a weakness of North Carolina's Harrison Barnes: "He's so effective when he takes one dribble and goes up for the shot; more than one, not so much." It's not unusual for Bilas to praise a player in a narrow context that reflects considerable study, citing, for example, someone as the best help-side defender in a particular conference.
Even if other analysts put in as much effort—interviewing coaches, studying teams on a DVR, attending practice sessions—I won't rule out the possibility that Bilas and Gminski have a slight advantage in IQ, in their capacity to synthesize and evaluate, so their time is more productive. Intellectually, they excelled at Duke, where Gminski was also an academic All-American and Bilas graduated from the rigorous law school. Still, elbow grease counts the most, and in a profession with many former players, Gminski sees plenty who aren't as driven as they once were. "They forget how hard they worked as players," he says, "and you have to bring that same work ethic as an analyst."
Bilas and Gminski are basketball lifers. But they present the sport, not to mention themselves, with a humor that is spontaneous, never mean-spirited, always appropriate. During a game against South Carolina, Southeastern Louisiana's Elgin Bailey—a gargantuan six-eight and 265 pounds—jammed home a forceful dunk, prompting this from Gminski: "He came up big on that play, but then I suppose he comes up big as he gets out of bed." And when a series of consecutive turnovers by Texas and North Carolina caused four new possessions in the space of a few seconds, Bilas summed it up: "The shot-clock operator just got carpal tunnel syndrome."
Gminski dismisses certain of his colleagues with a pointed description: "They're the people who have their shtick, and they think they are the broadcast."
Quips are the exception. By and large, neither Bilas nor Gminski seeks to draw undue attention to himself, which, appropriately, leaves the game as the centerpiece. In fact, without naming names, Gminski dismisses certain of his colleagues with a pointed description: "They're the people who have their shtick, and they think they are the broadcast." Bilas has a similar attitude about analysts and their role: "If we believe for one second that people are tuning in for us, except maybe for our moms, that's crazy. We're part of the atmosphere, that's all."
To that end, each in his own way is a modulated personality. "I don't feel compelled to fill every minute with my voice," says Gminski. "Now and then, I'll just lay out for a possession, and let what people have seen speak for itself." Gminski is lower key than Bilas, whose opinions are sharper edged but reasoned and devoid of bombast. His priority: "I try to be mindful of saying the right thing at the right time in the right tone."
Not everyone gives him or Gminski high grades. Analysts frequently draw flak from fans for offering cold-eyed evaluations that they don't want to hear. The play-by-play man notes that your small forward just missed a layup, which is indisputable; the commentator then explains how that inability to score while closely guarded might cost your guys the conference championship, which can only mean he hates your team, right? Still, judging by internet fan forums, Bilas and Gminski provoke far less criticism than most analysts. In the hypercompetitive realm of college basketball, that's a lot more than damning with faint praise.
However you feel about a particular analyst, when you punch your remote to go to a game, you're venturing into one amped-up media environment. The crowd is a raucous blast because the home team has dashed off twelve straight points, and, in rapid sequence, you get replays of the previous dunk from three different angles, one shot of the visiting coach pounding his clipboard, then a glimpse of cheerleaders cartwheeling. A graphic flashes past, detailing State U.'s winning percentage when committing fewer than twenty fouls, but there's barely time to absorb the numbers before they're replaced by next week's conference schedule. Down at the bottom, scores from a dozen other leagues zap continuously from right to left.
This kaleidoscopic swirl of movement and information and sound is far more intense than a basketball telecast twenty years ago, and all of it on a screen four times bigger than the one you watched growing up. What is not appropriate here is an over-the-top personality. The experience is more than frenetic enough as it is.
I'm looking back at the last few paragraphs, and I realize that, without planning to do so, I've used the word appropriate, or a derivative of it, several times. That's the thing we expect from somebody we invite into our house, whether it's for dinner, a book club meeting or a game: appropriateness. Don't irritate us. Be good company. Avoid the histrionics. Make interesting conversation. Take the event more seriously than you take yourself. If we're watching basketball together, never for a moment imagine that we switched it on as a reason to ask you to visit. No, we're infatuated with the sport, and we want you to help us revel in it.
I've spent hundreds of hours with Jay Bilas and Mike Gminski, the majority sprawled in front of my television and a handful here of late as I talked with them in person about their work. They've never annoyed me, and, truthfully, how many folks in your life can you say that about?