Why Should You Support Charlotte Magazine?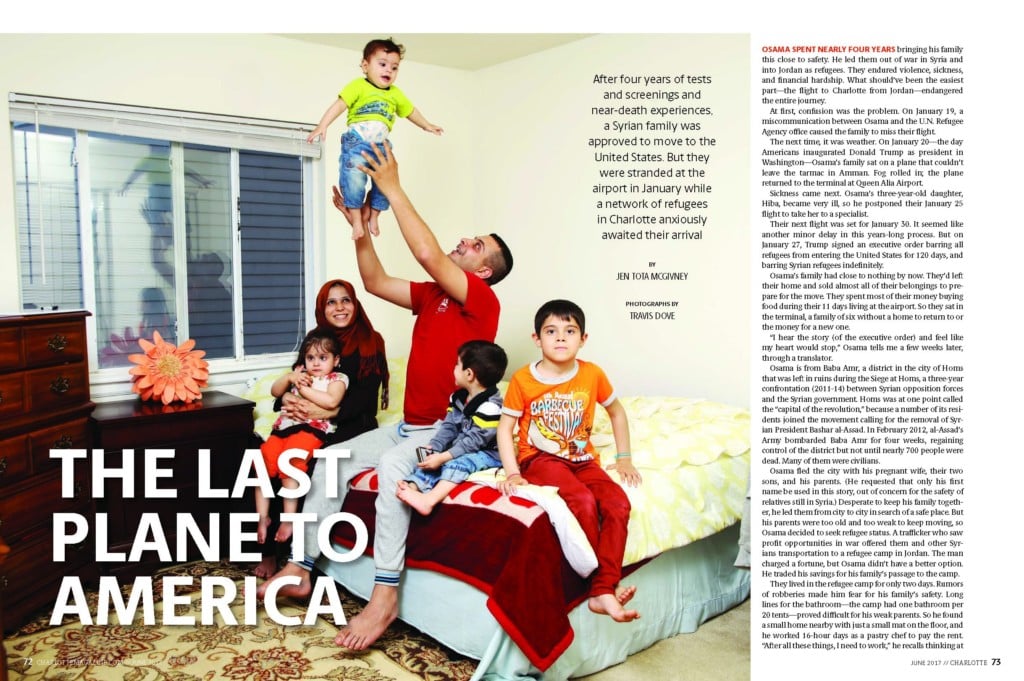 Hi. We know you're busy. But can we take a moment to talk about the importance of quality local journalism in Charlotte?
You undoubtedly notice that the city is growing. You undoubtedly see that it's changing and becoming more diverse. You've undoubtedly read about the challenges all of that presents.
You see those things happening every day. But what you may not notice are the stories behind the growth. Thousands of people move to Charlotte each year trying to get ahead. Some are here only to take advantage of the city in prosperous times. Others genuinely care and are here to stay, no matter what.
Charlotte magazine is here to stay. We'll turn 50 years old in 2018. We've been here through good times and tough times. But what we do face is more threats than ever. Distrust of media—television, print, radio, web publishers, you name it—in America is at an all-time high. Here at home, the local media market continues to become busier and more saturated. Publications are pushing stories in front of you more frequently than ever, creating an error-prone environment as we all scramble for your attention, time, and money. In some places, it seems more important to be fast and popular than good and thorough. We believe you want better than that.
For all of these reasons, we're asking you to join us as a monthly subscriber, as a member, if you will, as a part of our Charlotte family.
No other outlet in town puts stories through a more rigorous editing and fact-checking process. Before any story goes to print, it has been edited and revised by three staff editors, a copyeditor, a fact-checker who goes over every detail, and three proofreaders. (Our fact-checkers, by the way, are the biggest pains in the ass sometimes, and we love them for that—if a writer says that two places are 10 miles apart, our fact-checkers let us know if it's 9.9 miles.)
Let me share one story of our process. In our June 2017 issue, which reached subscribers' mailboxes on Tuesday, we have the story of Osama, a Syrian refugee, and several other refugees in Charlotte. Osama and his family fled their hometown of Baba Amr after the Syrian government destroyed it, killing hundreds of civilians like them. They went through a nearly four-year process of gaining confirmed, legal refugee status before receiving word that they would come to the United States and resettle in Charlotte. They were in an airport in Jordan on January 27 when the president signed an executive order banning Syrian refugees from entering the United States. They had given up everything. Money. Jobs. Extended family. They had no life to return to, and no life to head toward.
In early February, though, a judge lifted the ban, and Osama hustled his family onto the first plane out. They arrived a few days later, and now live here. They are our neighbors.
A story like this takes time and money. Writer Jen McGivney started working on the project in November. It went to the printer at the end of April, five months later. In between, she had countless meetings with refugees and refugee organizations. A translator accompanied her at each meeting. The translator, Ahmed Al Badri, also assisted our freelance photographer, Travis Dove, on every photo shoot. Travis is an award-winning photographer whose work has appeared in National Geographic. His profile shots of the refugees tell entire stories on their own. But even that wasn't the end. Our fact-checker, Carl Moritz, spent nearly three weeks with the piece, working with Ahmed to make sure every detail was correct.
If you add together our payments to Jen, Travis, Carl, and Ahmed, along with the hours our staff members spent editing and designing the story, "The Last Plane to America" cost several thousand dollars to produce. It comes out to the equivalent of about 250 yearly subscriptions from people like you.
That's why I'm asking you to join us today. If you want to continue to see us produce stories like this, go to www.charlottemagazine.com/subscribe. If you already subscribe, thank you, and tell your friends.
Help us continue to tell Charlotte's story thoroughly and honestly and with the care of a magazine that's been here through bad times and good times.
Thank you,
Michael Graff
Editor, Charlotte magazine