Why the Panthers are Mad About Madden
A video game rating isn't just for kids. It's a statement on speed, skill, strength--but what do you do if you think it's wrong?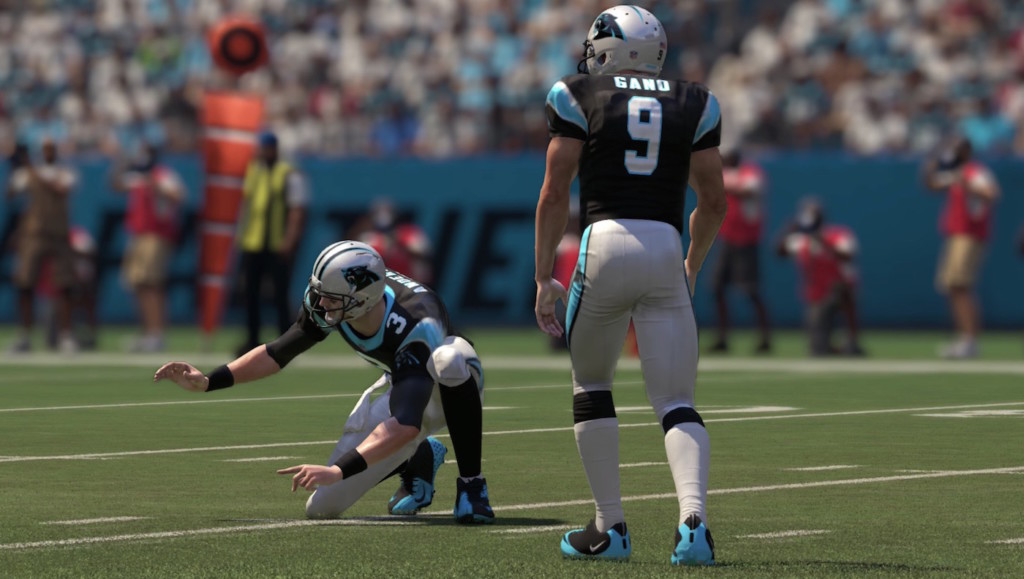 Speed is a sensitive subject in the NFL.
Slow guys think they're fast. Fast guys think they're faster.
During Carolina Panthers training camp this summer in Spartanburg, speed seemed to be a daily conversation.
Who's the fastest guy on the team? And of the running backs? Or on the offensive line?
And why does it matter so much?
"Speed is really the only thing that has to do with football," receiver Corey Brown says. "When you talk about bench press and all that other stuff, it really doesn't mean that much in football. You're never going to bench press a guy on the field. But when it comes to speed, that's kind of what people measure each other off of."
As much as it matters on the field, off it, there's little that hurts a player's pride more than what a few dozen video game developers decide.
Every summer, the group behind Madden NFL builds the latest version of the game at the EA Tiburon offices in Orlando. It's hard to find a professional football player who doesn't play the game. Or one who doesn't have a problem with it.
In 2014, Cam Newton's speed was eighth-best among quarterbacks. So he lodged a complaint while on a promotional visit to the EA Tiburon office.
"He had just had his ankle surgery, so he was walking around the studio on crutches and with this giant walking boot on," recalls Clint Oldenburg, one of Madden's many designers and a former Redskins' offensive lineman. "He's having a discussion with our ratings guy at the time, Donny Moore, and he's like, 'I think you've got me a little too slow.' "
"Donny looked down and said, 'Dude, you've got a boot on your ankle, how can I bump you up in speed? If anything, I'm going to bump you down.' "
A KICKER'S BOOST
At Tate High School outside Pensacola, Florida, the records still stand 10 years after he set them.
100-meter dash: Graham Gano (10.55)
200-meter dash: Graham Gano (21.70)
400-meter dash: Graham Gano (50.00)
It turns out the Panthers' kicker was a bit of a speedster back in the day.
When Gano saw his Madden speed rating was a slow-poke 65, he pushed Oldenburg, his former Redskins teammate, for a boost.
"I guess he was pretty athletic in high school and he was a bit of a runner, or something," Oldenburg says. "We went back and forth for a while, but because he's a kicker, I just couldn't talk our ratings guys into giving a kicker a very high-speed rating."
Gano wasn't giving up.
"I looked at all the stats and other guys that I know have similar attributes. I saw they were rated this high, and I thought I should be rated that high too," Gano says. "I'm fairly fast and pretty strong for my position and just comparable to other guys on the team."
OK, I ask, so who are you faster than?
"I'm not going to throw my guys under the bus. I think a lot of these guys would argue, but in a foot race I'd beat a lot of guys."
Ted Ginn?
"No, not Ted."
Luke Kuechly?
"Possibly."
Jonathan Stewart?
"Yeah, I think so."
Fozzy Whittaker?
"Maybe not Fozzy."
Ryan Kalil?
"Yeah, I'd beat Ryan."
He continues.
"Like last year, if Joe Webb hadn't got [Falcons return man] Devin Hester, I was right there to get him."
"Pacman Jones, I was right there behind Colin [Jones] to get Pacman."
"Ideally I don't want to make contact, but obviously I will if I have to. That's what the safeties are there for, to make plays, but we're supposed to be able to corner the guy down or make a play. I always try to be ready for it."
Eventually, Oldenburg convinced Moore. Gano's rating went from 65 to 75, the biggest speed increase in Madden's 25th anniversary edition, which came out in 2013.
"Since he was a kicker, I think that's the reason I was able to. If it was a position guy and I was like, 'Give this guy an extra three points,' that's pretty impactful on the game," Oldenburg said. "But it's probably only Graham and his family who are going to put him in at running back and quarterback. They can run around and be fast with him all the time, but for the major general population of the game, not many people are going to notice that speed increase."
Gano wasn't done, though:
@ClintOldenburg @Donny_Moore Beginning my quest to boost the madden stats. Strength +++. #PKStatBoost2015 pic.twitter.com/cQBZK4NxyL

— Graham Gano (@GrahamGano) June 12, 2015
Even though Oldenburg says Gano's efforts to get the player's strength upgraded "didn't fly," his 63 is the strongest rating for a kicker in Madden 16.
"It's not like the old days when the kickers didn't lift, so I think we try to keep up with other players," Gano said. "Obviously I'm not as strong as Jonathan Stewart or somebody, but we have fun with it."
Sometimes, so do the developers.
"It's all in good fun. Most of it's just tongue-in-cheek, and we're just having a good time and I think most people understand that," Oldenburg said. "But there's not a player out there that's ever come to us and said, 'You nailed my ratings. You got everything perfect; spot on.' And speed is always the number one top target.
"Everybody in the league thinks they are fast, faster than they really are, and faster than we think they are."
PRIDEFUL PANTHERS
While Gano got a big speed boost, his 75 rating is 47th fastest on the Panthers' roster. Actually, it's tied for 47th with defensive end Charles Johnson.
"No, Graham is not as fast as me. So call the people up there and tell them they need to boost my speed up," Johnson says.
Among the specialists, long-snapper J.J. Jansen's speed is a 63. Punter Brad Nortman is a 78. But is he truly faster than Gano?
"If that's what the stats say," Nortman says. "I think Madden is pretty definitive, so I would stick to that."
Let's ask the third party.
Who's faster?
"Graham," answers Jansen.
Nortman's response?
"Wow. That's spitting in the face of the experts."
According to those experts, cornerback Teddy Williams is the fastest Panther. Yet he still took issue with his 94 rating.
"They dropped me a little bit. That's suspect," Williams says. "And some of the other things we need to talk about. They put my tackling [in the] trash. I'm a good tackler. Tell them to watch film. Eye in the sky don't lie."
While the Madden game says Williams is the fastest player on the roster, most Panthers will tell you it's Ginn. But his speed rating is an 88, a point behind rookie Devin Funchess, who posted a 4.7 40-meter dash, the slowest of any receiver who ran at February's NFL Combine.
"I'm pissed," Ginn says. "[I'm] 88? Funchess 89?
"I mean, I think they just took my age and bumped me down. But I'm going to get it right. They gotta have an update to get me back to where I need to be."
Unless he knows friends in high places like Gano, the 30-year-old Ginn may be out of luck. Besides, nearly everyone can admit he's the fastest Panther in real life, right?
"Well, Teddy is if it says so in Madden," coach Ron Rivera says.
Wait, Teddy Ginn or Teddy Williams?
"Teddy is," Rivera replies with a smile.
"I'm going to leave it at that. I don't want to get anybody upset."