Why Wheelhouse Media Is Adding AR, VR Enhancements Across Charlotte's Landscape
Production studio harnesses high tech for deep stories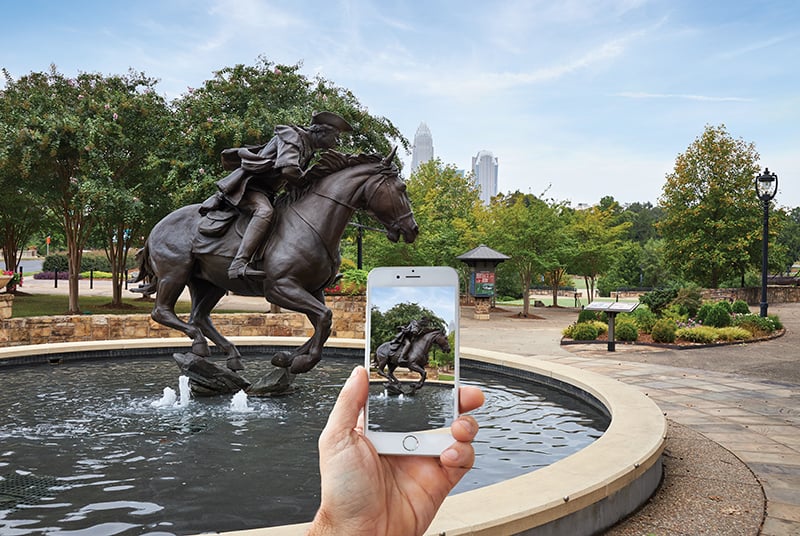 A STATUE OF CAPTAIN JACK atop a horse stands in a fountain along Little Sugar Creek Greenway. He wears a tricornered hat and a satchel that contains Mecklenburg County's declaration of independence from Great Britain. He's pitched forward, his face near the horse's mane, ready to ride to Philadelphia and deliver the documents back in 1775.
The sculpture is like many others—an inanimate object with a historical plaque. But soon, visitors may be able to actually see Captain Jack talk and ride north on Kings Drive with the help of Wheelhouse Media, a Charlotte-based production studio.
Since 2012, founders John Allred and Parker Williams have produced commercials, videos, and interactive experiences for local and national nonprofits and companies. While the company creates traditional 2-D videos, it has a growing portfolio of virtual and augmented reality content like this project on the "Trail of History," which Allred hopes will help citizens engage with our past.
"I fell in love with the potential of technology and the potential to tell stories," Allred tells me in Wheelhouse's office lounge in The Foundry near Bank of America Stadium. "Virtual reality is transformative. You can put someone in another person's shoes."
VR and AR, while similar, use different methods to change a user's view: Virtual reality requires special goggles to take viewers inside an experience, while augmented reality is often a web- or app-based experience that can usually be viewed on a smartphone (think Pokémon Go).
Wheelhouse categorizes its immersive work in three areas: entertainment, education, or empathy. But the work often overlaps. The company's portfolio includes the world's first virtual reality album, Saintmotelevision by Saint Motel, with 360-degree graphics, animation, and live performances by the band (entertainment); a 360-degree video that lets users virtually step onstage for Opera Carolina's production of The Daughter of the Regiment using VR goggles (entertainment and education); and Purple Heart Homes' "Vicarious," an immersive experience that highlights the challenges of a double amputee, which was featured in an exhibit at Elder Gallery of Contemporary Art (empathy).
For "Vicarious," visitors sat in a wheelchair in front of a mirror and wore VR goggles that simulated a double amputee trying to move around a traditional house in his wheelchair. "The veteran experience is one that many people don't have and can't relate to," says Sonya Pfeiffer, owner of the South End gallery.
These types of projects are part of the studio's nonprofit, The Wheelhouse Foundation, which helps groups like Purple Heart Homes share their work with a larger audience. Organizations usually don't have the budget for VR or AR projects; The Wheelhouse Foundation, which started in 2016, helps with that. "Local foundations or organizations need content," Allred says. "We saw this opportunity to show empathy and educate in a first-person point-of-view."
After the 2016 Charlotte Uprising, the foundation created "Routine," a virtual reality experience that shows a police traffic stop from a black man's perspective. Wearing goggles, the user is inside the car when the man is pulled over on his drive home from work. The user sees officers walking up to the car and the driver's face as he grips the steering wheel. It gives users a sense of trepidation and a new perspective on the topic of trust and fear between the police and black communities.
Projects like this one are inspired by events, but much of Wheelhouse's work is at the request of nonprofits, such as the work on the Little Sugar Creek Greenway's Trail of History. Scott Syfert, local historian and vice chairman of the Trail of History, hopes each of the seven (and counting) sculptures along 7th Street will be able to share their history, to become more than just pretty sculptures.
"This could be a new and unique thing for Charlotte," he says. "We're interested in coming into the 21st century by bringing this thing to life to tell their stories."
And maybe watching Captain Jack gallop down the greenway to spread the news, too.
---
MEET THE T-REX
Last year, Wheelhouse Media worked with Discovery Place to make its Tyrannosaurus: Meet the Family exhibit more interactive. Visitors could point their smartphones at a framed marker on the side of the museum, and a T-Rex would appear on their screens, allowing them to learn about the dinosaur and even pose for a picture. There were also markers inside the building for different dinosaurs.
Debra Smul, chief marketing officer at Discovery Place, says her team initially contacted Wheelhouse to re-work some promotional video for the exhibit, but Allred and his team proposed adding an augmented reality concept. "We just thought it was a great way to give our audience a more interactive, immersive experience and for us to experiment with the technology," she says.
Now you try it: Open your smartphone browser (for iPhones, use Safari) and type in the URL whm.tv/dino. Once a camera appears, hover over the dinosaur marker above, and a T-Rex will come to life.