Wildlife and Airplanes: A Look at the Numbers
A plane hit a deer at Charlotte Douglas in February. Still, statistics show that wildlife strikes are rare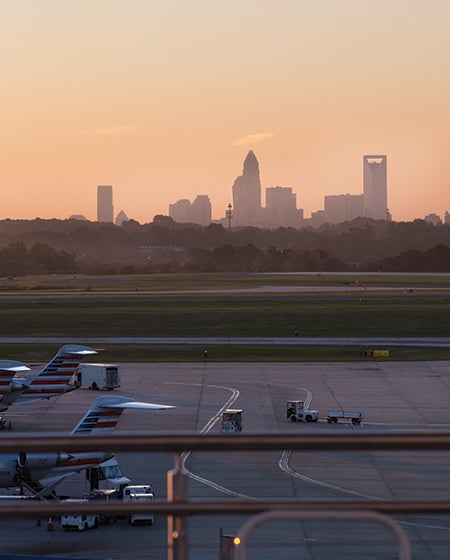 ON FEBRUARY 15, a twin-engine jet carrying 44 passengers hit a deer on takeoff from Charlotte Douglas International Airport. The plane returned to the airport and landed safely, although fuel was leaking from the struck right wing. Nine days later, on February 24, Delta Air Lines Flight 1591 hit a bird shortly after taking off from the airport and had to return to check for possible damage.
Of course, the most celebrated bird strike incident occurred in 2009, when US Airways Flight 1549 encountered a flock of Canada geese soon after takeoff from LaGuardia Airport in New York while headed for Charlotte. With both engines clogged and shut down, Captain Chesley "Sully" Sullenberger landed the powerless aircraft in the Hudson River, saving 150 passengers. Today you can relive the "Miracle on the Hudson" with the Tom Hanks film Sully or see the actual plane at the Carolinas Aviation Museum just off of Billy Graham Parkway.
To deal with the bird/wildlife strike issue, Charlotte Douglas contracts a qualified airport wildlife biologist to do a formal assessment of the wildlife situation, most recently in 2013. The biologist worked with Airport Wildlife Coordinator David Castaneda and airport staff to come up with a plan to reduce the wildlife threat.
A perimeter fence typically keeps out most large terrestrial animals. Charlotte Douglas will increase the height of its fence to 10 feet (officials won't divulge the current height of the fence for security reasons), which should be enough to keep high jumping deer out. Habitat management—making the airport grounds less attractive to birds and wildlife—is one of the most effective tools in lessening wildlife problems. Removing trees, keeping grass cut short, and draining or covering open water all help. Workers conduct numerous patrols of the airport grounds every day to check the integrity of the fence, remove any terrestrial animals that pose a threat, and constantly check for birds. Castaneda carries with him a pyrotechnic pistol that fires a projectile that makes a loud noise to scare off birds.
We need to put the bird/wildlife strike problem into perspective. Of the more than 500,000 takeoffs and landings at CLT in 2015, only 200 strikes occurred. Only one of these produced substantial damage to the aircraft. No matter how dramatic the headlines, it's safe to fly from Charlotte.
---
Wildlife strikes by the numbers
5: Percent of wildlife strikes in the U.S. result in damage or change in flight plan, out of thousands of strikes nationwide
6: Times since 1994 that a deer has been struck by a plane at CLT, including the February strike. Coyote encounters are more frequent, with three occurring at CLT in 2015 alone.
1905: Year of the first recorded bird strike. The pilot? Orville Wright.
68: Number of aircraft destroyed or damaged beyond repair by wildlife in the U.S. between 1990 and 2015.
7,000: Strikes of the mourning dove during those 26 years, giving it the dubious distinction as the bird most often struck.
2: Less than two percent of all reported strikes involve terrestrial mammals. The vast majority of strikes are with birds.