Will the Red Line Commuter Rail Ever Get Rolling?
All aboard? Not so fast. Every time we hear that commuter rail is ready to roll, a new problem emerges. Will this thing ever happen?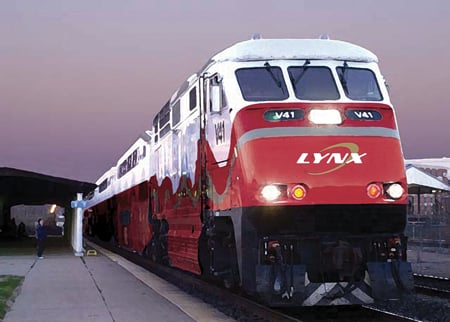 After two setbacks in January, the long-proposed but still-unfunded next phase of Charlotte's light rail system, the Red Line, which would run north of the city, has been stopped in its tracks. Whether this is a delay or permanent derailment is the latest $452 million question.
For years, local officials, the Charlotte Area Transit System (CATS), and state planners with the North Carolina Department of Transportation (NCDOT) have aspired to build the Red Line, a twenty-five-mile route for commuters and cargo on existing Norfolk Southern tracks. It would run from uptown Charlotte's Gateway Center to a station in Mooresville. Proponents say the line will be an alternative for commuters and spur new development. Opponents argue the project overpromises on growth, and they worry that local communities will end up paying more than expected.
In January, Iredell County commissioners unanimously rejected the Red Line's draft business plan, which calls for funding to be divvied up among NCDOT (25 percent), CATS (25 percent), and the rest through revenue generated along the line.
The commission said it wouldn't support the transit proposal until revenue details were outlined by developers and planners. "The business plan is seriously flawed and there's some gaping holes in it," Iredell County Commission Chairman Steve Johnson said at the January 17 meeting.
In late January, the project hit another snag when John Edwards, general director of passenger policy for Norfolk Southern, wrote a letter to the NCDOT that he was "concerned that the proposed Red Line project may now be fundamentally incompatible" with his company's plans for the tracks.
But NCDOT leaders say the project is far from dead. "We now have a draft document, and it has raised a lot of concerns that need to be addressed," says NCDOT's Paul Morris. "This was designed to be the time to do that."
Red Line Task Force officials say a response to the commission should be finished by late March, and the group still hopes to overcome the objections from Iredell County commissioners and Norfolk Southern. And other municipalities along the line—including Charlotte, Huntersville, Cornelius, and Davidson —say they're committed to alleviating the concerns. A final business plan is expected to be ready and voted on by June. But whether that funding plan will be adopted—and the region's commuter rail dreams can begin to roll—is unclear.
All aboard for the Red Line? Not yet.