Wing Haven Plant Sale
The four-day event offers unusual varieties and one-on-one instruction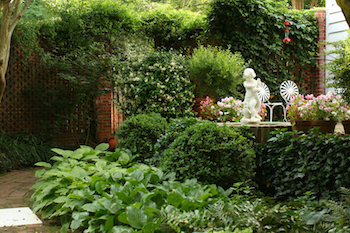 This week, Wing Haven Gardens & Bird Sanctuary puts on its spring plant sale. The four-day event includes less-common plant varieties, tips from Master Gardeners, and a daily program.
Garden volunteers began working on the sale in mid-November. They searched for plant sources and arranged pickups and deliveries. They coordinated with local plant experts to set up programs.
"It looks beautiful and has all come together so well," says Barrett Ranson. Ranson joined the garden six weeks ago as executive director. (Read more about her in our recent post here.) The dedicated volunteers were one aspect that attracted her to the position.
"The volunteers make it happen," she says.
The sale includes a large selection of native plants. Hydrangea, rhododendron, wisteria, phlox, and iris are all native to the region. On Friday at 10 a.m., Dr. Larry Mellichamp, director of the UNC-Charlotte Botanical Gardens, will present a free program about native plants.
Visiting Wing Haven to purchase plants makes the trip an experience, rather than an errand or chore. The gardens, located at 248 Ridgewood Avenue in Myers Park, include what were once the personal gardens of Edwin and Elizabeth Clarkson and Elizabeth Lawrence. The nonprofit Wing Haven Foundation now oversees the property.
"I do feel like Wing Haven is underexposed in the Charlotte community," Ranson says. After she gets settled into her position, she hopes to expand the gardens' programming. "Every day I have a new idea."
The plant sale begins with a members-only day on Tuesday and is open to the public Wednesday through Saturday, from 9 a.m. to 5 p.m. For a full list of plants—including herbs, perennials, shrubs, bulbs, ground covers, roses, and native plants—click here. For more information about the event and daily program lineup, click here.
Wing Haven Gardens & Bird Sanctuary
248 Ridgewood Avenue
Charlotte, NC 28209
704-331-0664