Winter Blooms
Turn to these plants for bright color even when it's gray and cold outside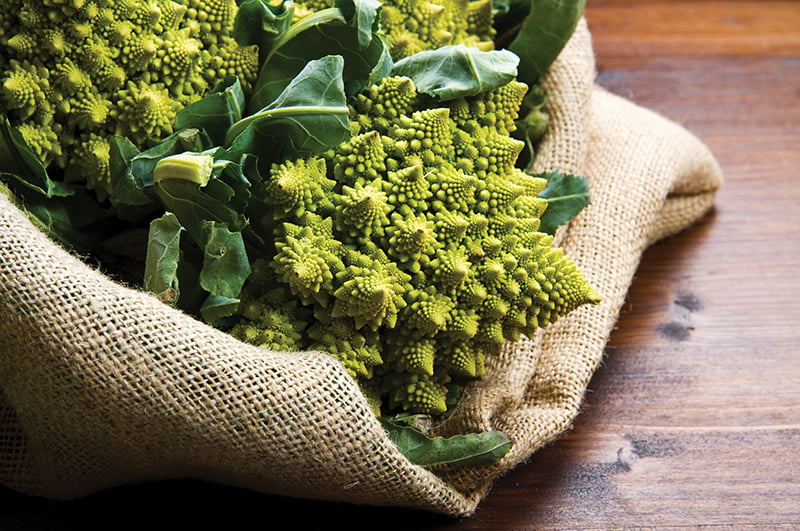 WE OFTEN ASSUME winter brings with it an unavoidable bleak landscape—trees with no leaves, vacant vegetable gardens, and dormant shrubs and bushes holding out till spring. But a few plants present their best from December through March. Pressly Williams owns Renfrow Farms in Matthews and manages the garden operations at Renfrow Hardware, owned by her father. We asked her to share a few of her favorite winter plants that lend color to the coldest months.
Broccoli Romanesco (Above)
This plant will have your neighbors asking, "What is that?" Romanesco is a type of broccoli with florets that form a fractal pattern. Its bright green color and unusual shape make a statement in a winter landscape. After admiring it, take the florets inside and cook them as you would any other broccoli.
---
Stock
These small flowers bloom in late winter and continue into the spring and sometimes summer. Cared for correctly, they can even bloom all year. They produce pastel colors of purple, yellow, pink, and white. "They are beautiful and really fragrant," Williams says.
---
Ornamental Cabbage
Williams is experimenting with ornamental cabbage in cut flower arrangements for the first time this year. Many ornamental cabbages have bright purple or white centers. Most varieties stay low to the ground and work well in containers or beds.
---
Violas
Violas produce dainty, sweet flowers in purple, blue, and yellow. Violas are in the same family as violets and pansies and are edible. Williams sells them to restaurants through the winter and early spring.
---
Anemones and Ranunculus
Williams planted the corms for these elegant flowers in October. Last year, they started blooming around Christmas. You can also plant them in January for March and April blooms. They don't like temperatures warmer than 70 degrees.