Winter releases from Olde Mecklenburg, NoDa, Birdsong and Triple C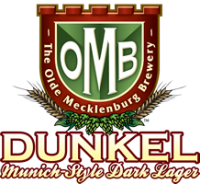 November snow in Charlotte may be a little odd, but it also means we can start talking about some local releases from several Charlotte breweries. Winter beers are probably my favorite seasonal; I'm a sucker for spice and nothing is better than sitting by a fire with a delicious beer by your side.
Here's the rundown of the latest releases:
The Olde Mecklenburg Brewery
Last weekend, Olde Meck officially released its Bauern Bock, a German-style doppelbock lager. The malts immediately hit your nose, along with a whiff of caramel. My first taste last year brought hints of cinnamon and toffee. At 7.5 percent ABV, this is Olde Meck's biggest beer in terms of alcohol content, and the brewery perfectly describes it on its Web site as "a great compliment to your Thanksgiving Day menu." (Might have to give that a try.)
Another winter favorite at OMB is its Dunkel, a Munich-style dark lager. This is the big-bodied beer we needed during record lows this week, and it seems that the brewery agreed, as Olde Meck moved the release party from Nov. 22 to this Friday, beginning at noon. Stop in starting tomorrow to grab a Bauern Bock or Dunkel, and be on the lookout for Olde Mecklenburg's Yule Bock as we get closer to the holidays.
Birdsong Brewing
It will be hard for anything to replace Jalapeño Pale Ale as my favorite Birdsong beer, but Mexicali Stout comes pretty darn close. This year's version of Mexicali was released on Halloween, and I'm not sure if head brewer Conor Robinson tweaked the recipe but I think it's better than ever. In this beer, you'll get tastes of chocolate and coffee (Mexicali is brewed with Central Coffee Company) on the front end, and then the chile heat (from Savory Spice Shop) provides the kick at the back.
Next Thursday (Nov. 21) at 4:30 p.m. at the brewery, Birdsong will release The Pride, a Belgian-style abbey ale. You'll get hints of figs and cherries, as this 8.4 percent ABV offering is sure to warm you up. During The Pride release, Birdsong will also roll out its bourbon barrel-aged St. Tuber Abbey Ale. Brewed with sweet potatoes and cloves, this has quickly become a favorite of mine. I managed to get a sneak tasting of the bourbon barrel-aged version (perks of the job), and let's just say you'll want to be at Birdsong next week.
Triple C Brewing
Named after the popular Widespread Panic song, Triple C will once again be releasing Up All Night, a breakfast porter brewed with honey and coffee. This was Triple C's first bottle release, and is a stiff (10 percent ABV) yet welcoming beer. The coffee (provided by Magnolia Coffee Company) combines with the honey for a full-bodied beer with sweetness.
Even better news this year is Triple C is also releasing a bourbon barrel-aged version of Up All Night (if you hadn't figured it out, yes, I love anything bourbon barrel-aged). The release party for both is next Saturday (Nov. 23) from 2 p.m. to 11 p.m. at the brewery, where there will also be live performances from Mojo Ruckus and John Keane and Strawberry Flats Band. A $15 donation will get you a 20-ounce beer and access to the music, with proceeds going to the non-profit program Running Works. Tickets can be purchased here.
NoDa Brewing
NoDa's winter warmer offering is Cold Crash, a dark red ale at 6.4 percent ABV brewed with lactose and brown sugar to give it some sweetness. As head brewer Chad Henderson described it last year, "you're going to get fruit, caramel and general hearty beer flavors out of this special ale." Released last week, Cold Crash is currently available at the brewery and should make its way to area bars and restaurants in the next several weeks.
••••••
Finally, I would be remiss if I wrote about winter beers and didn't mention Cold Mountain, one of the most sought-after seasonals in the country (Yes, it's that good). Highland Brewing prides itself on keeping the recipe of its spiced winter ale secret (it changes slightly from year to year), and it's always fun to keep a bottle from the previous year (or years) to see how it compares. Highland's release party at the brewery is today (Nov. 14), and I've been told Cold Mountain should make its way to Charlotte sometime next week. Trust me, you'll know about when shops get their shipment. Supplies will be limited as always, so best of luck in your search.