Wish You Were Here
Daniel Coston's new photography show has been fifteen years in the making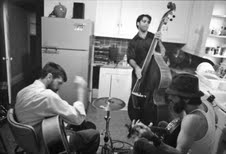 "The show is my first show in Charlotte in three years, and is a collection of some of my most requested photos and favorite subjects," said Daniel Coston of his new show, Wish You Were Here at Gallery Twenty-Two. "[There are images of] Johnny Cash, the Avett Brothers, Wilco, Flaming Lips, and more. They all represent important and meaningful moments in my photography and my life. They are all moments that I wish everyone had been there for. Hence, the title of the show."
The exhibition at the gallery/bar in Plaza Midwood promises to be "a collection of my best-known photos and best-known subjects from my past fifteen years of photographing artists and musicians," Colson said.
Coston describes himself on his blog as "a traveler, a documentarian, an enjoyer of life, a survivor, a lead character, a supporting role, a storyteller, an excitable boy, a quiet soul, and an occasional thinker."
His photos of musicians have been featured in People Magazine, Entertainment Weekly, Us Weekly, TV Guide, Rolling Stone, Spin, Maxim, Revolver, Playboy, Disney Adventures, Cosmogirl, and too many more to mention.
The show runs through the end of April at Gallery Twenty-Two on Central Ave. For more on Coston, visit www.danielcostonphotography.com