With New Chef, SouthPark's Upstream Has a Bit of Fun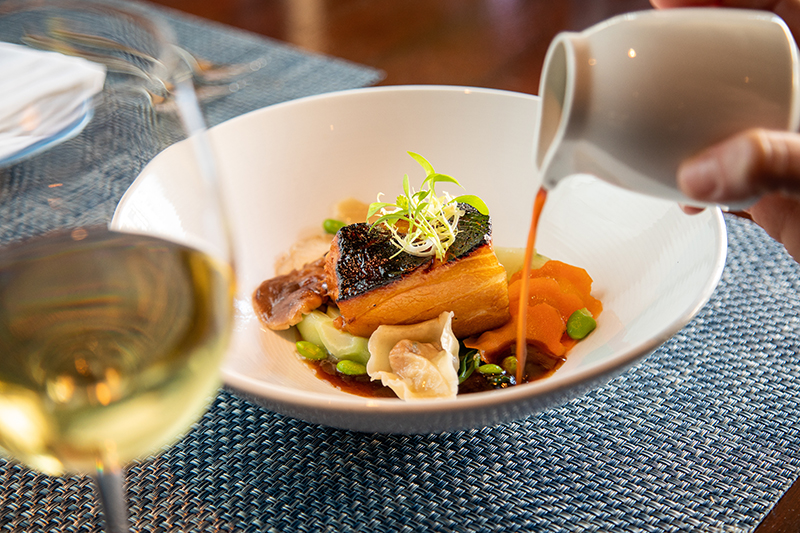 WE ALMOST DIDN'T get to eat at Upstream.
My fiancé, Gillian, is an ardent menu stalker, which means we typically have a game plan well before we arrive at a restaurant. True to form, by the time we were seated in a wood-trimmed booth at the upscale SouthPark seafood restaurant on a chilly Wednesday night in March, Gillian had thoroughly examined the offerings and already knew what she would order. After a cursory glance to confirm our choices, I turned to set the wine list aside and bumped a perilously full carafe of water.
The glass vessel teetered on its edge, its contents aimed squarely at Gillian's lap. I froze. The server, who had appeared to take our order, froze. Gillian's right hand swooped in just as the carafe began to fall, catching the glass and averting disaster. All of us—Gillian, our server, the people at the next table, maybe the line cooks on the other side of the restaurant—let out a collective, "Whew!"
And then we started laughing.
Sometimes that's what we need when we dine out: a lighthearted moment to snap us out of the end of a long work day, to break up the monotony of transactional life, to pull our faces out of our phones.
Upstream, which will celebrate its 20th anniversary in the Phillips Place complex next year, needed a bit of levity, too. The menu, which Sam Diminich took over as executive chef last fall, had moved emphatically toward a "Pacific Rim" approach under his predecessor, Gene Kato, a Charlotte native who recently returned to his professional base of Chicago. Upstream's price point, décor, and ambience still skew toward expense accounts and special occasions. Diminich has maintained the Asian influences but with his own touch, winking at diners through the menu. (Last fall, for example, Upstream added a grab-and-go weekday morning café concept with coffee, tea, and sweets from Your Mom's Donuts.)
Our water crisis averted, Gillian and I began with the Korean fried chicken lettuce wraps ($14). Small bites of chicken were coated in a sweet-and-spicy barbecue sauce paired smartly with kimchi cucumbers and fresh herbs—cilantro and basil—to complement but not diminish the heat.
For dinner, Gillian ordered sake-marinated sea bass ($39) cooked with an expert sear on the flesh, which was sweet and flaky on the inside. I chose the yellowfin tuna ($32), a popular dish from Upstream's past that Diminich brought back to the delight of longtime patrons. Regulars also rave about the sweet-and-sour calamari ($13), which has familiar flavors, but the squid is served in larger pieces than the more commonly found rings.
We shared a side of Brussels sprouts ($9), crispy and soy-glazed, topped with fine ribbons of ginger—a subtle touch that somehow pulled the entire dish together.
My tuna, served rare with a crust of sesame seeds and black pepper, was a brilliant crimson, a signal of freshness and elegance. It arrived on a butternut squash rice cake, crispy on the outside but tacky in the center, and bathed tableside in a rich prawn dashi broth.
The rest of our dinner progressed, thankfully, without incident and with all of our drinks where they were supposed to be. But the mishap that nearly upended our meal actually set the tone for the evening. It was a reminder that a little levity, however we come by it, surprises and delights us the same way a perfectly-seared piece of tuna—or an enduring restaurant—can make us smile.