With this Ring
Childhood sweethearts wed in a most personal ceremony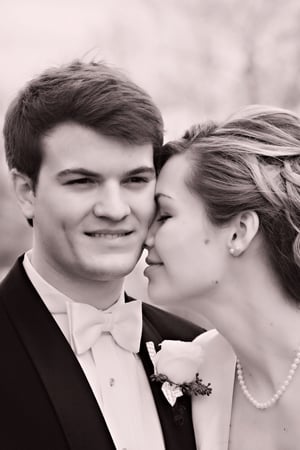 By Jackie D'antonio Photography
By Kristin Vining Photography
By Richard Israel Photography
By Christopher Record Photography
By Autumn Song Photography
Liz Shea and Michael Connolly, both twenty-two, met at their church when they were just eight years old. They were best friends by the time they were fourteen, and have been together through most of the ups and downs of their young lives. On September 23, 2009, Michael took Liz to dinner at the Cajun Queen, then walked to a courtyard in uptown Charlotte where they would often go to sit and talk. "After taking a turn around the courtyard and arriving at 'our bench,' he dropped to one knee and asked me to 'spend the rest of forever' with him," Liz says. "I said yes."
The couple shared their big day with more than 400 guests at the place that brought them together, CrossWay Community Church, on February 6, four and half months after their engagement. "Our ceremony was the most important part of our day," said Liz. "We wanted to honor the Lord because He is the one who led us to marry each other. And we wanted all 400 guests to be close to us."
To accomplish this, Liz and Michael positioned their guests in a circle around them. And right before the ceremony, the bride and groom opened personaLized letters from each other, which they traded instead of traditional gifts.
At 1 p.m., Liz walked down the aisle behind five ballerina flower girls in tutus that matched Liz's strapless, sweetheart neckline gown by Christos. Christos also made Liz a custom matching flower piece for her hair, which was accented by a chapel-length Amsale veil, her Aunt Cindy's pearls, and a piece of lace from her grandmother's wed- ding gown that wrapped her bouquet.
The couple then threw a lighthearted reception in the church lobby with personalized décor that Liz created herself. Huge white balloons were suspended from the ceiling over all the tables, highlighted by the pink cotton candy in glass apothecary jars and vanilla cupcake tower. But Liz, being a photographer herself, timed the ceremony to catch the best outdoor light for photos. So while family and friends headed to Michael's parents' house for champagne and apps, Liz's team of photographers snapped away.
The final event of the evening was an after- party for close friends and family (about 100 guests) at Soiree in Mooresville. "It was the perfect end to the day," Liz says.
They hugged their guests goodbye and then slipped away to start their new life.