Without Direction, Future Unclear for Growing Street Art Scene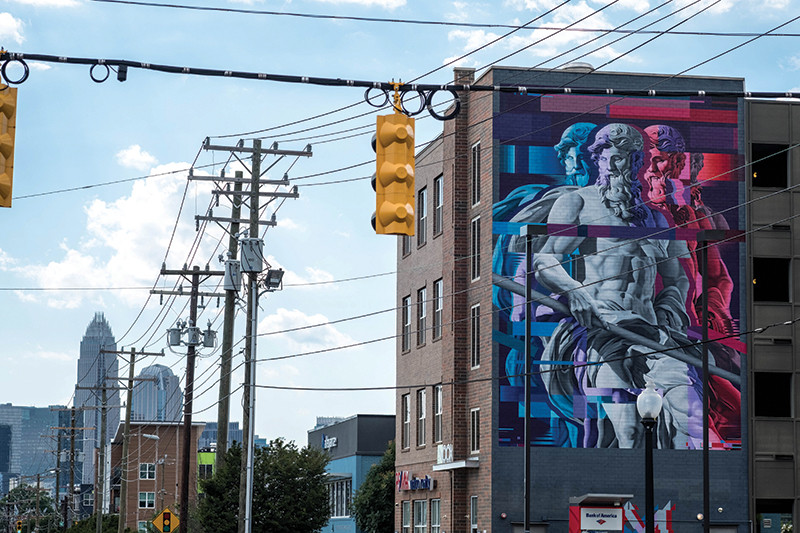 WHERE MANY PASSERSBY saw an ordinary brick wall, local muralists Matt Hooker and Matt Moore saw opportunity. The pair mentioned to an acquaintance, Plaza Midwood resident Tom Egan, that the five-story wall on the Nook building, which towers over the neighborhood Dairy Queen, could make the canvas for a brilliant mural. A year later, by chance, Egan's employer took ownership of that very building. He hadn't forgotten Hooker and Moore's vision.
Egan found support in the Plaza Midwood Neighborhood Association and the Plaza Midwood Merchants Association, both of which helped fund the project. Neighborhood association president David Hale says some residents considered the wall an eyesore. He and other neighborhood leaders were eager to use the centrally located space to build unity and identity in a rapidly changing part of town, and maintain Plaza Midwood's place in the ranks of trendy, art-forward neighborhoods.
Now, three years in the making, a massive mural stands on that wall. The painting juxtaposes the modern with antiquity by making colorful, glitch-style modifications to an image of a classical Roman statue. Hale says the reactions he's heard from neighborhood residents have been nearly unanimous. "We honestly got virtually no negative feedback on it," he says. That's not to say there hasn't been any controversy; a few in the art community think the piece reflects aspects of work by Spanish street-artist duo PichiAvo. Hooker and Moore disagree, but the debate highlights a common conversation in street art.
"Unlike the fine-art world, there's less of a stigma around derivative or composite works because the nature of (street art) is historically open-source," muralist Osiris Rain says.
Street art's roots are in graffiti, and Rain explains that graffiti artists' reputations ultimately benefit from having their tags replicated all over the world. Today, the art form has evolved immeasurably beyond tags, and as artists around the world develop distinctive styles and subject matter, some muralists and connoisseurs wonder whether street art should be held to higher standards of creativity.
Because the street art scene here is relatively small and lacks oversight, the city is a Wild West for muralists, and it's open season on walls. The street artists who work here are striving to develop distinctive styles and break into the big leagues. Beating the competition for a high-visibility commission is key to guaranteeing a future in the field. In the process of building careers, they're also defining Charlotte's emerging street art aesthetic.
Just behind the Nook building, there's a sprawling mural by Nick Napoletano, another local artist. Napoletano believes a curatorial organization of some kind could help Charlotte artists become part of international street art conversations, as well as hold murals here to a higher standard.
One city that has undertaken a strategic approach like this is Philadelphia, which is recognized around the world as the City of Murals. Founded in 1984, Mural Arts Philadelphia touts itself as the nation's largest public art program. The group's executive director, Jane Golden, spearheaded the initiative as part of the city's Anti-Graffiti Network. Her organization is part of the city government and works to connect stakeholders, including artists, community members, and property owners, to further its curatorial mission of igniting change through art.
While Charlotte doesn't have the same severity of graffiti issues that prompted Philadelphia's crackdown, Golden says that an organization like Mural Arts can play the important role of spearheading collaboration to ensure that art in public view reflects the interests of both the artists and the community. Plus, the funding that the organization provides eliminates some of the direct competition between artists for limited resources.
Charlotte's Art & Science Council, a public-private partnership that coordinates and advocates for public art, confirmed that it has no plans to develop a mural strategy like Mural Arts Philadelphia at this time. But Golden argues that failing to develop a cohesive strategy is a decision that can outrun a city.
"Public artists could at least be talking together about what the endgame is," she says. "Should the city play a role? Should it not? Is there a way to share resources? Can once a year there be a convening around community development and public art, so that people could think about what direction the city is going in as it relates to public art?"
Golden believes these discussions are critical for building a sustainable strategy.
"It shouldn't just be everyone out for themselves," she adds.
Hooker and Moore, who have been working in Charlotte for over a decade, are skeptical of any organization that would impose bureaucracy on the current free-market process.
"I think competition breeds a more creative approach," Moore says.
Hooker and Moore's argument for maintaining the current system touches on familiar defenses of the free market. They're opposed to handouts and strongly advocate the need to pay dues before achieving success, in part because that's what they've had to do.
Rain echoes Moore's concern. "I don't think it's a good idea to start just handing out opportunities to those who haven't put in the legwork," he says.
But Rain, Hooker, and Moore are among the most sought-after muralists in Charlotte, perhaps in part because they were already established when opportunity exploded. They occasionally have to turn work down due to demand, so they're the least likely to benefit from a change in the current system. They're also in the unique position of being able to play a curatorial role themselves.
"There's plenty of walls and plenty of opportunities for muralists to create," Rain says. "We try to open that up to others that we have a respect for and that we know are doing good work, but haven't gotten the attention that perhaps they deserve."
At the same time, they concede that there's still plenty of room in the market for up-and-comers who work independently. Or, as Moore says, "there are plenty of canvases out there."
Rain is in favor of a curatorial strategy, at least in theory. Hooker and Moore, however, are skeptical of the role of curator, and how that might limit progress.
"If you're on gallery walls, sure," Moore says. "But that's the beauty of street art. I don't think it should be monitored or controlled."
"I'd rather live in the Wild West than Utopia," Hooker chimes in.
Golden argues that there's a middle ground between being too prescriptive and ending up with a collection of random images around town. She makes a case against the latter. "That's not exactly a sustainable strategy," she says, "because it's easier to be dismissed than a larger curatorial strategy that takes into account the city and the sites and the cohesiveness of a collection."
Georgie Nakima, an emerging Charlotte muralist, agrees that some check on the unrestrained market may be beneficial.
"Both are good, to have a free market and to have a program to make sure that other artists aren't getting left out," she says. She echoes Hooker, Moore, and Rain when she says that competition isn't a bad thing, because there are far more walls in town than anyone can paint.
However, Nakima acknowledges the need to steward Charlotte's mural market for the next generation of artists. She also believes that both the free market and curatorial organizations pose the risk of stifling adequate representation in the city's mural scene. Rain, Napoletano, Hooker, and Moore, she points out, are all white men. If managed well, a proactive citywide strategy could ensure more opportunity for diverse artists.
"That's really an effort where we're going to have to make sure that whatever people are upholding that are doing their homework, and they're not just picking what they know," she says. Curators, she adds, can be "disconnected from the younger heartbeat of the art community."
If the city were to launch an organization in charge of public-art strategy, Hooker believes the artists themselves would make the best candidates to lead it: "If the city, the powers that be, can unlock bigger walls uptown, and the bigger players want some sort of authority in place, who better to head that up than people who have spent more hours covered in paint than anyone in the city?"
Golden and Charlotte's aspiring and established artists agree about the power of and need for quality community art, but changing the current system could come at a cost for the city's artists. Napoletano believes that muralists should welcome, rather than fear, competition and accountability. Public art here should be considered good by global standards, not just Charlotte standards, he says, but that will never happen if artists and policymakers here continue to think myopically.
"If we're going to take a step forward, we need to be conscious of how we're building everything," Napoletano says.
Hooker and Moore went through more than two dozen drafts and several statue ideas before settling on the image of Neptune that now adorns the Nook building. They wanted something that conveyed strength and permanence, despite street art's essential ephemerality. They wanted something that looked cool. And they wanted something that reflected their interest in water metaphors.
"We feel that there's this wave coming," Moore says. "And we're just trying to stay out on the tip of it."
As it grows, Charlotte faces a conundrum between letting the free market dictate the future and strategizing to achieve specific results, in many areas. Like the city, the muralist community faces a choice: Build a monument to strength and permanence, or just ride the wave.
Allison Braden is a writer based in Charlotte.