Wok Bar for Great Drink Specials and Views of Uptown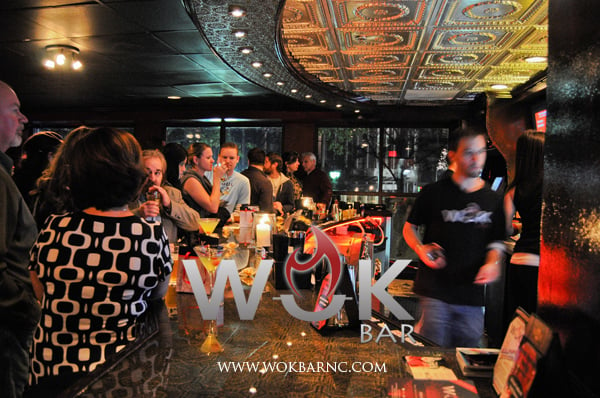 There are several new bars and nightclubs that have either opened in Charlotte in the last few months (including at least three that opened in the last couple of weeks) or are on the horizon. Last week I checked out Wok Bar in uptown for the first time since it opened in October. I'd seen the sign out front on the Ivey's Building for months as I passed along Tryon Street, but I didn't realize that it was located in the space formerly occupied by Verona Italian Eatery.
When I walked in, memories quickly came back from when I'd attended parties here in my early years in Charlotte (circa 2006 and 2007), when the space would often be rented out for private events. On this night, Talk of the Town rented it for an event that featured a live jazz band and DJ. But aside from these private parties, Wok Bar hosts its on events such as Rok at the Wok each Tuesday from 9 p.m. to 2 a.m. This Tuesday's installment pays tribute to Mardi Gras with "Beers, Bands, and Beads."
Wok Bar, which doubles as a restaurant serving a lunch, dinner, and late-night menu, also features a daily happy hour special, 4-7 p.m., that includes half-price appetizers, $3 select drafts, and $4 sake bombs. Then there are bar specials for different days of the week such as $4 whipped strawberry shots and $5 strawberry margaritas on Thursdays (ladies night); $3 well liquors and $3 domestic bottles on Fridays; and $4 purple Gatorade shots and $5 Red Bull vodka on Saturdays.
The space is long and narrow with a wall lined with windows offering a great view of uptown overlooking Tryon Street. There's a large bar at the front and a mid-sized bar at the middle of the room, so you don't have to wait long for drinks. Wok Bar's appeal is its prime location and great drink specials, and that makes it worth checking out. It also has the potential to fill the void left by Therapy Café's closing, and I'm talking about Therapy's era pre-2009 before it underwent the large expansion that, in my opinion, took away its appeal and led to its downfall. We need bars like this that are located in the heart of the action, but still have a laid-back, neighborhood bar feel, and don't require a large crowd to make it feel happening.
Wok Bar, 127 N. Tryon St. (at Fifth and Tryon streets), 704-887-9720. Open daily till 2 a.m. wokbarnc.com.