Women at the Convention
I had to remind myself that Sandra Fluke isn't a celebrity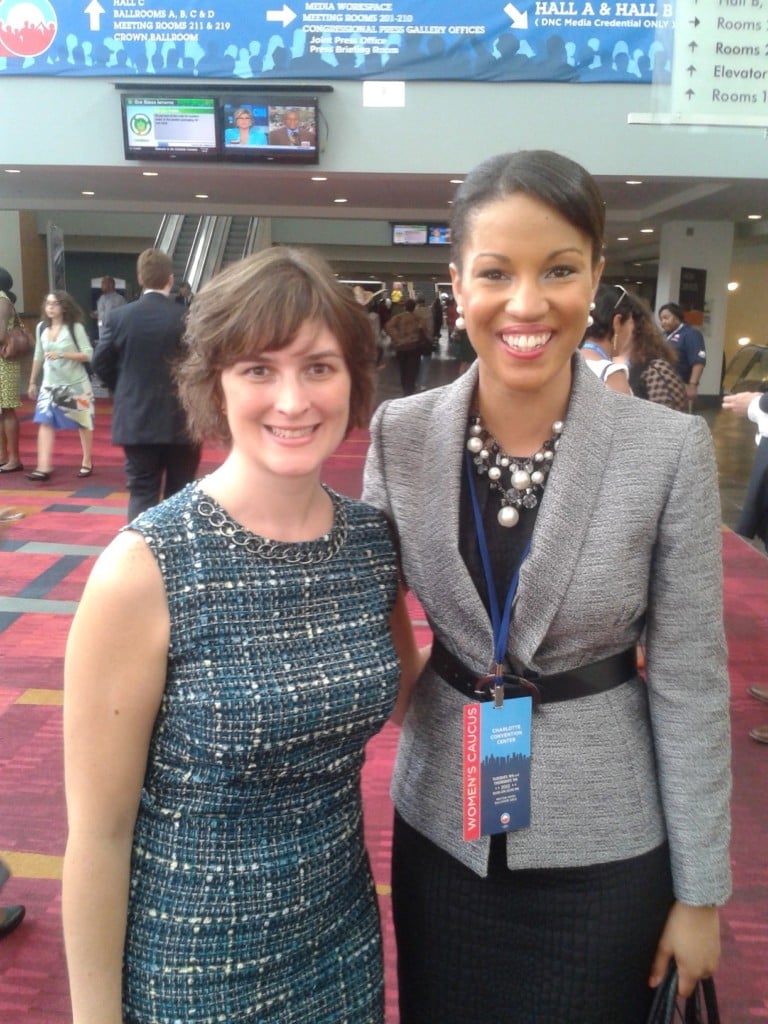 If you watched live broadcasts of the Democratic National Convention tonight, it should've been evident that the Democrats are pushing the message that Barack Obama is a president who supports women and looks out for their best interests. And, in the Dems' opinion, Republican challenger Mitt Romney does not.
Both parties have accused each other of engaging in a "war on women" during this prolonged campaign season. Personally, I don't care which political party you support, but I'm not a fan of anyone using the term war lightly when we have Americans dying fighting in real wars, particularly in the Middle East. But anywho.
This morning while waiting in the long line to get through the security checkpoint to get into Charlotte Convention Center to pick up my DNC press credentials, I had a nice conversation with Michelle Millben, Democratic counsel for the U.S. House of Representatives. She was waiting to get into the building to attend Women's Caucus meetings, among other planned events. She told me how this was her first time in Charlotte, even though she's spent a lot of time in the Carolinas, and that she was pleasantly surprised with how new and modern the city is. I pointed to several buildings in the surrounding skyline that have only been here a few years, like the Duke Energy Center, Ally building, and condo towers.
Once we got through the security checkpoint, we went our separate ways. I only needed to pick up my credentials and then head over to Time Warner Cable Arena. So when I was walking back through the convention center, making my way to the exit, I saw Millben talking to Sandra Fluke. It's interesting that not only did I immediately recognize Fluke, but for a few seconds there I was thinking that she was a celebrity. Actually, she kind of is. She became famous, of course, after the infamous, disparaging remarks radio shock jock Rush Limbaugh made about her in February after she, then a Georgetown Law School student, spoke at a House Democratic Steering and Policy Committee hearing about birth control coverage in health insurance plans.
Fluke has been invited to speak at the DNC, which she's scheduled to do tomorrow. She's also been making national television appearances from Charlotte since yesterday, discussing her support for President Obama and his stance on women's issues. She got at least one shout out tonight from a convention speaker. Nancy Keenan, president of the National Abortion Rights Action League (NARAL) Pro-Choice America, spoke during the 8 p.m. block, and early in her remarks said:
We are proud to have a president who stands with women; a president who signed into law one of the greatest advancements for women's health in a generation; a president who believes in a woman's right to make her own decisions. I know this president. And I can tell you that he cares deeply about the next generation of young women in this country—his daughters, and everyone's daughters. President Obama had the courage to stand with Sandra Fluke. Without hesitation, he defended her right to tell her story. Mitt Romney did not.
Stay up to date with Charlotte magazine's Democratic National Convention coverage at www.charlottemagazine.com/dnc. Follow me on Twitter @HollidayInk; email me at jarvish@grownpeopletalking.com.