Works in Progress: Kids Making Art in Charlotte
When school budgets are tight, arts courses often are the first to be cut. But for many kids in Charlotte, art isn't just a fun break from math or science—it gives them a place in the world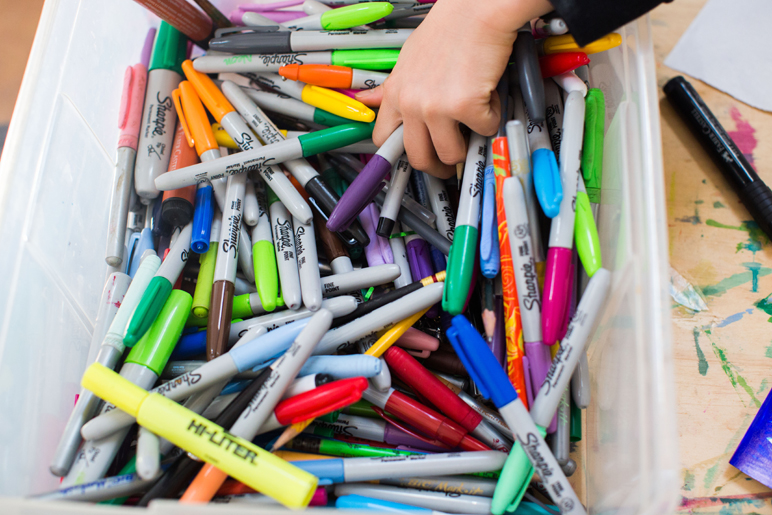 ON A BRISK JANUARY MORNING, 11-year-old Ali Tao Clark is jumping on a trampoline with a horse statue in her hand. The squeaking sound of the coiled springs echoes across the Merry Oaks neighborhood. This is where Ali lives with her adoptive parents, artists Alex Clark and Rebecca Jones. It's where she bounces on trampolines, plays with dolls, and rides her bicycle. And it's the place where she creates works adored by some of Charlotte's most prominent artists.
"I'm going to draw a greyhound," Ali announces as she enters her parents' art studio from the backyard. "I've been looking at YouTube videos about greyhounds—mostly of them running. I really like greyhounds because I've been looking at YouTube videos of them running. Do you like greyhounds?"
Conversations with Ali go like this. She fixates on a topic, and she asks you questions about it. She's in control, often repeating a phrase to get the point across. You take on the role of an interviewee. Ali's a part of the one percent of the world with an autism-spectrum disorder. It's something that may have gone undiagnosed in an orphanage in Guangzhou, China, where she spent the first 17 months of her life.
Ali came to Charlotte in 2005, adopted by two professional painters who didn't realize how important their home studio would become. She's attended a few different schools here, with mixed results. Because of her special needs, she works at a different pace than her peers: A marker in her hand and a few pieces of paper keep her focused. It's how she expressed herself years before she spoke her first words.
Her prolific output is how she's built a following. Ali's pieces are sold as cards, prints, and shirts in shops such as Plaza Midwood's now-closed Eco-licious. (Standouts include "Girl And Boy Throwing Skateboard While Pitbull Stands Nicely" and "Pole Dancers.") She's been making money as an artist for two years, garnering fans such as Sharon Dowell, an accomplished painter, gallery coordinator, and adjunct professor at UNC Charlotte; and Jerald Melberg Gallery artist Felicia van Bork. Her parents feel a personal and professional adoration for what their daughter creates. But working with Ali, they've realized that she needs them to be her biggest fans.
"What I've seen is that teachers can't take care of every student with an art ability," Jones says.
The developmental benefits of the arts are obvious to them. Ali's social abilities, motor skills, critical thinking, cultural awareness, and emotional well-being have benefited from her drawing. And she's not the only one: Research from the Rand Corporation, university-led studies, and countless books and essays show the importance of arts in the growth of all kids. But in Charlotte-Mecklenburg Schools and in school systems throughout the country, public-school-sponsored arts programs are some of the first places to suffer cuts in lean times. This means some students don't have basic supplies such as easels. It means schools can't afford the software needed to teach graphic design or animation or game design—a lucrative route for aspiring artists. It means some field trips to local museums are no longer available, and the others are saved only by six-figure donations like the one Howard Levine made this year.
It's a matter of priorities, like everything in budgets, and for years the message from officials seems to have been clear: Arts isn't the most important piece of a child's education. But there's mounting evidence to the contrary.
***
"OH, ARTS FUNDING IS the first thing to go."
That seems to be the accepted reality when it comes to public education. Dr. Barbara Ann Temple spent 26 years in public education before joining the Arts & Science Council in 2011 as vice president of education. Before that, she was director of teacher professional development for CMS.
"It's absolutely true, across the board," Temple says. "Arts are first [to be cut]." Temple says that this is a trend across the country, especially in the wake of the recent recession. When cities need to cut back, they look outside of the STEM (science, technology, engineering, and mathematics) subjects. They target a theater program, or the concert band, or supplies for the art room.
In 2013, teachers in art and music departments were among the hardest hit during massive layoffs in Chicago Public Schools. In recent years, Philadelphia has downsized or completely removed most of its arts programs. In November, 61 percent of Mecklenburg County voters decided against a sales tax referendum that would have increased teacher salaries and benefited the arts.
In order to get the materials they need, many teachers have taken on their own fund-raising campaigns. Donorschoose.org is a website for teachers who do just that, and the site shows the lengths some teachers are going to in order to fill the funding gaps. In 2013, a teacher at West Charlotte High School was excited about a new choral program but didn't have the sound equipment. After getting funded by various individual donors through the website, the instructor wrote, "Most importantly, my students learned the importance of giving to others and how even though they may not have every amenity as their counterparts across town, people are still willing to help them and see them succeed. In this community, this message is important." Current campaigns include art and building supplies for a Newell Elementary School classroom. Other fund-raising websites and the CMS page for "School Needs" tell stories of kids who want to make art. They need things such as digital drawing pads, digital cameras for digital photography classes, even easels.
In Charlotte, the ASC provides in-class and out-of-class opportunities for students. A 2011 ASC study determined 58 percent of the group's cultural partners saw major decreases in the number of programs they offered. During that same year, 63 principals said their schools didn't offer outside arts programs. Last year, cuts to the ASC's budget left schools unable to afford to send students on field trips to local museums until Levine's $100,000 gift came along; the ASC had begun funding field trips in 2011 when the schools could no longer afford to.
For students such as Ali, the cuts hit hard. She has a talent for music, too. The number of children with autism-spectrum disorders is soaring, according to Centers for Disease Control and Prevention research. And to many of these students, slashing a music program means more than curtailing a hobby. Music is where many of these children are first able to identify with emotion and hone social responsiveness.
Cheryl Maney, visual arts and dance curriculum specialist for CMS, says that the district has been able to maintain most of its art education programs for kids. But, she says, sometimes acquiring the tools to make the art can pose a challenge: "Funding does become an issue with technology. You can have these new courses, but you have to have the facilities, programs, software, and technology first. If you're really looking to prepare kids for college, you have to make sure they're using what's considered to be industry standard." Specifically, Maney cites the need for industry-standard software and other tools to prepare high schoolers to enter the fields they choose.
Maney believes in authentic arts integration when applicable across curricula. That integration is one of three points in the Comprehensive Arts Education Plan for the North Carolina Department of Public Instruction—arts education and arts exposure are the other two. The plan has been approved by state lawmakers, but currently no state funds have been allocated to support the bill.
Across the country, outside groups are trying to help. Arts groups and businesses are launching after-school programs, in-school teaching, and other arts-focused endeavors. The Charlotte Hornets and Lowe's give gifts to groups such as the Children's Theatre of Charlotte and the ASC. Discovery Place has lowered admission to $1 for kids from needy families. Other museums have solved the field-trip-funding issue with an innovative approach. "We meet them where they are," says Christopher Lawing, vice president of programming and research at the Bechtler Museum of Modern Art. "When the bus funding dried up, it fell upon the museums to take the work out into the community. The Bechtler's more than just these four walls."
In August, the Bechtler received a $54,600 grant for its Artists-in-Schools and accessibility programs from the Women's Impact Fund, an organization made up of 400-plus women leaders based in Charlotte. The Bechtler's education programming also benefits from a portion of a three-year, $350,000 grant from the Duke Energy Foundation. The museum plans to send more artists into the classroom to give talks and workshops, connecting art with all classroom curriculum.
For Lawing, the charge is personal. He recalls his days at Carmel Junior High and Myers Park High School, where music classes sparked an interest that led to him majoring in voice and conducting at UNC Chapel Hill. "I was inspired by art programs," Lawing says. "I ended up being a musician, and then an arts administrator, because of the arts education I received in Charlotte-Mecklenburg Schools. In some small way, we're giving them opportunities to flower artistically."
***
IT'S A TOUGH ROOM.
Teenagers are slouched on couches and scattered desks across the studio in Emily Pfahl's screen-printing class. As Pfahl presents slides that preview the class for the group, there's an undercurrent of mumbling. One kid repeats any word that's projected on the screen. Another shows mock-interest when Pfahl stops for input. "Hmmm," he starts, drawing out the "mmm" like a cartoon detective.
At Studio 345, a youth program that invites high school students to Spirit Square each week, it seems this should be easier. After all, 122 students signed up for this. They chose to be here. But they're still high schoolers. Pfahl continues to cycle through images screen-printed on shirts and band posters, slowing down when she hits a familiar face. "One of the projects we want to do is sort of like a selfie portrait thing," she says. "Have you guys ever heard of Andy Warhol?"
For a moment, the chatter stops. "Oh, man," a student says. This time, he means it. A few more sets of eyes meet the screen. For a few moments, Pfahl's students are hooked.
Since it was first launched about two years ago, Studio 345 has grown steadily, with new subjects taught by local artists and more student interest in traditional media such as painting and screen-printing. More schools now send kids into the program. And each year, the ASC's Temple works with CMS to generate a report that monitors how Studio 345 affects troubled youth in CMS. "Every year, we have seen the baseline improve," Temple says. "We're looking at students' behavior in school, GPA, decreases in the level of violence, and graduation rates. These areas are getting better."
The success seems to support the notion that arts-infused education improves student achievement in other areas. A 2011 report from The President's Committee on the Arts and the Humanities says that "studies have now documented significant links between arts integration models and academic and social outcomes for students, efficacy for teachers, and school-wide improvements in culture and climate."
Many of the original students from Studio 345 stayed with the program. Some of them will attend college this fall; others may stick around to volunteer with instructors. They say the program helped them with more than just art. They tell middle schoolers and other young artists that there's something to look forward to when they reach high school.
"It's so much more than what I've physically done here," says Leah Gray, a senior at Mallard Creek High School. "When I came here, I had really bad social anxiety. Now, I talk to everybody." When she goes to college this fall, Gray plans to major in childhood development, working in the African American community. She hasn't decided which school yet, but she was accepted into Howard University in January.
As her time with the program winds down, Gray already knows what her last days with Studio 345 are going to look like. "I'm going to cry," she says. "A lot."
***
BACK IN ALI TAO Clark's home, Rebecca Jones recalls the wordless years.
"It took a long time for Ali to talk," she says. But there was another form of communication. Just after Ali started to walk and become more mobile around the house, Jones and her husband saw strange works of art taped to the walls.
The adoption service's description of Ali had told them that she liked colorful things. So it made sense that the energetic tot attached long, colorful strands of fabric or paper to the walls when no one was looking. That, Jones and Clark say, is how she first communicated with them. And even now, she's teaching her artist parents about art. "You don't really teach much to someone her age," Clark says. "You learn from them."
But they do help her. Jones and Clark package Ali's art for her. They update her Facebook page, showing off new work or photos of friends wearing her shirts across the globe.
When Ali approaches her father in the kitchen on that afternoon in January, she tells him she can't execute a new idea on her own. She's done with the greyhound portrait, for now, and she has another horse statue in her hand. "Daddy, can you drill a hole in this horse's ear?" she says. "I want a hole in this horse's ear so I can attach this thing I made. But I need you."
Clark and Ali head to the back room, and the sounds of a power drill ring out in Merry Oaks. This is where Ali Tao Clark lives, and right now, it's where she's getting what she needs.
Andy Smith is a freelance writer and editor who lives in north Charlotte with his wife, Sara, two dogs, and a 5-month-old daughter, Elliot. He covers arts and culture for this magazine and the Revue blog. He can be reached at andysmith.work@gmail.com. In high school, he was vice president of the Art Club.