World Cup Preview, Part II
The first weekend of the World Cup produced packed local bars, lots of 1-0 games and a surprising draw between the U.S. and England. Here's what's in store for weekend #2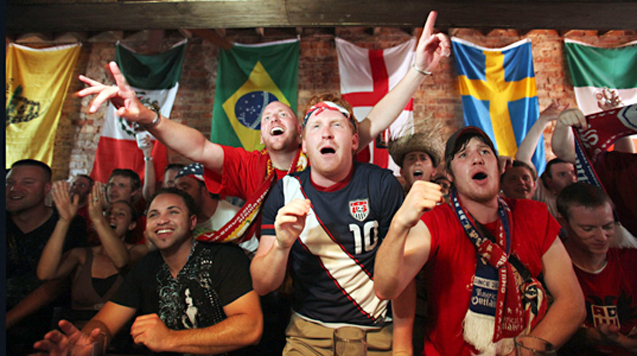 By the 2010 World Cup's second match, between Uruguay and France last Friday afternoon, uptown soccer spot Courtyard Hooligans was already crowded. Some nursed beers; others had stopped in to spend a late lunch hour before scrambling back to the office.
But Saturday was the big one. By the start of that day's contest between the United States and England, the scene at Hooligans had blown up to circus proportions.
Jackalope Jack's, a mile out of the city on Seventh Street, was equally as crazy, a scrum of ecstatic fans packed as tightly as space would allow. Faces were painted red, white, and blue. There was plenty of chanting and singing. Guys wandered around in American flag capes. Girls toasted our collective American good standing, beers held aloft in the ninety-plus degree heat. And that was before the match had even begun.
Intermezzo, on Central Avenue, was less crowded and more mellow, although there, too, the room went wild with whistles and high-fives at the U.S.-England result. (We'll take a tie against one of the very best teams in the world. Next on the Americans' agenda: Slovenia, on Friday, June 18.) The celebratory party at Jackalope Jack's lasted far into the night.
Serb-owned Intermezzo was a smart place to take in the following day's Serbia vs. Ghana nail-biter. It was Sunday morning, too early for beer, and the gaggle of viewers didn't say a whole lot, especially after things began to go bad for the Serbian side (Ghana would win 1-0). The match ended with a buzz of discussion before everyone left.
Far more ebullient was the scene later that same afternoon at Waldhorn, in Pineville, as the Germans overpowered hapless Australia in a 4-0 rout. Well before the end of the match, a young woman waving an Aussie flag and decked out in an authentic-looking outback hat conceded defeat. Her glass raised to the roomful of German fans seated before her, she smiled wanly. In unison, they toasted her back, the all-but-decided match now secondary to discussion about what lay ahead, and beer.
This weekend's big matches:
• If you have the chance to ditch your 9-to-5 job just once during the early weeks of this World Cup, Friday, June 18, is the day to do it. The 7:30 a.m. match between Germany and Serbia matters most to Serbia, which must tie or beat the powerhouse Germans if the team hopes to proceed to the next phase of the tournament. Catch this one at Intermezzo, which will open early, or try Ri Ra.
• Then, immediately following, the Americans play Slovenia. This is a decisive one for Team USA. Clint Dempsey, the player who scored against England, has said of the Slovenia match, "If we lose, we're pretty much done." You may want to get a taste of soccer mania at Courtyard Hooligans, the Tilted Kilt, or, really, just about anywhere with a TV.
• At 2:30 p.m. on Friday, England plays again. If you rooted against the Brits before, you'll want to do so again—in this early stage, the U.S. needs England to fare poorly in its next matches. Try Jackalope Jack's or Sir Edmond Halley's, on Park Road.
• Saturday, if you can swing it, the Netherlands has an excellent, fun squad to watch, and its 7:30 a.m. match against Japan will be interesting. Ri Ra opens early for these early-morning matches.
• Later Saturday, Cameroon vs. Denmark will be a determined, unusually aggressive match. Connolly's on Fifth is a good bet.
• Sunday's Brazil vs. Côte d'Ivoire matchup will be fun to watch. Both sides are graceful on the field and—especially in the case of Brazil, but also with Côte d'Ivoire—probable contenders for the later knockout rounds. Try La Unica, on South Boulevard.