World Tour: Charlotte's Sister Cities
From Peru to China, Charlotte's eight sister cities span the globe and have helped promote economic development and diplomacy for more than 50 years. Meet your international family.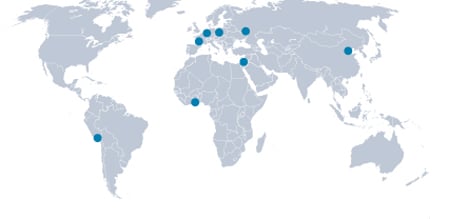 Arequipa, Peru
Partnership formed in 1962​
Arequipa was Charlotte's first sister city. Located in the southwest region of Peru, "The White City" (named for its buildings made from volcanic stone and petrified ash from the nearby Chachani volcano) was founded in the mid-16th century by Spanish conquistadors. Arequipa's population is just less than 800,000—nearly the same as Charlotte's—but its city center, unlike ours, is known for its historic ornamental architecture.
---
Baoding, China
Partnership formed in 1987
Topographically similar to Charlotte, Baoding is surrounded by water to the east (the Baiyangdian region of lakes and rivers) and Mancheng Mountain Area to the west. Baoding is making a name for itself as an energy hub within China, mostly in the development and manufacturing of renewable energy. Baoding can also teach us a thing or two about history: The city's oldest park, the Lotus Pond, was created in the seventh century. Charlotte's oldest is Independence Park in Elizabeth, which dates back to 1905.
---
Limoges, France
Partnership formed in 1992
Limoges is known globally for its fine porcelain and enamels. More than half of all porcelain made in France comes from this small city, located about 220 miles south of Paris. While Charlotte can claim Harlem Renaissance-influenced artist Romare Bearden as one of its native sons, Limoges claims French Impressionist Pierre-Auguste Renoir. Every two years, a group of Charlotte's young musicians performs in Limoges, including members of the Charlotte Symphony Youth Orchestra.
---
Krefeld, Germany
Partnership formed in 1985
Dating back to 69 AD, this "City of Velvet and Silk" on the west bank of the Rhine River is home to many steel, chemical, food processing, and textile plants. Its industrial economy is one of the reasons Krefeld became a sister city, says Charlotte's international relations manager, Alexis Gordon. "The original document for the Krefeld relationship alludes to our common textile industries," she says.
---
Voronezh, Russia
Partnership formed in 1991
Voronezh, which was established as a fortress in 1586, gained Charlotte's attention because of its location at the crossroads of two important transportation routes. Modern-day Charlotte began at the intersection of what are now Trade and Tryon streets, the meeting point of two well-traveled Native American trade routes.

---
Wrocław, Poland
Partnership formed in 1993
Known as "The Venice of Central Europe," Wrocław has 200 bridges. Poland's fourth-largest city is known for its parks and outdoor activities, just as Charlotte is known for its trees, parks, and active residents. One-third of Wrocław is composed of parks and open spaces—most notably, the city's botanical and Japanese gardens.

---
Kumasi, Ghana
Partnership formed in 1995
​Kumasi is Ghana's second-largest city, with a population of 1.5 million. Cocoa and hardwoods are major exports of this West African region, located in the rain forest. Kumasi shares an economic history with Charlotte: Both were developed in large part because of the area's gold deposits.

---
Hadera, Israel
Partnership forthcoming
Hadera's distinction as a hub for recycling is a case study for Charlotte, given the Queen City's low recycling participation in recent years. This city in northern Israel also values its natural landscape and is known for Sharon National Park (another Sharon!), a 1,500-acre preserve off the Mediterranean coast. Duke Energy's headquarters helped establish Charlotte as an energy hub; Hadera is home to Israel's largest power station. The two cities signed a letter of intent in 2008, but their sister-cities relationship has not yet been formalized.