World's Largest High-Definition TV Debuts at Charlotte Motor Speedway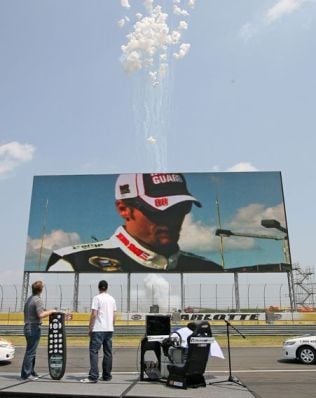 Charlotte Motor Speedway has upped the ante on the other racetracks nationwide that host NASCAR races. At the NASCAR Sprint All-Star Race on May 21, the speedway is debuting the world's largest high-definition television. At 200-feet wide and 80-feet tall, the Panasonic screen is illuminated by nine million LED lamps and will give fans clear views at 720P resolution.
I caught up with Marcus Smith, president and general manager of Charlotte Motor Speedway, about three weeks before the big screen was set to make its big debut. "Every time I tell people we're building the biggest television in the world, I always get asked: 'Is it bigger than the [Dallas] Cowboys' TV,' " Smith said. "I tell them, 'It's the biggest TV in the world. Trust me.' I don't think we've hurt Jerry [Jones'] feelings too bad because you couldn't actually fit this in Cowboys Stadium or any NFL stadium."
For the record, the high-definition TV that hovers above the field at Cowboys Stadium is 152 feet by 72 feet, so Charlotte Motor Speedway eclipses it by 48 feet in width and by 8 feet in height.
"It's really going to add a lot of fun to the whole NASCAR race fan experience," Smith said.
Fans will get their first look at it during the All-Star Race on May 21 and again at the Coca-Cola 600 on May 29 (click here for details on the races). The latter will be particularly entertaining because of the festivities that are held in conjunction with the Memorial Day weekend race, which includes the Let Freedom Race pre-race show, a tribute to the men and women serving in the U.S. Armed Forces, that will be shown on the HD screen.
To test out the new, big-screen TV, in mid May, Smith recruited NASCAR's most popular driver, Dale Earnhardt Jr. Junior took virtual laps around the 1.5-mile track using an iRacing simulation, similar to playing a video game—but on a TV that's bigger than your house. See photos below.
To see a comprehensive list of NASCAR events being held in the Charlotte area in May—from Speed Street to Charlotte Motor Speedway—as well as interviews, profiles, and photos, go to www.charlottemagazine.com/nascar2011.