#WP4SH: Snap a Pic of Your Pizza, Feed the Hungry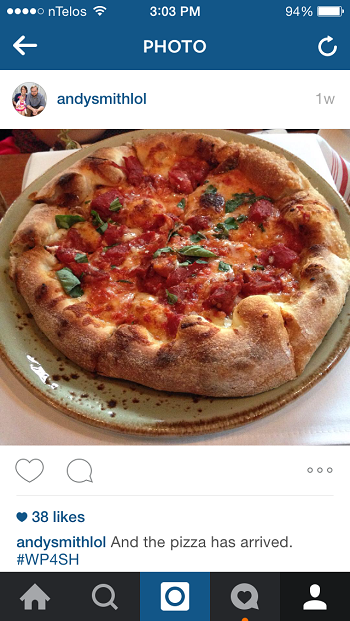 IT'S NO SURPRISE to see the dinners of Charlotteans plastered across social media. It's something many of us do, all the time. But how many of those posts are feeding someone else?
Enter #WP4SH, the campaign that gives $1 to Second Harvest Food Bank of Metrolina with the simple use of a hashtag. Every Wednesday, Wolfgang Puck Pizza Bar (located at South Park at Phillips Place) encourages customers to post a photo or video of their experiences to Facebook, Instagram, or Twitter. If they use the hashtag #WP4SH, Second Harvest gets a buck.
"It adds up really, really quickly," says Kay Carter, executive director for Second Harvest Food Bank of Metrolina. "And every dollar is going to be used. The hashtag is easy to remember. WP4SH: Wolfgang Puck for Second Harvest."
Four or five meals can be made out of every dollar donated. So if you bring your family of four and everyone posts something to all three social media services, that's $12, or up to 60 meals. In this case, looking down at your phone during dinner may not be such a bad thing.
Second Harvest Food Bank of Metrolina serves the counties Anson, Burke, Cabarrus Catawba Cleveland. Gaston, Iredell, Lincoln, Mecklenburg, Montgomery, Rowan, Rutherford, Stanly, and Union in North Carolina. They also serve the counties Cherokee, Lancaster, Spartanburg, Union, and York in South Carolina.