Wrestlers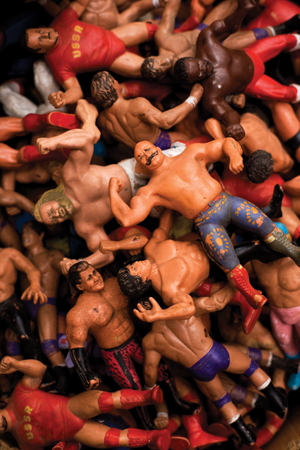 In the 1970s and 1980s, under the leadership of promoter Jim Crockett Sr., Charlotte was a hot spot for professional wrestling, just as the "sport" was beginning to take off. Even after Ted Turner bought Crockett's company and moved it to Atlanta, many "rasslers" stuck around.
Here are their stories:
Arn Anderson: No faction in wrestling was bigger than the Four Hoursemen. But naming the original team of NWA title-wielding bad guys was no marketing strategy. It was either a fluke or pure luck on the part of the Horseman Arn Anderson… READ MORE
Magnum Ta: Magnum TA's fast-rising career ended abruptly in 1986 when his Porsche 911 Turbo careened into a telephone pole on Sardis Road, five minutes from his home… READ MORE
Nikita Koloff: Nikita Koloff never intended to become a wrestler… READ MORE
Ivan Koloff: Ivan Koloff was one of the most hated characters in wrestling. Each night he stepped into the ring with a wicked look on his face, sinister Fu Manchu, embroidered black velvet robe, and sometimes chains draped over his shoulders. Backstage was a different story. Koloff was more teddy bear than Russian Bear (his nickname)… READ MORE
George South: "Tackle. Two-count. Back to the lockup. Up and over." Squatting in the corner of a wrestling ring that's surrounded by blister-packed action figures of pro wrestlers stacked floor to ceiling, George South rattles off instructions with the focus of an NFL quarterback and the speed of an auctioneer… READ MORE
Tully Blanchard: When Tully Blanchard defeated a bloody Dusty Rhodes with a boot to the head at Tribute to Starrcade (a reunion of sorts for old-school wrestlers and fans in Spartanburg, S.C.) in 2005, a gym full of fans chanted the long-retired wrestler's name and booed good-guy Rhodes… READ MORE
Jimmy Garvin: During his years in the ring, Gorgeous Jimmy Garvin donned sequined pants, matching jackets, the occasional feather boa, big bushy eighties hair, and a beard… READ MORE
Best of the Rest: The men on these pages aren't the only professional wrestlers who've spent time in the area. We tracked down a few more.
Plus, an online-exclusive look at professional wrestling's checkered history in Charlotte.