WWE Wrestler R-Truth Makes It Big
Charlotte's Ron Killings, known as R-Truth in the ring, is professional wrestling's newest star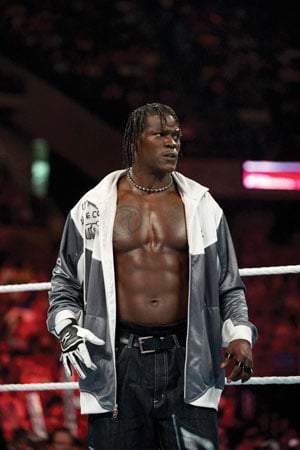 Ron Killings has been an entertainer most of his life. Growing up on Charlotte's west side, he would dress as James Brown and dance for his classmates. He's a professional wrestler now, but as his character R-Truth, he still manages to dance and act and crack jokes. And after fourteen years of bouncing around the various circuits, Killings, thirty-nine, is finally a star.
As R-Truth, Killings is quick tongued and wickedly funny. The WWE baby-face-turned-heel appears on the industry's biggest show, Monday Night Raw, where he plays against wrestling's biggest star, John Cena. R-Truth tells it like it is—complaining about overexposed opponents and saying exactly what many fans are thinking. He even insults Cena's fans, calling them "little Jimmys." It's making him an enormously popular villain.
As an aspiring young rapper, Killings thought he was destined for the entertainment industry, but he took a detour in his late teens and early twenties. "I thought I could make a living selling drugs," he says. While incarcerated he was discovered by Jack Crockett, son of the late Jim Crockett, who brought wrestling to Charlotte in the 1940s. Jack Crockett offered to pay for his training. Each night after he wrestled, Killings would break down the rings. The next day, he would help put them back up. Killings, who had already been in and out of jail numerous times when he started working with Crockett, says his benefactor helped put him on a better path.
"I felt like I'd been in three or four car wrecks back to back," says Killings of those first few times in the ring. But he didn't give up. "I was tired of the way I was living. I credit wrestling with getting my life together."
He'd planned to pursue a career in music, but his wrestling career took off. While competing on the independent circuit, his peers encouraged him to send an audition tape to WWE. "I got a call within two weeks. The next thing you know old Jed's a millionaire," Killings says with the trademark wit that he brings to arenas four nights a week. He debuted on television in November 2000. His first run with WWE only lasted two years, after which he wrestled in Mexico and worked for other wrestling leagues under various ring names. He finally returned to WWE in 2008, the same year he appeared in the Oscar-nominated film The Wrestler. He's since made a steady climb, increasing his screen time and growing more popular with fans. Killings will headline WWE's SummerSlam pay-per-view August 14 and is slated to star in WWE's Night of Champions in September.
"He's always been a solid wrestler," says fan Daylon Brumfield, co-owner of Plaza Midwood's Snug Harbor. "Since the heel turn I think he's much more entertaining." Echoes Adrian Rohr, another longtime wrestling fan: "I love, love, love the heel turn. It has breathed new life into his character. He is a true heel and he's unique in wrestling, where everybody looks and talks the same."
Killings, who wears his hair in tiny braids, doesn't wrestle in the spandex tights of old, but in loose-fitting, graffitied jeans and unbuttoned shirts and vests, which you might see him wearing while walking through Ballantyne Village, near his house. He's enjoying his current storyline as much as the fans. "I'm having a ball with this. I get to be myself and have fun," he says. And he's not worried about offending any Jimmys out there. "If it does cross the line, there's always someone out there to enjoy that."
"Jimmy" was the suggestion of WWE CEO Vince McMahon. For Truth, it was like a light bulb coming on. "It stuck in my head. They are Jimmys, aren't they?" Killings recounts with a slightly hoarse delivery that isn't far from that of the character he unleashes on Raw, where he ad-libs 90 percent of his monologues. ("You have to go live on the spot. You have to be able to come up with stuff off the top of your head.") Those fast-talking speeches are reminiscent of his other love, rap. He's working on a mixtape and says his musical tastes run from Lil Wayne to Kings of Leon.
Killings's wrestling career keeps him on the road and away from his wife and four kids (ages four, ten, sixteen, and nineteen). In mid-July he took a fourteen-hour flight home from Australia, was almost instantly back on the road for a Raw taping in Boston, then headed to Nashville for his daughter's AAU basketball tournament. When he's home he spends most of his time visiting family and working on music. He doesn't watch sports. ("Imagine that. An Afro American who's not into sports," he jokes.) He hasn't forgotten where his life was headed when he met Crockett, though. He's been known to share his experience with schoolchildren.
"Kids look at us as bigger than life. I like to give them my input on how I got to be where I'm at. It starts in school," Killings says. "If you can influence a kid to go the right way, that's better than anything else."