Yeah, That Greenville: A Travel Guide
It's a blend of Southern charm and urban boom, and it's emerging as a foodie destination. Explore Greenville, South Carolina, before everyone else does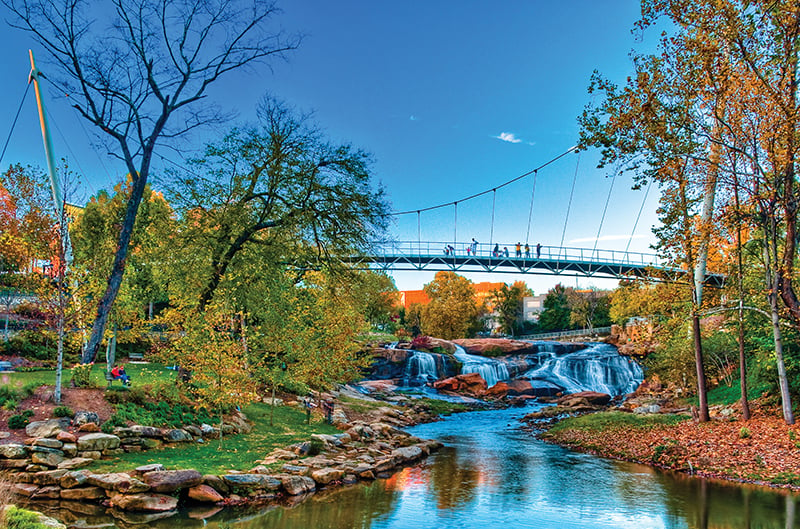 Find the latest COVID regulations and restrictions for South Carolina here.
---
FIFTY YEARS AGO, Greenville, South Carolina, was a deteriorating textile town halfway between Charlotte and Atlanta, often confused with the North Carolina city of the same name. Over the last few decades, city planners have revitalized its downtown with manicured parks, plazas, and entertainment venues. Today, this pedestrian-friendly city is a hub for public art, museums, and food festivals, and it's just a 90-minute drive from Charlotte. Bring your spouse, your kids, your dogs, and your appetite, and see where the sidewalks take you.
---
Stay
The recently opened Residence Inn by Marriott on Washington Street puts you within walking distance of the best downtown shopping and dining. It's got a gorgeous outdoor pool, fire pits, and a pristine fitness center, plus an on-site restaurant and bar called Oak & Honey. Head downstairs for risotto croquettes or truffle fries and stay for live music and a nightcap. Sip on the Milk & Honey cocktail with lavender-infused whiskey, honey nut cereal, milk, and bitters, then go upstairs and sleep beneath the crisp white sheets.
---
Eat
The downtown area alone hosts more than 120 restaurants, so plan your trip around your meals (not the other way around). Stop for lunch at Roost and sit on the patio overlooking NOMA Square on Main Street. Munch on fish tacos or a pulled pork sandwich, and don't forget a side of sweet potato fries. For dinner, walk over to RiverPlace and grab a seat at The Lazy Goat. Feast on Mediterranean-based fare like lamb lollipops, "Duck, Duck, Goat" pizza, and pastry chef Tania Harris's pistachio crème brulee.
---
Do
With wide sidewalks, green spaces, water features, and public art, this city is designed for walking. So leave your car at the hotel and get those steps in. Create your own soy candle at Magnolia Scents by Design. Stroll over to Art Crossing at RiverPlace along the Reedy River and visit a dozen co-op spaces and studios with original photography, jewelry, and paintings. Explore Falls Park on the Reedy, a 32-acre green space with walking paths, benches, rock-walled gardens, and water features. Then walk across the Liberty Bridge—a 345-foot, curved pedestrian bridge held in the air by a single suspension cable—and take in the views of Reedy River Falls.
Overdue for some R&R?
Treat yo'self to a girl's getaway weekend in Greenville
Retail Therapy
You'll find mainstays like Anthropologie and lululemon downtown, but the area is also packed with independent boutiques that carry lesser-known brands.
Manis and Pedis
When your feet get tired from all that walking, head to The Spa at West End for a pedicure … and you might as well get a manicure while you're there, too. The Spa at West End, 714 S. Main St., 864-242-8877.
Rosé All Day
For drinks with a view, go to UP on the Roof at happy hour, or come back later for a cocktail and dessert. Order The Reedy Peach or a pink Moscato and the bacon bread pudding (with a few spoons), and watch the sun set from eight stories up. UP on the Roof, 250 RiverPlace, 864-242-4000.