Yes, A Gender-Neutral Nursery Is Possible
Your gender-neutral nursery will be born in no time with these decorating ideas.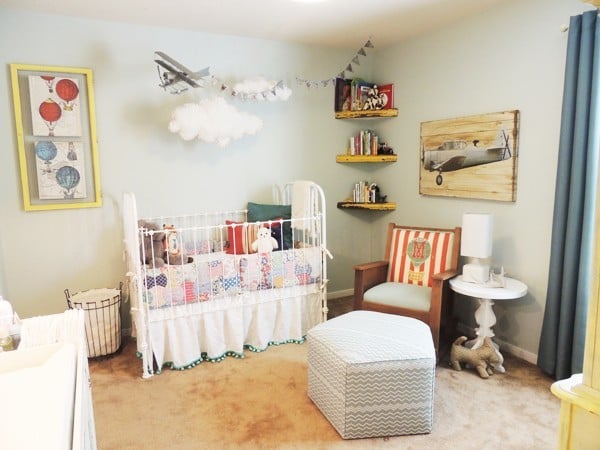 Just because you've decided to wait to find out the sex of your baby (or you're just ditching the traditional pink and blue hues) doesn't mean your newborn's nursery has to suffer. Design-wise, that is.
The days of strictly pink-for-girl, blue-for-boy nursery decor are long-gone. There's finally some wiggle room (or crawl space, perhaps?) for chic nursery design to take on additional color palettes, no matter the sex of your child. Yep, that means your gender-neutral nursery doesn't need to be drowning in gray, unless, of course, that's what you're going for.
Below, we've compiled some gender-neutral nursery ideas that are just as adorable as they are functional.
Color palette ideas
Navy and coral
White, gray, and teal
Silver, yellow, and white
Red and gray
Peach, green, gray, and white
Aqua, yellow, and red
Mint and yellow
Teal, green, and orange
Charcoal and navy
Navy and mint
Red, white, and turquoise
How to make the colors work
To stay away from typically gender-related wallpapers and decor, bring in fun patterns to liven things up a bit. Geometric-patterned wallpapers are a great way to add interest to the space without making it feel too cutesy. You can continue the patterns on throw blankets and rugs, bringing extra whimsy. Other pattern ideas include polka dots, stripes, abstract, arrows, cloud-like shapes, and chevron.
Theme ideas
Of course, you could always make things a bit easier on yourself and let a theme decide your color palette. There are plenty of themes that work for both boys and girls, just keep in mind that the less specific the room is now, the easier it'll be to transform later. After all, you'll probably want your kid to grow into the room, and keeping it as age-neutral as it is gender-neutral will save you money in the long run.
Nautical: use starfish and coral motifs to avoid any specific animals
Tribal: use Aztec-inspired patterns for tasteful embellishment
Sky: add chic stars to the ceiling and create a dreamy atmosphere with light blue and white
Forest: paint modern trees on the wall and use burnt tones
Travel: use world motifs and/or planes, air balloons, etc.