Yes, Charlotte's Climate Is Changing
Why you should believe it, even if you don't believe it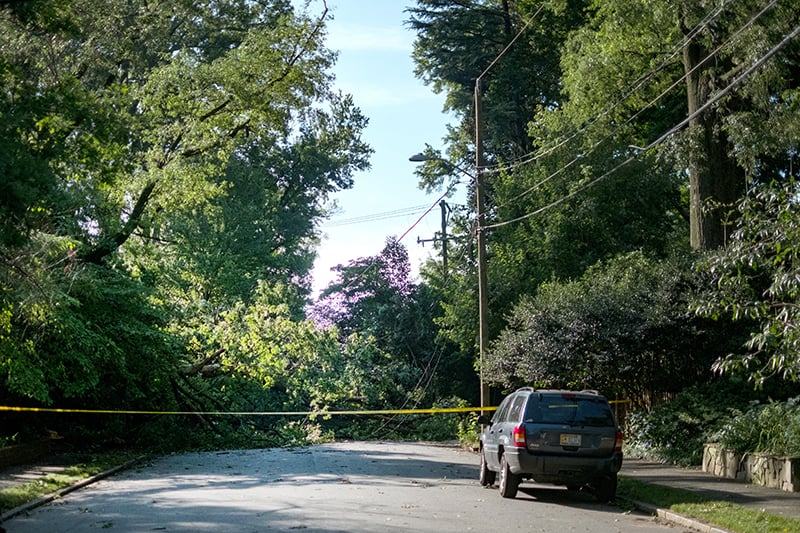 EACH DAY, Brad Panovich, chief meteorologist for NBC affiliate WCNC, braves the elements of a complex, occasionally hostile ecosystem. This place is called "Twitter." The exchanges between @wxbrad and other users tend to be good-natured, with lighthearted humor and empathetic, shared glumness for rainy weekends. Users often share with Panovich photos of sunny days, the aftermath of storms, or heavy snowfall on their back porch, and then he'll retweet them.
Few things draw more contentious comments during exchanges about weather than the mention of climate change. It's often cited as the reason for weather events like increased storm activity, droughts, rising sea levels, and heat waves across the world. In Charlotte, people have used the term more and more over the past few years. This past July, a series of storms over several weeks left the city in constant cleanup mode. The storms on the Friday night of July 8, in particular, packed winds of 50 miles per hour and left more than 80,000 people in the region without power—some Dilworth residents didn't have power restored until the following Tuesday. This was all after the summer of 2015, which went down as the third-hottest summer on record for the city.
Crazy weather is a symptom of climate change, but Panovich says the debate is more complex than that, no matter how simple both sides try to make it. "It's hard to attribute one event to climate change," Panovich says. "Did athletes hit more home runs just because of steroids? No, there was just more of them. It's likely that a lot of these events (in 2016) would have happened, but were more severe and frequent due to climate change."
Charlotte is actually cooling, not warming up like most other cities across the world, Panovich says. Much like the United States Census, the World Meteorological Organization compiles data every 10 years to describe the current climate "normals." For that report, the National Centers for Environmental Information gathers the information from the 9,800 U.S. stations operated by the National Weather Service. Charlotte's station is Charlotte Douglas International Airport.
These normals are measured on a 30-year basis. In Charlotte, the mean temperature for the most recent time frame, 1981 to 2010, was 1.5 degrees lower than the mean temperature from 1971 to 2000—from 61.4 degrees to 59.9 degrees. This makes us an anomaly in the U.S. "But (Charlotte's drop) doesn't negate the global change," Panovich says. "I approach it strictly scientifically. You can convince me of anything if you show me evidence. A lot of times, people approach it with their hearts. They say it's been warmer (in the past) than it is right now. Yes, it has been warmer in the past. But it's the pace of warming, the rapid rate, that's unprecedented. The slope of the curve worldwide makes me think something could go very wrong here."
Ninety-seven percent of climate scientists agree, NASA says. The agency also says carbon dioxide levels are the highest they've been in 650,000 years. And since 2000, the world's seen nine of the 10 warmest years recorded. The National Wildlife Federation says that climate change "is making hot days hotter, rainfall and flooding heavier, hurricanes stronger, and droughts more severe. This intensification of weather and climate extremes will be the most visible impact of global warming in our everyday lives."
"There is no debate that our climate is changing," Panovich says. "The question becomes, 'What percentage is man contributing to it?' It's not zero, and it's not 100. Nobody disagrees that poverty exists; we talk about how we can fix it. Here, we're arguing about the problem, not the solution. I don't think it's actually a climate change issue. I think it's a climate change communication issue."
Amy Aussieker, executive director of Envision Charlotte, communicates the benefits of sustainable living every day, but she avoids using the phrase "climate change." Envision is a private-public partnership among Duke Energy, Cisco, and Center City Partners, and it wants to make Charlotte a global leader in sustainability. Envision claims four "pillars" of concern: energy, water, air, and waste.
This is where Aussieker's background in strategic marketing comes into play. When talking to Charlotte businesses, she doesn't sell the lofty, noble notion that conserving energy protects our children's children and children's children's children by correcting damage to the climate at the hands of man. She sells the bottom line. That approach works in a business-oriented city such as Charlotte, which has what Aussieker calls a "dollars-and-cents environment."
In 2011, Envision created a campaign to reduce energy consumption by 20 percent in the 64 buildings in uptown with commercial space of 10,000 square feet or more. Large, commercial buildings such as those 64 identified in uptown account for 20 percent of greenhouse emissions. Energy is used for heating, cooling, lighting, and powering the buildings, but government data says a third of it is wasted. The Envision program puts meters in those buildings to track what's used. Energy Star, a program created by the Environmental Protection Agency and the Department of Energy, says just a 10 percent decrease in energy consumption can lead to a 1.5 percent increase in net operating income for building owners.
Executives in 61 buildings signed an energy pledge, and energy usage in these spaces has since decreased by 18 percent. To speak in dollars and cents: The participants are saving nearly $17 million in energy costs.
Meanwhile, they're helping Charlotte's air and water quality improve, which makes the city look more attractive to new businesses and potential residents who are considering relocating here. "In a sales pitch, you cater to your audience," Aussieker says. "And Charlotte is a land of plenty. There's plenty of water, energy is relatively cheap, and the air quality is decent. We don't have that burning platform to make any changes right now."
The win-win, economically driven approach of Envision Charlotte takes the politics out of the debate, Aussieker says, at a time when the two major political parties spend considerable amounts of time and money debating whether climate change even exists. As Charlotte expands, the city may have more pressing issues anyway. A drought such as the one that plagued the city in 2008 could devastate the Catawba River's supply of water, which services millions in the region and is already being consumed rapidly. Envision Charlotte began a partnership with the Charlotte-Mecklenburg Utility Department (now Charlotte Water) in 2012 to address this issue.
So even if you don't believe in climate change, Aussieker says, conserving energy and cutting back on emissions saves money and makes our air more breathable. If Charlotteans stop overusing water on lawns, they could halt depletion of the supply of our most vital resource. And as for opting to recycle instead of using land lls for everything? "Well, when you think about it, we're just putting our trash in a hole in the ground," Aussieker says. "That's pretty icky." That's something everyone can agree on.
ANDY SMITH covers the arts for Charlotte magazine, where he also serves as digital editor. Find him on Twitter @andysmithlol. He doesn't know anything about weather, though.
---
This article appears in the October 2016 issue of Charlotte Magazine
Did you like what you read here? Subscribe to Charlotte Magazine »
---