Yes, KIPP Can
There's a small charter school in east Charlotte making big strides toward improving education in this city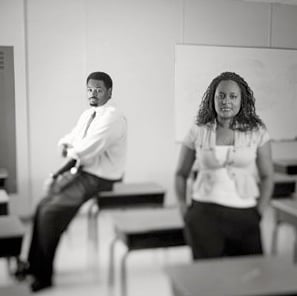 The noise in the carpeted gymnasium turned lunchroom at KIPP charter school in east Charlotte is loud to the point of a dull roar. Slung to the ground around the black, metal fold-up tables are backpacks, binders, and books. Kids munch on sandwiches, laughing across tables. The whole scene feels typical of any Charlotte middle school.
A tall man wearing a black hoodie with the bold white letters "KIPP" emblazoned on the front walks into the center of the room. "We're at zero now," Keith Burnam says, and the room falls silent. The only sounds left are those of students turning the pages of their schoolbooks and quietly chewing the rest of their lunches. Suddenly, the scene isn't anything like a traditional middle school, where quieting a lunchroom full of students would take much longer—if it ever happened at all.
Burnam, KIPP: Charlotte's co-founder, walks slowly back to the side of the room, pulling his BlackBerry from his pocket, his thumbs moving rapidly across the keys. Across the room, Tiffany Flowers, the school's other co-founder, a petite woman dressed stylishly in a light-colored shirt and black dress pants, is focused on her own phone—this one in a pink case. She and Burnam are texting each other and the other teachers in the room. This is how the faculty at KIPP communicate with each other when they've asked the students to be quiet. It's yet another unorthodox way the school is trying to make learning easier.
And it's working. KIPP, which stands for Knowledge Is Power Program, is experimenting with unconventional methods (for example, holding class on Saturdays and conducting nine-and-a-half-hour school days) for creating successful, disciplined students. The success of the sixty-six KIPP schools across the country is undeniable—85 percent of students at the charters go to college, compared to the 15 to 20 percent average among students from similar socioeconomic backgrounds.
But these kinds of results come at a price. While charter schools do get public support for education, they must raise their own funds for things like buildings and school supplies. At KIPP, teachers must also be compensated for their long hours. On average, KIPP teachers are paid 15 percent more than Charlotte Mecklenburg Schools teachers. However, the cost of educating a student is comparable to CMS. In Charlotte's public schools the yearly cost is $8,794 per student. At KIPP it takes $9,000 per year to educate each student. Public funding pays for $6,700 of that cost and the rest is covered by donations.
KIPP's results have been so impressive in other urban areas, such as New York City and Atlanta, that their local school districts have taken cues from the school on how to better educate their students. Now, here in Charlotte, after a recent flurry of budget cuts and layoffs, CMS is doing the same.
The students at KIPP are predominantly low-income minorities with lower end-of-grade test scores, and have historically had problems in school. KIPP: Charlotte, which started in 2007 (the original school was founded in 1994 in Houston by two former Teach for America teachers), targets fifth-graders who are considered at risk for not graduating from high school. This month it will bring in its third class and start its first year with fifth-, sixth-, and seventh-graders (about 270 students). Most of the recruiting for KIPP is done by word of mouth; there are waiting lists for all three classes this year.
The mission for KIPP: Charlotte is simple: prepare students to do well in top high schools and colleges. It's a lofty goal. After all, these children are being drawn from a pool in which only about 60 percent graduate from high school. But the faculty at KIPP has created a culture where it's cool to be smart and college is the goal. After their first year, KIPP: Charlotte students' national test scores doubled in reading and math.
But to get those results, the traditional way of teaching had to be reworked, which means students go to school from 7:30 a.m. to 5 p.m. every weekday, except Fridays when school finishes at 3:15 p.m. It means that two Saturday mornings a month and for a two to three weeks of their summers, the students are back at school, learning more. Ultimately, this is 70 percent more time in class than the average public school student. And if the students need help with homework—or anything else—after school, they have their teachers' cellphone numbers and can call until 10 p.m.
In addition to following a strenuous schedule, students at KIPP: Charlotte wear uniform T-shirts emblazoned with quotes like, "I am who I am because of what we all are," and, "Work hard. Be good. Think." Similar quotes are on walls throughout the school. Every classroom has college flags and posters—a constant reminder of the ultimate goal. The students refer to their class levels by the year of their intended high school graduation. They are the "pride of" 2015, 2016, and 2017. KIPP: Charlotte is adding a grade each year so that by 2010 the school will be fifth through eighth grades.
But it's more than just encouragement and the constant reminder that college is the primary goal that sets KIPP apart from other schools. From their first day at KIPP, students are taught to make eye contact and speak with confidence. When the students see someone new on campus, they're quick to introduce themselves with a handshake and smile. They're eager to talk about their plans for college and their future professions. Less than five minutes after I've walked into KIPP's lunchroom, sixth-grader Chauncey Davidson walks over to tell me that he wants to go to the University of North Carolina and plans to be a farmer one day. Sixth-grader Krystan Collington shakes my hand as she tells me that her favorite book is Harry Potter. These were among the lowest-performing students at CMS before their arrival here? It's difficult to believe.
BIG IDEA
How CMS Can Learn from KIPP: Clearly, the KIPP approach works, and it addresses what Superintendent Peter Gorman has long acknowledged as the district's greatest challenge: the so-called "achievement gap" between the lowest-performing students and their classmates at the top. And, according to figures from KIPP: Charlotte and CMS, it doesn't cost that much more to educate a child at KIPP ($9,000 vs. $8,794 per year). So let's do this:
Gorman should designate one elementary, one middle, and one high school as KIPP-style magnet schools. Partner with Teach for America and KIPP: Charlotte to recruit and train teachers (there are already more than 200 TFA alums teaching in CMS). Use the existing transfer bonus system (educators get bonuses to move into less-desirable schools) to compensate teachers at the new schools. Set up a three-year trial period. Establish that a student can only attend one of the new magnets during his or her time in CMS. Then study the results. What have we got to lose? Other than our kids' futures, we mean. —R. T.
At times KIPP seems just too good to be true. When students raise their hands to answer a question, they're supposed to throw both hands in the air and shake them around. This is meant to keep them from being passive about their education. It seems like such a small thing—but it works.
At KIPP, students are given weekly "paychecks." They earn points throughout the week based on their behavior, grades, and participation. Then they must show the paycheck to their parents each week.
Showing the paycheck to their parents is an important aspect of KIPP schools. To even be in KIPP, a student's parent must have sought to enroll him or her. And after enrolling the student, the parent has signed a "learning pledge" that is his or her agreement to the terms of the hard work necessary for the student's success. Having parents who are concerned for their children's education already gives these students an advantage over some of their peers in local public schools.
"The reason I came here is so that I could learn more," says Kalesha Patterson, a member of the Pride of 2016, with dark brown eyes and a wide, easy smile. "Ms. Flowers interviewed me at my house during the summer and I cried when she left because she told me the hours. But I understand now that you need that to learn."

When Burnam, twenty-nine, and Flowers, twenty-eight, first started KIPP: Charlotte in 2007, they were young, inspired, and starting with not much more than the backing of the national KIPP schools.
"Being so young is a gift and curse," says Burnam. "We have all this enthusiasm and all this energy, but the curse is you don't know what you don't know. And what you thought you knew you really didn't. A child will prove you wrong every time. But the youthful vigor allows us to go at it with enthusiasm and not be jaded."
They began with ninety fifth-graders (the pride of 2015) meeting at Martin Luther King Jr. Middle School. Within a month they had moved into a former church in two main buildings and a large trailer on ten acres next to Briarwood Elementary School in east Charlotte.
"If you're the type of person who drowns before the water hits you, then Teach for America or a situation like KIPP isn't for you," Burnam says.
"I think it's also about being resilient," says Flowers, who worked at the KIPP school in Houston for two years after working at KIPP: Gaston College Prep. "At times the water is going to hit you. And if it hits you, you can choose to lay back and drown and say, 'I give up,' or you can say, 'I don't know how to swim, but I'm going to do something to keep my head above water.' "
Teachers at KIPP keep the expectations high so the school won't need the extras other schools may have access to. KIPP doesn't have sports fields, an on-site cafeteria, or multiple computers in every classroom. The school library is a shelf full of baskets of books, most donated from the community.
"Our belief here is that children want to learn," says Amanda Prothero, KIPP: Charlotte's Director of Development. "They don't need fancy things. They simply need great teachers, high expectations, and more time."
The extra time is something CMS is considering emulating in more of its schools. Two years ago, CMS installed an expanded day program at Billingsville Elementary School. Officials are waiting on test results to determine how effective it has been there, but even as they consider it for CMS, the extended schedule seems unlikely to happen soon.
"Putting in something like the extended school day in our schools obviously has huge fiscal implications," says Ann Clarke, the Associate Superintendent for pre-kindergarten through twelfth-grade schools. "You would also need to have a faculty embrace the idea of an extended day, as it is clear they have done at KIPP."
However, CMS is taking cues from other school districts around the country and working with KIPP. Joel Klein, the Chancellor of the New York City Department of Education, has publicly announced his favor for KIPP schools numerous times and his school system has provided one of its own buildings for a KIPP school.
"The core of KIPP's success is the idea of people working together for positive change," says Steve Mancini, the national Public Affairs Director for KIPP. "We see local school districts as our partners, not our adversaries."
In Charlotte, Superintendent Peter Gorman has taken a tour of the facility with Clarke. "We're keenly interested in exploring ways to take some of the best from KIPP and apply it in CMS," says Clarke.
This kind of thinking is exactly what KIPP is striving for as they work for partnerships with local school districts. "We're not only interested in opening better schools, but also in having a transformative effect on the entire school system," says Mancini.
However, transforming a school system takes not only money, but extensive dedication from those involved. "I think there's an extraordinarily high level of commitment of time, energy, and talent with KIPP teachers," says Clarke. "Having average teachers just extending the day won't yield the results they've seen at KIPP."
The teachers may be one of the largest differences between KIPP and local public schools. Since the rigorous schedule demands school on Saturdays, into the evening on weekdays, and during the summer, a KIPP teacher is working much longer hours than an average teacher. Plus, KIPP gives teachers cell phones so students can call as they work on homework or their parents can call with questions about their children.
Aaron Pomis is one such teacher at KIPP: Charlotte. At the start of the year he puts up posters along his wall, showing students what they'll learn over the coming months leading up to their end-of-grade tests. The day before they take the tests in late May, he goes through the posters, playing a game with the students as he asks possible test questions.
The room is divided in half, with one side playing the other, and the competition is fierce. Students practically fall out of their seats to answer his questions. Every time it gets too loud in the room, Pomis slowly counts backward from five.
"Five." Those who have been standing up sit down. "Four." Papers rustle on desks as they're put in order. "Three." Students look around the room waiting for any outliers to quiet down. "Two." The room is already quiet. "One." Pomis says it quietly. The students are ready to go back to the game.
Watching the children in KIPP can actually make you nervous about their futures. While some KIPP schools go through twelfth grade, KIPP: Charlotte will remain fifth through eighth for the time being. Because of the area of town where most of the students live, zoning could place them in low-performing high schools.
Some of the social practices at KIPP also make the students seem particularly vulnerable. They are told to "send love" to each other and to teachers and faculty when someone does something good. "Sending love" involves them reaching out their arms and waving their fingers at the other person. When a student gets the right answer, the other students send them love. When a teacher tells them they are all going to go to college, the students send them love. It's cute to watch, but imagining these students "sending love" at a place like Garinger High School makes you cringe.
"I want to go to boarding school for high school and then go to Harvard," says fifth-grader Trevin Allen. His classmates sitting nearby wave their fingers in his direction, sending him love. Gabriyelle Dixon, a sixth-grader, who is wearing a flowered sweatshirt over her uniform, agrees that she, too, wants to go to Harvard. She also throws out UCLA and Princeton as possible options. "I'm on an eighth-grade reading level," she says. "I'm making mad growth since I came here. They just explain it better."
Because of the growth and goals of the students, KIPP works to send their students to private schools, magnet schools, and even boarding schools like the North Carolina School of Science and Mathematics in Durham to ensure that they maintain the level of performance they've achieved during their time at KIPP. Many students at other KIPP schools have received scholarships for high school and college. Burnam calls this "the golden ticket" and is working to give his students the same chance.
Unfortunately, tuition at Harvard comes in at more than $50,000 a year, and most boarding schools aren't cheap. Not only are the schools expensive, but the country's top high schools and universities are, of course, designed for the country's top students. It seems that by creating an atmosphere where fifth-graders from low socioeconomic and difficult academic backgrounds believe they can go to places like Philips Exeter Academy and Ivy League universities, KIPP may be setting them up for disappointment.
Burnam says this is absolutely not the case. "The mantra of the school is 'Impossible is nothing,' " he says. "Our promise to them is real that they will go to good high schools, be on the AP and honors track, and will go to a great college."
For CMS, this means that many of the KIPP students who are now performing at a higher level will not be coming back to the low-performing district from which they were pulled. When I ask Associate Superintendent Clark about this, she is quiet for a moment. "I wasn't aware of that," she says. "Obviously we would like for families in Mecklenburg County to feel that CMS is a viable choice for their student."
KIPP isn't all long hours in the classroom and time spent talking about Harvard. After all, these are still middle schoolers. During their last week of school in the spring they hold a "fun Day" during which parents and volunteers came to the school and the students played games outside. Parents work the homemade-cotton-candy and snow-cone stations where students lined up for sweet treats. Teachers participate in games as students run around in the grass in front of the school.
Inside the building, a few stray students sit in the office, disciplined for bad behavior—something taken very seriously at KIPP. As Burnam talks to one student in the office, a student runs by a snow cone drenched in red, cherry syrup held precariously in his hand. Another student steps in front of him and the two collide, cherry syrup splashing onto the wall, floor, and both students' pants. The student with the snow cone shoots a guilty look towards the office where Burnam hasn't noticed him yet, and then runs away.
He's back a moment later with a mop and bucket, wiping up his mess—just in time for Burnam to walk out of the office. The student is full of excuses for what happened. Burnam looks at him, "Are you cleaning it up?" he asks.
"Yes sir," the student says, pushing the mop across the floor.
"Then don't make excuses, just do it," Burnam says gently. He walks toward a classroom down the hall and calls over his shoulder. "You know we don't make excuses here."
And the student is back to work, mopping and learning another lesson at KIPP without even realizing it.
Sarah Crosland is associate editor of this magazine. E-mail: sarah.crosland@charlottemagazine.com