Yiasou Greek Festival, Sip & Stroll, Eat From a Food Truck Festival and More, Sept. 8 to Sept. 11
Festival season is clearly upon us, Charlotte. Enjoy the best time of the year!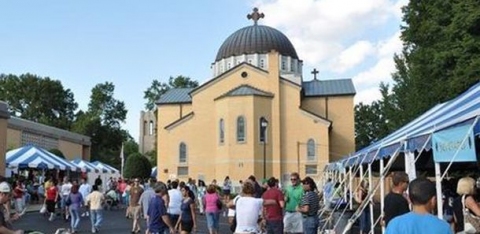 Festival season is upon us. Clear your calendars because the Yiasou Greek Festival is back along with Sip & Stroll and the soon-to-be favorite, Eat From a Food Truck Festival. See y'all out there!
Thursday, Sept. 8
Yiasou Greek Festival
You know it. You love it. It's finally back. This annual festival celebrating Greek culture returns for four days, starting tonight and running until Sunday. The festival at Holy Trinity Greek Orthodox Church, 600 East Blvd., features cathedral tours, live entertainment from a variety of Greek performers and, of course, a large sampling of Greek food. Admission costs $3 at the door. Festival times vary, but learn more about the event here.
Brews for Books
NoDa Brewing Company invites you to join it tonight for this event benefiting Reach out and Read Carolinas, which promotes early childhood literacy. It's safe to say we can all get behind this night. A $25 ticket includes two beers and snacks. The event is from 5:30 p.m. until 7:30 p.m. at 2921 N. Tryon St. Buy one here.
Friday, Sept. 9
Sip & Stroll
Now in its seventh year, this annual two-day festival brings together wine, art, live music and food. The fun happens at Rooftop 210, 210 E. Trade St., from 6 p.m. until 9 p.m. and then again on Saturday from 1 p.m. until 8 p.m. Ticket prices vary, but they start at about $34. Buy them here.
Bubblyfest Elite
In its latest champagne-themed evening, Bubble offers "next-tier" champagne samplings tonight for "those that (sic) want to live the good life." For about $43, you'll sample four different champagnes and sparkling wines and, apparently, realize the good life. Bubble is at 210 E. Trade St. Buy your ticket here.
Sip and Shop
Charlotte's sip-and-everything weekend seems to be upon us. Before you go to Sip & Stroll, head to the 7th Street Public Market for the back-to-school Sip and Shop event, featuring free sparkling wine for the first 100 shoppers and more than a dozen pop-up shops in addition to the market's full-time vendors. The event from 4 p.m. until 9 p.m. has no admission fee. The 7th Street Public Market is at 224 E. Seventh St.
Halfway to St. Patrick's Day Party
This party takes the award for most creative reason to celebrate. Six months and a week from now, Uptown will be bathed in green in its annual St. Patrick's Day bar crawl, but Whisky River, 210 E. Trade St., isn't waiting to party. Guinness is on special tonight for $5, as are Irish whiskeys for $7. There's no admission fee to this party that starts at 9 p.m.
Saturday, Sept. 10
Lenny Boy Brewing Co. Taproom Grand Opening
Aside from its kombucha of course, Lenny Boy Brewing has always been known for its intimate inside space, on the small side for any brewery. Not anymore. The brewery opens its new taproom today at 3000 S. Tryon St with a grand opening party from 11 a.m. until 11 p.m. The party features food trucks, games and live music from 1 p.m. until 11 p.m. There is no admission fee.
Charlotte Bloc Party
LaCa Projects is throwing this party featuring live music, giveaways, both cornhole and giant Jenga competitions and more. There's no admission fee to this party from 7 p.m. until 11:30 p.m. at 1429 Bryant St.
Tawba Fest
For the third year, this free festival brings together multiple musical acts, a large marketplace with a wide variety of vendors, food and beer. The fun starts at 2 p.m. and lasts until 9 p.m. at Riverwalk in Rock Hill, South Carolina. For more information on the schedule for the day, vendors, food and more, go here.
Eat From a Food Truck Festival
Billed as the "largest food truck festival in the Carolinas," this festival features 100 food trucks from across the Southeast, a bounce house and kids' area, live music, a DJ and a beer garden. Tickets start at $10, and kids who are younger than 10 get in for free. The day starts at 1 p.m. for general admission or noon for VIP admission. Buy your ticket here.
Woofstock 2016
A $5 donation gets you in the door to this groovy pet party. Bring along your pooch to Amos', 1423 S. Tryon St., today from 11 a.m. until 4 p.m. for an afternoon of food, beer, music, a silent auction and more. There will also be adoptable dogs on site if you want to come without a dog and leave with one.
Rural Hill Amazing Maize Maze Opening Day
It may still technically be summer for nearly two weeks, but that's not stopping Rural Hill. Its annual seven-acre "Maize Maze" opens today along with the rest of the 265 acres of hayrides, pumpkin patches and more. Tickets cost about $14 for adults and about $10 for kids. Rural Hill is at 4431 Neck Road in Huntersville. Buy your ticket here before the season closes on Nov. 6.
Sunday, Sept. 11
Mutts and Mimosas
By drinking mimosas, you're helping animals. It's true. Buy a $12 ticket to this event, which includes a brunch buffet and a complimentary mimosa, and you'll help support the Humane Society of Charlotte. The brunch is from noon until 2:30 p.m. at Blackfinn, 210 E. Trade St. Buy your ticket here.
Bonus: Blackfinn is opening another location in Ballantyne, 14285 Ballantyne Village Way, and it's throwing a grand opening late night party Saturday evening with DJs, drink specials and more. The event is from 10 p.m. until 2 a.m., and there's no admission fee. RSVP here.
Verify dates, times, prices, and other info at the web addresses listed for each event.
Be sure to bookmark www.charlottemagazine.com/Blogs/Dusk-Till-Dawn to stay plugged into Charlotte's nightlife and social scene. Click here to sign up to receive the weekly Dusk Till Dawn e-newsletter.
Want your event featured in Dusk Till Dawn? Follow me on Twitter @Jared_misner and let me know about your event, or send me an email at dusktilldawnblog@gmail.com.