Yoforia: The Big Chill
Locally owned froyo shop is expanding its organic frozen yogurt offerings overseas and around the state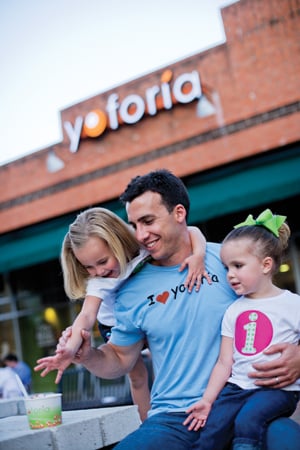 A mother and three children enter Yoforia's sunlit shop on Selwyn Avenue in the middle of a warm afternoon on the edge of autumn. The cashier welcomes the family with a hearty, "Hello! Welcome to Yoforia!" as he wipes down the counter. As the barely waist-high tots bounce around the store, the stylishly dressed, half-frazzled mother lists the day's frozen yogurt flavors. After a little cajoling, two of the three children decide on a flavor for their oversize cups. The third child, the smallest and likely youngest, spins and giggles, proclaiming that she only wants candy. "You only want toppings?" the mother asks, grimacing. "Well, I guess that's OK. Is that OK?" she questions the cashier. "Of course," he responds with a chuckle.
The Selwyn Avenue shop, which is in Myers Park and across the street from Yoforia's corporate headquarters, is one of five Charlotte locations. The four-year-old, recession-defying company isn't just looking to tickle your taste buds with its organic-ish frozen yogurt and self-service topping bar, though, it's looking to be a major player in the expanding worldwide "froyo" market.
In 2007, three guys from Los Angeles brought Yoforia to the East Coast, largely because they were looking to move their young families to more family-oriented cities, says David Sheffer. He is one of the company's second wave of partners, a group of five North Carolina men who he says approached the original group with an offer: "Look, we want to own this company with you."
"A lot of people still think it's a fad, but I think the additional competition grows the market."
Yoforia already had one location in Atlanta. With the five new partners on board, it opened two more. "We had a multiyear lead on the competition," Sheffer says, "but we ran out of cash again." He says the partners also recognized the need for new leadership. And, they decided, it was time to figure out where its home would be. They narrowed the options to Atlanta and Charlotte.
"I grew up in Charlotte," Sheffer says, "which is part of why I wanted Yoforia to have a home here." While looking at locations in Charlotte, the partners put the word out that they were also interested in finding new investors, and they were hoping to find some here. "Charlotte is a great place to find talent—it's an educated, talented city," Sheffer says.
Enter Luke Tashie, age thirty. He's a former Wachovia and Wells Fargo investment banker with a master's degree in finance from Boston College. He's also managing director of Capstone Equity Partners, a search fund that was on the hunt for the next best idea so they can "grow it, build it, and make it more valuable," he says. The father of three, who lives in Charlotte, says Yoforia caught his attention because his family is focused on living an organic, healthful lifestyle. And, he says, because "I wanted to do something I was interested in, not just something that made financial sense."
Capstone aquired Yoforia, and Tashie became the company's CEO in November 2010. "Luke is young, energetic, and has three kids under age five—and he feels good about feeding them our product," Sheffer says. In other words, the Tashie family is a great example of the company's target market. Also, "Luke's the one who keeps pushing the organic aspect of our company," Sheffer says. That's what Sheffer and Tashie say separates Yoforia from its competitors.
Today, Yoforia has nine shops in Atlanta, two in Athens, Georgia, five in Charlotte, one in Greensboro, two in Winston-Salem, and one in the Middle East. It's planning at least ten more in the Southeast. The Middle Eastern location, which Tashie calls "a calculated venture," is in Cyprus, and the company's business partners in the Middle East plan to open another twenty stores in eight countries over the next three years. A partner in India plans on another twenty stores. If those plans come to fruition, Yoforia will have more than seventy locations worldwide.
Tashie says he's not worried that the demand for froyo will fall off anytime soon. Revenue for 2011, which Tashie pegs as between $5 million and $10 million, will be up around 70 percent from 2010. In areas where there is more competition, Tashie says revenue is down as much as 20 percent at some locations, but he says that adds up to only a small decrease in sales overall. "It would be much better if every store in the country was Yoforia," he jokes, but he swears he's not bothered by the competition. "A lot of people still think it's a fad, but I think the additional competition grows the market." He says profit is flat this year due to infrastructure investments, but he projects a 200 percent increase in 2012.
He points to Yoforia's focus on using relatively healthful ingredients as its edge in the market. "We're the only company that uses organic products, or really—so far as I can tell—that cares about what we put into our product. We try to focus on making our product as healthy as possible." Its list of flavors includes green tea, banana, pomegranate, dark chocolate, mango, honeydew, pineapple, taro, Ferrero Rocher, cookies 'n' cream (made with Oreos), vanilla bean, peanut butter, and pistachio. Each yogurt is mixed by hand at each location—no premade mixes allowed.
Yoforia uses organic Stonyfield-brand nonfat milk and nonfat yogurt as the base for each flavor, and, when in season, organic and local produce is available on the topping bar, too. Even the granola is made and shipped to the U.S. stores biweekly, by Tashie's aunt and quadruplet cousins, who live just north of Atlanta. In addition to mixing each flavor every day (or several times per day, depending on how busy a store is), the staff also keeps a close eye on their products, taste-testing them and giving them a stir on a regular schedule. They skip the preservatives, though, which means the banana flavor may get a little brown after a while.
Those all-natural ingredients may cost a lot more, says Tashie, "but it's not just about the cost for us." While the yogurt's base is organic, he stops short of saying Yoforia's product is officially organic, even though some of the flavors come close. (The sorbets aren't organic, but some are, according to him, "97 percent" organic.) The company's goal is to become the first frozen yogurt chain that qualifies for the expensive, time-intensive—and heavily regulated—organic label. Yoforia's treats cost forty-nine cents per ounce, and each ounce of froyo contains around seventeen to thirty-five calories (flavor depending), not counting the toppings.
Customers seem to be responding well to Yoforia's focus on organic ingredients. On a hot August day at the Piper Glen location, Susan Fore says the organic ingredients are the draw for her. That means, she says, "I don't feel quite so guilty" about eating dessert for lunch.
Zoe Crute visits the location near her home in south Charlotte as often as possible. "We've been here every day this week," she says on a hot day in midsummer. She brought her friend Jordan Berger, who was visiting from Chicago, where, she says, it's difficult to find good froyo. With a smile, and only after another spoonful, Berger says, "Here, it's everywhere … and it's good!" She's partial to the taro flavor, which is naturally purple.
"It would be much better if every store in the country was Yoforia," he jokes, but CEO Luke Tashie swears he's not bothered by the competition.
Customers also respond well to the energetic staff, which is a key part of the company's business strategy. Most of the employees are under the age of thirty. Naoki Kyobashi is twenty-eight, can't stop smiling, and looks a little like he should be catching a wave at the beach. He calls himself "one of the old ones" on the company's payroll. A serendipitous meeting with one of Yoforia's founders led him to work at one of the Atlanta locations. He started in January 2009. Within a month, he was managing all three of the company's shops. Now he's the vice president of store operations and somewhat of a mentor to the employees he manages.
He travels to each new location and spends a few months with the staff, instilling the corporation's culture and practices. He understands that his employees may have limited work experience, given their ages, but he also understands that the company's success "is really about the vibe," he says. He makes a point to learn employees' names, answer their phone calls, and help them with professional or personal issues. He also understands that, for many of his employees, Yoforia may be their first job but not their last, so he wants to help prepare them for future success by encouraging a grounded and fun-filled work ethic.
One of his protégés is Ryan Anthony, a twenty-four-year-old who moved here from Atlanta to manage the company's Charlotte locations. In shops where the customers pretty much take care of themselves, he pushes his managers to keep the stores spotless and the customers smiling. With only a high school education, he also realizes that his quick rise to management wouldn't be possible in many other companies, but he's not sweating those details. He says he and his young staff are earning real-life job experience, and they're having a blast doing it.
Back in the Selwyn Avenue store, the three young children are having an equally good time sprinkling fruit and candy on their froyo. Well, not all three—with a giant smile, the little girl, approved by Mom and the cashier to skip the yogurt, begins filling her cup with gummy worms and chocolate chips, until the mother says, "Enough!" taking the cup and placing it on the cashier's scale with the others. They each take seats in white plastic tulip chairs at a small, round white table, though it isn't long before the giggling candy lover is up, bouncing around again and asking if she can play outside with a group of children who have already finished their desserts and are cavorting near the shopping center's water fountain. It's a scene that would cause Tashie and Sheffer to smile—a generation of froyo lovers, growing up on Yoforia.