Yoga for the Rest of Us
One woman's search for Charlotte's laziest yoga class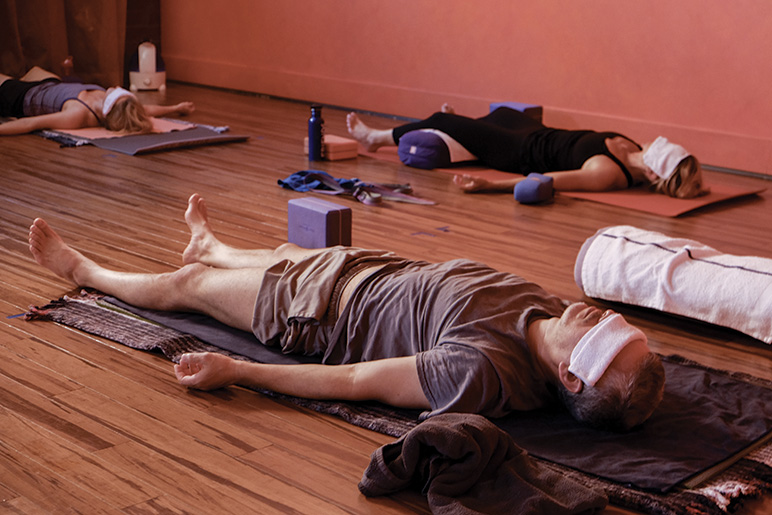 SOMEWHERE IN the middle of every yoga class I've tried, the teacher says it's time to "float" my foot forward. I look down at my hands. They're holding my upper body in a plank or a downward dog, and they look puffy and increasingly like my father's. The foot that needs to float is airborne but half a mile away. As I pull it forward and it ka-thunks down, I think, I am an adult. I do not have to entertain this crap.
Yet I need it. Genetics, pregnancies, and a stretch of lower spine that looks like Jessica Rabbit mid-stride have all combined to give me back and hip pain. When my back goes out, as it does about once a year, it's excruciating and debilitating. I've had to miss weeks of work and later, as a stay-at-home mom, hire a nanny because I was unable to lift my own baby. All the cortisone shots and steroids and chiropractors out there can't heal it or prevent it. Yoga can.
Over the years, doctors have assigned me a series of boring exercises designed to keep my back and hips strong, limber, and correctly aligned. I have ignored them. That was a poor choice.
Yoga, I know, is the Golden Ticket for backs and hips. I would love to love it. As an impressionable preteen, I remember reading an interview with Cindy Crawford's trainer. He said he avoided having her do aerobics because they'd dull Cindy's eyes. Instead, he'd have her play basketball. "Basketball puts fire in her eyes," he said.
Fire in the eyes. It's been my exercise motto ever since. Even when it's uncomfortable and hard or I fail, hiking, horseback riding, dancing, swimming, diving and tennis put fire in my eyes. But try as I might, when a teacher cues to standing lunges such as Warrior 1, 2, or 3, I do not have fire in my eyes. I have the eyes of an intern sorting fabric swatches that will become Cindy Crawford's home furnishing line.
So six months ago, I embarked on a search for the Charlotte region's easiest and laziest yoga classes, the kind where flopping on the floor takes up the majority of the class, not just five minutes at the end. I was looking for something without quad- or triceps-building poses or instructions that required me to be a "tree." No lunges, please.
Now, I regularly attend two types of classes. The first is a deep stretch class, which is often held in a heated room. Some of the poses are basic, reach-for-your-toes stretches you learned in middle school, held for about three minutes each. But you also rock on your back while holding your knees, and there are positions in which you push and pull your hips and shoulders apart—all of which sounds horrid when written but feels like a non-creepy, self-guided, deep-tissue massage.
The second type of class is restorative yoga. It takes place primarily on the floor. You position props provided by the studio, including blocks and blankets, under your back, neck, and knees. They support you in different poses—some as simple as opening your arms wide or tilting your head back—that allow your muscles to relax so your spine can align correctly.
Both kinds of yoga are technically exercise and yet not technically exercise. They make me feel like I'm getting away with something, like exiting a parking deck with a malfunctioning gate and dodging the fee. They are the only yoga classes in 15 years I've been sorry to see end. I still can't and don't say I'm a yogi. But I am more flexible than I was as a preteen, can almost do the splits, and, most of all, have the smile of a woman who has not been lunging.
---
Where to Find 'Lazy' Yoga
The author sampled studios around the region to bring you six of her favorite classes.
Restorative Yin
Be Yoga
Dilworth and South Charlotte
The class description celebrates the search for the "subtler energy force within the body," which is yogi-speak for "you will have a glorious time and possibly leave nail marks on the wood floor in an attempt to stay forever."
704-372-7665, 704-705-2610
Candlelight Deep Stretch
Melting Point Hot Yoga
Huntersville
The room is heated to 100 degrees, the lights are off, and you stand for maybe five minutes of this 75-minute class. Beautiful.
704-237-4437
Restorative Yoga With ThaI Yoga Assists
The Bindu Yoga
Cornelius
Spend an hour and a half occasionally moving in a nest of clean blankets and pillows as your bones shift into the places they're supposed to be. This class is fantastic for the lower back.
704-237-3635
Long, Slow, and Deep
Y2 Yoga
Cotswold
This class was heated to San Diego breezy instead of hot, the teacher took time to adjust all 40 of us, and I achieved what can accurately be called my deepest stretch ever.
704-456-9642
Yin Yoga
Enlighten Yoga
Blakeney Shopping Center
A traditional Yin yoga class focused on relaxing the hips and connective tissues in a room-temperature (unheated) studio.
704-543-8000
Deep Stretch
Yoga One
Plaza Midwood and University
Both locations offer regular deep stretch classes, in addition to separate, daily, guided 15-minute meditation sessions.
704-332-9911 (Plaza Midwood), 980-237-0489 (University)
---
Follow This Guide
Looking for a lazy yoga class and confounded by class descriptions?

GOOD WORDS
Restorative
Yin
Deep stretch
Let go
Myofascial release
Floor-based
Gentle
Repair
RED FLAGS
Vinyasa
Flow
Energetic
Concentration
Personal development
Strengthening
Lively
Grow